This is my entry to the contest Help A Plankton Understand Steemit - A Weekly Comment Contest - WEEK 13 hosted by @chrismadcboy2016.
You can still help answering this weeks answer see HERE.
Question: Why the Whales in Steemit didn't Give a vote for Plankton and Minnow?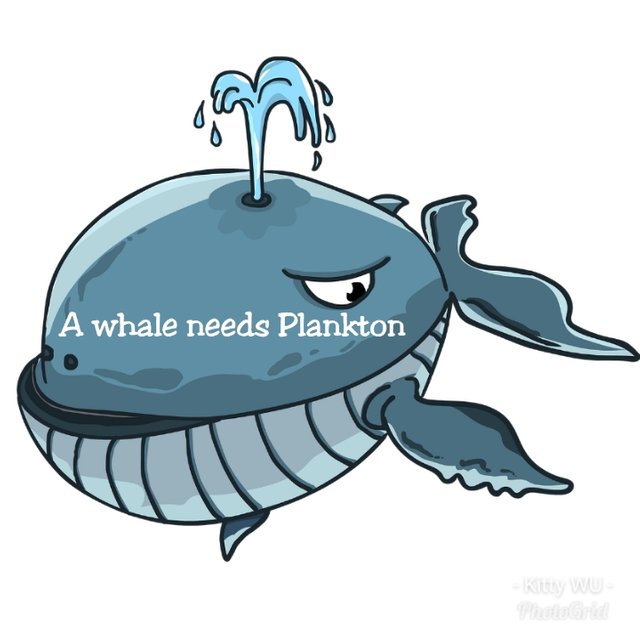 source
It is hard to answer the question why whales not vote on plankton or minnow.
I believe some do although you should not count on a 100% vote from them.
Fact is most whales upvote automatically. They are not the biggest readers or writers around here. If your name is not on their list you are not seen.
Some whales ask for names of writers of good content, some bump into such a person. That person can consider itself lucky.
Fact is also good content is seldom/rarely found if you search between plankton.
@pifc is running a contest payitforward where you should "recommmend 2 Steemians who wrote good content" and I can tell you from experience it takes hours of searching to find them if you follow the rules given.
I can only give these tips to be noticed:
write good content and enough text. See the rules given by @pifc. The ccc-contests use the same rules.
A whale will search earlier for content of 1000+ words as 40 words or less.
Write about a subject that catches someone's interest now but also in 5 or ten years.
You should be noticed, your name should be known.
Join contests @pifc, @qurator, @team-ccc, @neoxian-city, @derangedcontests and visit dpoll. Remember the upvote from a whale is not the only upvote you can get. There are dolphins and minnows who reward better.
Comment, comment, comment especially outside your plankton world.
Use the Commentcoin tag (cc) to be noticed
Observe what other people write. What their posts look like. Keep in mind that a whale can write whatever he likes but you cannot, at least not if you start.
What you write is how you present yourself.
Posts sofar I used the Commentcoin:
(If you comment on them you earn a commentcoin yourself and if you cannot read you can still translate or comment!)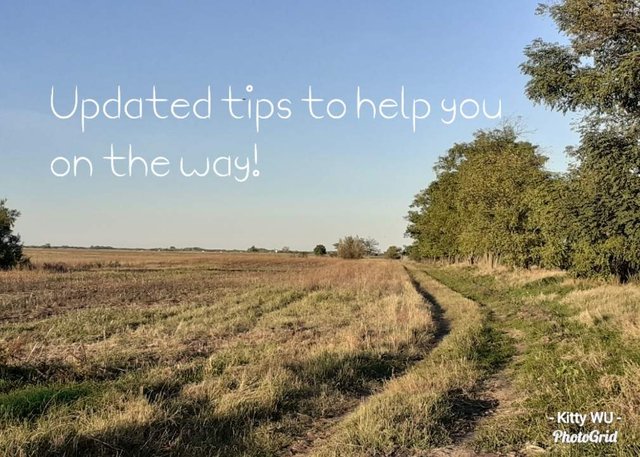 Ready for a new addiction?
Use Partiko and collect Partiko points.
Posting, commenting = points = steem!
Try it. There is nothing to lose
Steem is about earning. You need to earn to power up/stake. Without Steem Power (SP) you are not able to post, comment and upvote. Make yourself visible. Use your SP in the most efficient way.
Tips I wrote to help you.
Tip: Introduce yourself!
Use the tag #introduceyourself if you did not do it yet.
(You might meet nice people or get interesting tips.)
https://steem-bounty.com/services/forever/@wakeupkitty.pal/who-am-i-and-why-this-account-gc4hlwvv
Tip 1: How to grow? Use dpoll.xyz!
(Go for the giveaways. Free SBI, upvotes, pal, monster cards).
https://steem-bounty.com/services/forever/@wakeupkitty.pal/tip-how-to-grow-use-dpoll-xyz
Tip 2: Join the engagement league.
Be visible, upvote your neighbours like they do with you).
https://steem-bounty.com/services/forever/@wakeupkitty.pal/tip-2-join-the-engagement-league
Tip 3: Join #ccc contests if you like to earn!
(Use the tag #ccc for every post with 200+ words)
https://steem-bounty.com/services/forever/@wakeupkitty.pal/tip-3-join-ccc-contests-if-you-like-to-earn
Tip 4: Share your photos (dapp Appics)
https://steem-bounty.com/services/forever/@wakeupkitty.pal/tip-5-share-your-photos
Tip 5: Steem-bounty.com
(Be a bounty hunter, get upvotes and earn forever on your posts!)
https://steem-bounty.com/services/forever/@wakeupkitty.pal/tip-5-steem-bounty-com
Tip 6: Improve your writing skills.
(Read, use Grammarly, practice free writing)
https://steem-bounty.com/services/forever/@wakeupkitty.pal/tip-6-improve-your-writing-skills
Tip 7: Steembasicincome (SBI)
(Help other and earn yourself too)
https://steem-bounty.com/services/forever/@wakeupkitty.pal/tip-7-steembasicincome-sbi
Tip 8: Join Actifit.
https://steem-bounty.com/services/forever/@wakeupkitty.pal/actifit-wakeupkitty-pal-20190804t202954803z
Tip 9: How to get your upvotes? Bot or not?
Do NOT use bidbots!
https://steem-bounty.com/services/forever/@wakeupkitty.pal/tip-9-how-to-get-upvotes-bot-or-not
Tip 10: Use the right tags!
https://steem-bounty.com/services/forever/@wakeupkitty.pal/tip-10-use-the-right-tags-tppza9rc
Tip 11: Giveaway and Thank you.
https://steem-bounty.com/services/forever/@wakeupkitty.pal/actifit-wakeupkitty-pal-20190814t194435899z
Tip 12: Have you voted yet?
https://steem-bounty.com/services/forever/@wakeupkitty.pal/tip-12-have-you-voted-yet
Tip 13:
To vote or not to vote, that is the question. https://steem-bounty.com/services/forever/@wakeupkitty.pal/actifit-wakeupkitty-pal-20190821t173452907z
Tip 14: I want my money! (Bitvavo)
https://steem-bounty.com/services/forever/@wakeupkitty.pal/tip-14-i-want-my-money-bitvavo
Tip 15: What option do you have after HF21?
https://steem-bounty.com/services/forever/@wakeupkitty.pal/tip-15-what-option-do-you-have-after-hf21
Tip 16: Automatically post, upvote and claim rewards.
https://steem-bounty.com/services/forever/@wakeupkitty.pal/tip-16-automatically-post-upvote-and-earn
Tip 17: New Steem - Steemvoter
https://steem-bounty.com/services/forever/@wakeupkitty.pal/tip-17-new-steem-steemvoter
Tip 18: Good content again
https://steem-bounty.com/services/forever/@wakeupkitty.pal/tip-18-good-content-again
Tip 19: Limited and if you have to wait.
https://steem-bounty.com/services/forever/@wakeupkitty.pal/tip-19-limited-and-if-you-have-to-wait
Tip 20: Help a plankton understand Steemit.
https://steem-bounty.com/services/forever/@wakeupkitty/actifit-wakeupkitty-20191009t183523884z
Tip 21: Contests and Photo contests.
https://steem-bounty.com/services/forever/@wakeupkitty.pal/actifit-wakeupkitty-pal-20191010t200840535z
Tip 22: A free upvote or promote for an upvote.
https://steem-bounty.com/services/forever/@wakeupkitty.pal/actifit-wakeupkitty-pal-20191013t190000435z
Tip 23: Monday Contests & Challenges to join.
https://steem-bounty.com/services/forever/@wakeupkitty.pal/actifit-wakeupkitty-pal-20191015t173810635z
Tip 24: Tuesday Contests & Giveaways
https://steem-bounty.com/services/forever/@wakeupkitty.pal/actifit-wakeupkitty-pal-20191016t194927912z
Tip 25: Wednesday Easy Contests & more
https://steem-bounty.com/services/forever/@wakeupkitty.pal/actifit-wakeupkitty-pal-20191017t171349064z
Tip 26: Thursday Contests & Giveaways.
https://steem-bounty.com/services/forever/@wakeupkitty.pal/actifit-wakeupkitty-pal-20191019t093425993z
Tip 27: Friday Good for an Upvote & more!
https://steem-bounty.com/services/forever/@wakeupkitty.pal/actifit-wakeupkitty-pal-20191020t141004465z
Tip 28: Saturday Challenges & Giveaways
https://steem-bounty.com/services/forever/@wakeupkitty.pal/actifit-wakeupkitty-pal-20191022t225155389z
Tip.29: CAT - CATnip - Kitten
https://steem-bounty.com/services/forever/@wakeupkitty.pal/actifit-wakeupkitty-pal-20191023t173702073z
Tip 30: Commentcoin (cc)
https://steem-bounty.com/services/forever/@wakeupkitty.pal/actifit-wakeupkitty-pal-20191026t161306468z?referrer=wakeupkitty