Steemauto might be a tool you like.
I am a mobile user so what I see can be different from what you see.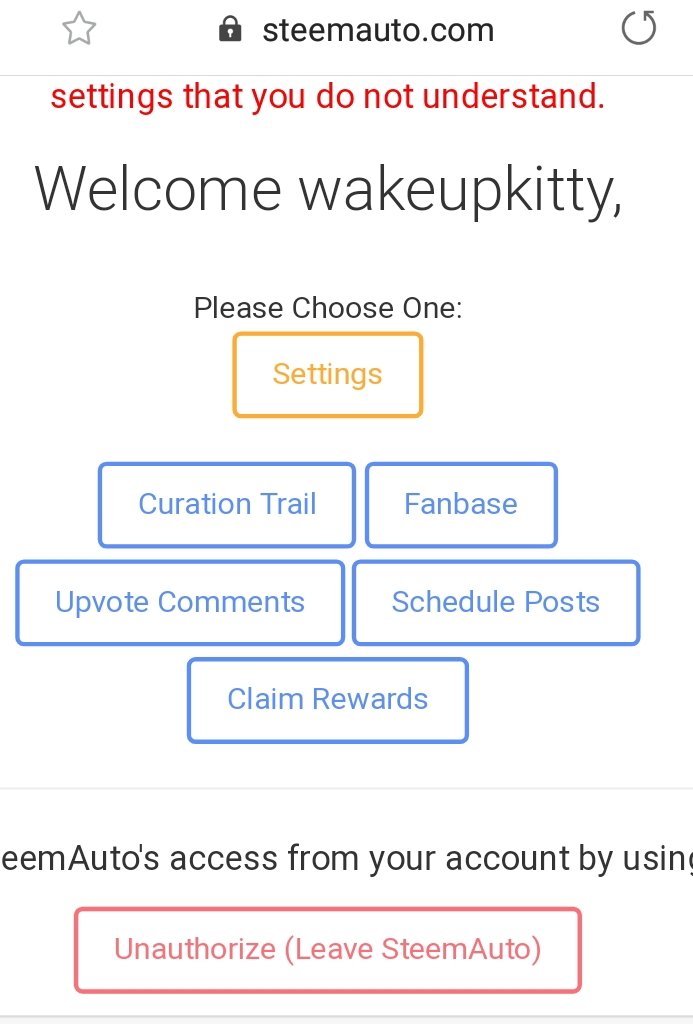 With Steemauto you can automatically:
schedule posts
upvote comments
claim rewards
follow a duration trail
make a fanbase<
Most of it I do not use.
I did schedule posts with it on days I was not able to be on Steem.
I decided not to automatically claim my rewards because it costs SP and there is no reason to do so every 2 hours. Once a day or week works fine too.
If you use it to upvote a post set the time at 5 minutes. If you upvote earlier you will get no curation reward and the writer will not earn either.
Note As a mobile user you have to switch to "desktop version" to see all options.
Ready for a new addiction?

Use Partiko and collect Partiko points.
Posting, commenting = points = steem!
Try it. There is nothing to lose


Steem is about earning. You need to earn to power up/stake. Without Steem Power (SP) you are not able to post, comment and upvote. Make yourself visible. Use your SP in the most efficient way.


Tips I wrote to help you


Tip: Introduce yourself!
Use the tag #introduceyourself if you did not do it yet.
(You might meet nice people or get interesting tips.)
https://steem-bounty.com/services/forever/@wakeupkitty.pal/who-am-i-and-why-this-account-gc4hlwvv

Tip 1: How to grow? Use dpoll.xyz!
(Go for the giveaways. Free SBI, upvotes, pal, monster cards).
https://steem-bounty.com/services/forever/@wakeupkitty.pal/tip-how-to-grow-use-dpoll-xyz

Tip 2: Join the engagement league.
Be visible, upvote your neighbours like they do with you).

https://steem-bounty.com/services/forever/@wakeupkitty.pal/tip-2-join-the-engagement-league

Tip 3: Join #ccc contests if you like to earn!
(Use the tag #ccc for every post with 200+ words)
https://steem-bounty.com/services/forever/@wakeupkitty.pal/tip-3-join-ccc-contests-if-you-like-to-earn

Tip 4: Share your photos (dapp Appics)
https://steem-bounty.com/services/forever/@wakeupkitty.pal/tip-5-share-your-photos
Tip 5: Steem-bounty.com
(Be a bounty hunter, get upvotes and earn forever on your posts!)
https://steem-bounty.com/services/forever/@wakeupkitty.pal/tip-5-steem-bounty-com
Tip 6: Improve your writing skills.
(Read, use Grammarly, practice free writing)
https://steem-bounty.com/services/forever/@wakeupkitty.pal/tip-6-improve-your-writing-skills
Tip 7: Steembasicincome (SBI)
(Help other and earn yourself too)
https://steem-bounty.com/services/forever/@wakeupkitty.pal/tip-7-steembasicincome-sbi
Tip 8: Join Actifit.
https://steem-bounty.com/services/forever/@wakeupkitty.pal/actifit-wakeupkitty-pal-20190804t202954803z
Tip 9: How to get your upvotes? Bot or not?
https://steem-bounty.com/services/forever/@wakeupkitty.pal/tip-9-how-to-get-upvotes-bot-or-not
Tip 10: Use the right tags!
https://steem-bounty.com/services/forever/@wakeupkitty.pal/tip-10-use-the-right-tags-tppza9rc
Tip 11: Giveaway and Thank you.
https://steem-bounty.com/services/forever/@wakeupkitty.pal/actifit-wakeupkitty-pal-20190814t194435899z
Tip 12: Have you voted yet?
https://steem-bounty.com/services/forever/@wakeupkitty.pal/tip-12-have-you-voted-yet
Tip 13: https://steem-bounty.com/services/forever/@wakeupkitty.pal/actifit-wakeupkitty-pal-20190821t173452907z
Tip 14: I want my money! (Bitvavo)
https://steem-bounty.com/services/forever/@wakeupkitty.pal/tip-14-i-want-my-money-bitvavo
Tip 15: What option do you have after HF21?
https://steem-bounty.com/services/forever/@wakeupkitty.pal/tip-15-what-option-do-you-have-after-hf21