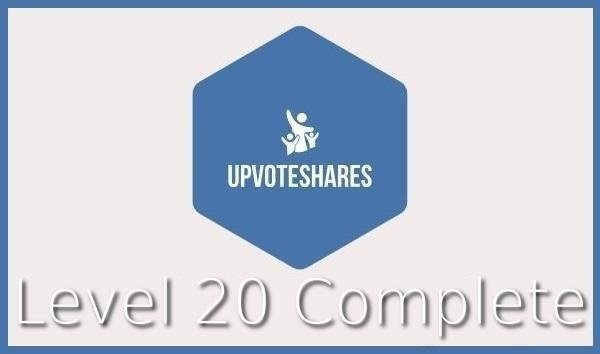 Upvote Shares is a project from @costanza that aims to provide Daily Upvotes based on a fair model that should be sustainable and scalable over time. More on the Model Mechanics can be found here. These posts are made each time a level is complete and include all the details of the different Shareholders and Sponsorships
---
Level 20
It took a bit longer than usual, but Level 20 is now 100% complete with the Steem for all shares being locked up in Steem Power which continues to spread daily upvotes to all shareholders. All unsold shared got burned as the account grew and they increase the returns for all shareholders a bit as the upvotes for these shares along with the curation dividends get redistributed to all active shareholders. In total since the start of this project 28 shares got burned, 34 are still unused as they are reserved for Sponsorship conversions and 18 are unused for future giveaways.
15 STEEM from entry fees were used to get an extra delegation of 380SP for 15 weeks. The upvote % for each share had not been adjusted for multiple levels which put some more pressure on the Voting Mana. I did adjust it down yesterday from 3% to 2.8% for each share with the aim to get voting Mana back above 80%
---
I also continue to increase the staked steem-engine tokens...
---
| Coin | Powered Up |
| --- | --- |
| STEEM | 5411 SP + 1696 SP Lease |
| PAL | 1030 PAL |
| SPORTS | 210000 SPORTS |
| LEO | 500 LEO |
| DBLOG | 1000 DBLOG |
---
Level 19 Shares
---
---
The ones who haven't given out their sponsorships can still do so the next couple of days in a reply to this post if they want to...
---
All Minnows that were with some delay sponsored added to the upvote list from the @minnowshares account from which they now receive upvotes until the next level is complete. For more info in case you got sponsored see This Post
---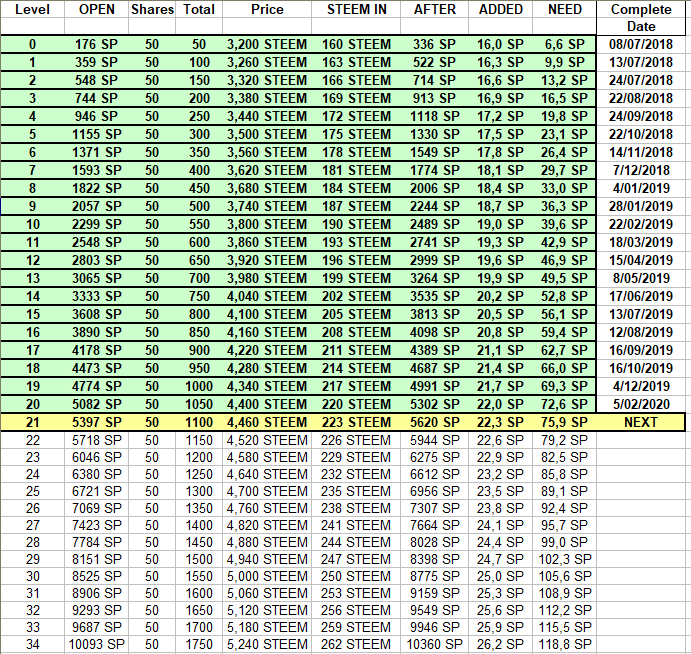 Read Table:

The Account reached 5082SP which opened up Level 20 and made 50 new shares available that were acquired for 4.400 STEEM each (220 STEEM Total). This was Powered Up and 22.0SP (10%) was added on top. (an equal amount was paid out as curation rewards to shareholders) The account now needs to reach 5397SP (+22.3SP) making every share worth 4.460 STEEM to open up Level 21 ...
---
Previous Levels Information
---
Next post will be posted when the next Curation Reward Dividends will be paid out followed by Level 21 Opening up...
---
100% of the token earnings from this post will go towards growing this account and increasing the value of each share. As always feel free to leave remarks, suggestions or questions in the comments and let me know if I made a mistake somewhere not adjusting your voting % properly. Thanks Everyone !