Watching a person's deeds, and what they say about their core beliefs; will give a view into a person's heart! While claiming that they are 'for' the 'little guy'; liberals expose their hearts in Nevada. Simply put, they believe that THEY should rule us, as we are too stupid to make important decisions!
Image from article
https://www.washingtonpost.com/opinions/2020/02/18/fix-primaries-let-elites-decide/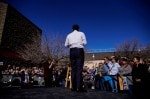 Democratic presidential candidate Pete Buttigieg in Carson City, Nev.
He is saying that the elites should be able to choose candidates.
Article on the midset that only liberal elites are able to pick the next POTUS:
https://www.washingtonpost.com/opinions/2020/02/18/fix-primaries-let-elites-decide/
Buttigieg, speaking to a rally of liberal sheeple; basically told them they are too damn stupid to decide who should lead them as POTUS, without help! Sad to say, but they apparently bought it....
The current process is clearly flawed, but what would be better? Finding an answer means thinking about the purpose of presidential nominations, and about how the existing system falls short. It will require swimming against the tide of how we've thought about nominations for decades — as a contest between everyday voters and elites, or as a smaller version of a general election. A better primary system would empower elites to bargain and make decisions, instructed by voters.
AD
One lesson from the 2020 and 2016 election cycles is that a lot of candidates, many of whom are highly qualified and attract substantial followings, will inevitably enter the race. The system as it works now — with a long informal primary, lots of attention to early contests and sequential primary season that unfolds over several months — is great at testing candidates to see whether they have the skills to run for president. What it's not great at is choosing among the many candidates who clear that bar, or bringing their different ideological factions together, or reconciling competing priorities. A process in which intermediate representatives — elected delegates who understand the priorities of their constituents — can bargain without being bound to specific candidates might actually produce nominees that better reflect what voters want.
GOD Forbid that we would ever let the Voters actually decide for themselves...that smells too much of an honest vote! We can't allow that, obviously....
A nomination contest is not like a general election. They aren't being fought to win, but to go on to November. But the kinds of processes that we associate with more open and high-quality democracy may not actually help parties produce nominees that really reflect the party's overall concerns. Democracy thrives on uncertainty — outcomes that are not known at the beginning of the process. But uncertainty doesn't help parties strategize for the general election.
First, this is a Republic, NOT a Demacracy; so this is a total lack of understanding of the formation of this country! Uncertainty, from their view; is called Freedom by intelligent people.
The reforms that created the modern primary system in the 1970s opened the door to too much uncertainty — and to divisive nominees such as George McGovern in 1972. This spurred efforts by party leaders to take control informally through a system of endorsements and donations, narrowing the field down to acceptable candidates before the first caucuses and primaries took place. What's emerged since then is a process that's incredibly complicated. Different states jockey for influence in the official primary. Candidates strategize about delegate counts. Elites try to shape the decision early on. Everyone is doing guesswork about what others want. Reforms to the process should try to make that guessing a bit more informed.
IF you allow a free and honest vote, and don't spend your effort stuffing the ballot boxes; there is NO guesswork at all! BUT, They can't allow THAT and retain a choke hold on power in DC!
It is sad that they don't even know how malignant they are....