CHRONOVURUS IS COMING! What does that mean, and what should we do?
I am NOT a Doctor, so I will tell you what decades of Herbal studies; combined with a study of this issue, has helped me develop this plan for me and mine.
First, it is important to speak to medical health levels before exposure. The better the health level, the less dangerous any infection will be. This includes exercise (sorry folks), and healthy eating. Everyone knows this, but it seems to be the elephant in the room....
There are well know health support items (zink, D, C, and Hot Tea with lemon and honey) that everyone should stock up on, and be ready to use. The zink and C should be done now!
The other elephant in the room is that with simple precautions, this will be a null. For now, Avoid contact, clean your hands, no crowds, and don't spread it if you get sick! This is like the common cold, and about as dangerous. It has just been hyped by the MSM, in order to raid the stock market!
NOW, lets look into the Herbal possibilities. The most effective anti viral in purple cone flower, also known as Echinacea. Everyone should have a supply in house, just in case!
Pixabay image:
https://pixabay.com/photos/echinacea-flower-coneflower-nature-1713939/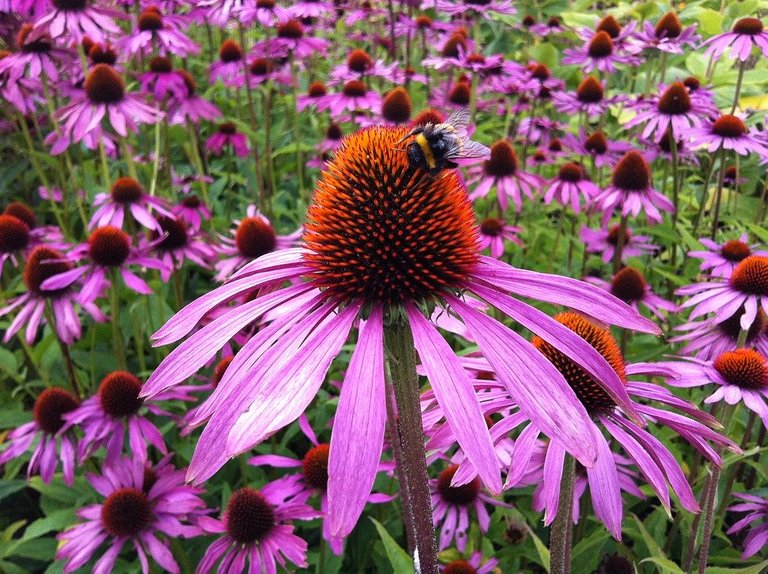 Echinacea is a direct anti-viral with three comounds; caffeic acid, chicoric acid, and echinacin. The roots of this plant also contains Interferon, the body's natural anti viral compound. It also in proven to stimulate the body's immune system directly.
It is Important to note that you can NOT take Echinacea long term, so DO NOT begin taking it unless you are actually sick!!!
NOW, let's get into the herbals:


There are some other herbals that are mid level effective against viruses, that would be smart to keep on hand. Here is a list: Astragalus, Dragon Blood, Garlic, Goldenseal, Juniper, Lemon Balm, Licorice, and Shiitake are all effective treatment.
There are some additional herbals that are commonly used for combating viruses, here is that list:
Eucalyptus, Forsythia, and Ginger are often used against viruses.
These two lists can be taken long term, to strengthen your system ahead of time, so GET THESE! One word of caution, each person reacts slightly differently to individual herbals. I am unable to tolerate several herbals myself, Including Goldenseal above! But this herb doesn't bother my wife.
One last recommendation, The Chronovirus kills by causing Pneumonia, and the fatalities result from the pneumonia not the virus! There is one more herbal that you should have; it is called Stinging Nettle. I have used this for decades to help my bronchitis (from lung damage working on the pipeline), now I no longer have the problem, and my lungs have healed! This is powerful stuff, and it makes one of the best tasting herbal teas I have ever enjoyed....
IF you can't find this locally, here is where I buy mine, and I have no relation with this website, except as a happy customer! I have not found any errors on her site either, so enjoy if you don't have a local source!
www.our4corners.net
Here is how you make the Nettle tea: In a tea or coffee maker I put one regular tea bag (I like the taste together) with a 3" stainless tea ball, half filled with stinging nettle leaves; in a full pot of water, and brew. I add 2 teaspoons of Xyletol and 1/8 tsp of stevia (we don't use sugar here); and keep it in a thermos. It works better when Hot, but is effective when cold too.