Hello all,
I hope you must be knowing what tribe is !!!
In very simple language, tribes are the blogging platform focused on a particular niche and they are powered by the steem engine token.
Whatever you post in that particular tribe also be visible from steemit platform, giving you a chance to visible to more users and to get more rewards.
You can follow @steem-eng for more updates in future.
Every niche have their own token, whenever some one up vote you in the tribe, you get awarded with their own token.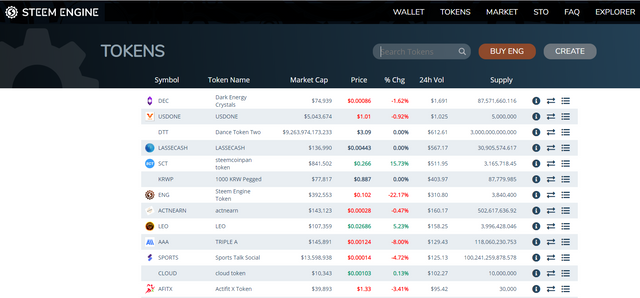 This is a glimpse of steem engine and its token. Even anyone can create their own token here.
Here is an article by @aggroed on steem engine, have a look if you wish :
https://steemit.com/steemengine/@aggroed/introducing-steem-engine-com.
---
Now let's consider different tribes :
Related to sports niche, Deals with sports token.
This is the most visited site among the other tribe in recent times. You can post article related to any sports here.
Don't try to spam the platform by adding any article, which is not related to sports. If you are consistent and creative, this is the perfect platform for you to start with.
For more info follow : @sportstalksocial
This niche is related to investment. You need not to be investment master to discuss here. Any one can share their point of view here.
Am very much optimistic on this platform.
Have a look at the price right now :


The rewarding system is very much similar to steemit only, but you get rewarded with Leo token.
In the steem engine platform, you can buy Leo token with steem. I encourage you to invest something it now as the future seems to be bright.
Here you can post any article in any niche. More like steemit platform. Thanks to @palnet for this.
For posting any content to palnet, you have to either post your article in their own platform or you can simply post in steemit with the tag of palnet.
They use pal token to reward you.

The price is now only .004 $. It a good time to buy some, if you have already missed to boat on steemit at the beginning.
They are very new to steemit tribe.
The rules are very relaxed, mean probably you can post anything related to affilate marketing, digital marketing, online marketing etc.
I request @clicktrackprofit to clarify much about the rules, as I could not find any straight forward rules.
They award the authors and curators with CTP token.
Here is the price; you can buy some from steem engine. Considering the value of the platform and the potentiality, you must invest some money in this too.

To stop spamming here, @NoCTP4U may down vote your content. So be respectful to the tribe and add only content that will be helpful to others.
---
There are even more tribes and their no is increasing everyday.
Considering the trend I feel its always better to board early and invest some money in these platforms.
Hopefully you found this article informative.
Thank you