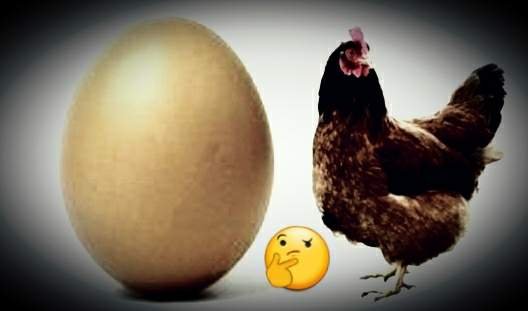 È nato prima l'uovo o la gallina?
La domanda sembra non avere risposta... o per lo meno non ce l'ha, solo se non si riesce a pensare fuori dagli schemi oppure sei drogato o ubriaco o come ( non ) me ' stai ' di tuo.
So che qualche illuminato luminare della ' sticazzi accademy of university of the universe of this dick ' ha pensato ad una soluzione...
Ma il basa c'e arrivato prima brother, non lo ha annunciato alle televisioni, ma tutti gli amici e conoscenti del basa sanno che è così... da almeno il 2002.
Il basa lo sapeva!
Ricordo ancora quando questa illuminante verità mi pervase il cervello inondandolo di sapiente illuminescenza cosmica.
Ero in tibet, in una grotta situata a circa quattrocento km dalla prima cittadina abitata rurale, stavo facendo la mia solita doccia di due ore sotto la cascata cristallina con acqua a 3 gradi ( cose da maschio alfa ), immerso nella natura e nel silenzio dei miei pensieri urlanti 🤔, quando la folgorazione mi colpì come un sasso da un chilo dritto sulla fronte.
Scusate non come un sasso, ma con un sasso da un chilo.
Al mio risveglio, dopo essermi cucito la ferita con del filo ricavato da una pianta della quale voi non conoscete l'esistenza, ho preso un bastoncino di legno e intingendolo nel mio sangue ho scritto questo sul sasso da un chilo, ovviamente in stato di ' trans ' ( sciao belo scinquanta lammore ):
È nato prima l'uovo o la gallina?
È NATO PRIMA L'UOVO CHE C'ERA GIÀ AI TEMPI DEI DINOSAURI.
LA GALLINA È ARRIVATA MOLTO, ANZI MOLTISSIMO TEMPO DOPO.
L'uovo è il mezzo, la gallina è solo uno dei tanti risultati ai quali il mezzo ha portat... ( e lì ho finito il sangue per scrivere, comunque si capisce tutto quello che l'universo mi ha dettato ).
Ps. Il segreto sta nel pensare fuori dagli schemi o nel farsi colpire forte forte con una pietra.
Più è grossa pietra, più può essere lanciata piano, più è piccola più va lanciata forte.
La cosa è inversamente proporzionale
( giusto buttarci parole scientifiche ogni tanto, visto che La mia parte terrena fa a botte con quella elevata ).
Pps. La storia del tibet non è vera, probabilmente l'idea mi è venuta in bagno.
Era comunque il 2002.
Ppps. Il sasso da un chilo esiste ma mi ha colpito in testa molto tempo fa.
Pppps. Da oggi in poi, ogni volta che mangerete un uovo, saprete che siete di fronte al campione!
Viva l'uovo, fanculo le galline.
Scrivetemelo nei commenti...
Viva l'uovo e fanculo le galline!
C'è solo un problema adesso... volevo levare un dubbio a tutti, ma mi sorge a questo punto un altro quesito.
È nato prima l'uovo o il dinosauro?
Nooooooooooooooooooooooo.
Occhio a dire viva l'uovo e fanculo il dinosauro, che quello è grosso!
AAAAAAARRRRRRRGGGGHHHHH 😁
Questo era il ruggito del dinosauro, voi non eravate li come non c'ero io, quindi sono tutte supposizioni.
L'unico che lo potrebbe sapere è l'uovo, che come ampiamente dimostrato già c'era...
Ma purtroppo non può parlare per contraddirmi.
Posted using Partiko Android