The family that turtle tattoos together stays together!!!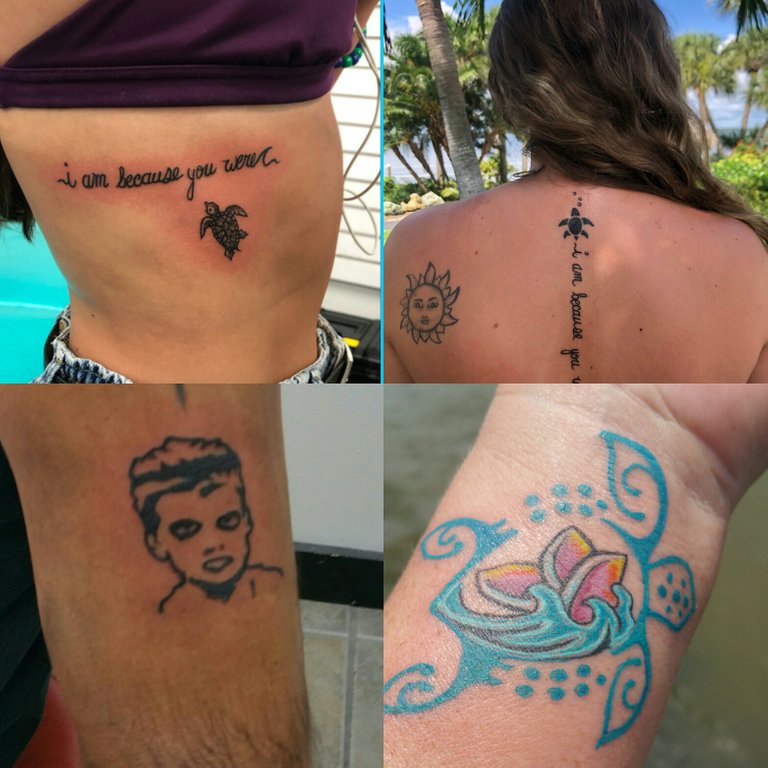 Turtle Powers Activate!!!
My family and I have just returned from a glamping trip to Melbourne Beach Florida and while there, we all got turtle tattoos. We have been going on a family vacation to Melbourne for over a decade and every year we take a late night trip to the beach so we can watch the sea turtles lay their eggs. It is an incredible site to see these dinosaur type creatures crawl from the depths of the sea onto the moonlit beach and make their way to a suitable spot to start digging a nest so they can ensure the survival of their species.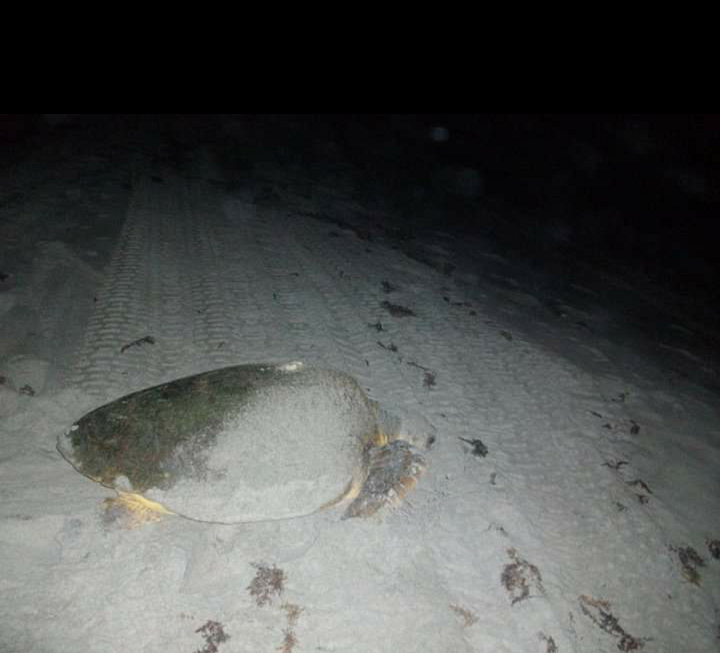 These majestic beasts have been on the planet for over 110 million years and 90 percent of loggerhead turtles in the United States call the space coast their nesting home. Once a baby turtle is born at a specific location they will always return to the same place to lay their eggs. This has always held a special place in our hearts because we have watched our little ones grow up over the years as we returned to the same beach as well. Now my youngest daughter is 18 and heading off to college and my oldest daughter is quickly climbing the corporate ladder so things will be changing for us, who knows if our vacation times will ever match up again, this may very well be our last trip to Melbourne.
We wanted to commemorate the occasion with something special and it didn't take long for the conversation to turn to a turtle tattoo. This would be a permanent offering to the turtle gods showing that we are at one with them, and unite my family in a unique way so we will always remember the great times we shared together at the beach.
My kids grabbed some sharpies and quickly started sketching out designs while my wife and I searched the interwebs for turtle tattoo images. My wife found what she wanted rather quickly and knew her placement would be her wrist, my kids didn't take long to come up with the saying and sketch out the design that would mark them for life. They both wanted "I am because you were" script with a small turtle, my oldest going for the most painful spot on her spine and my youngest requesting the second most painful spot, the ribs.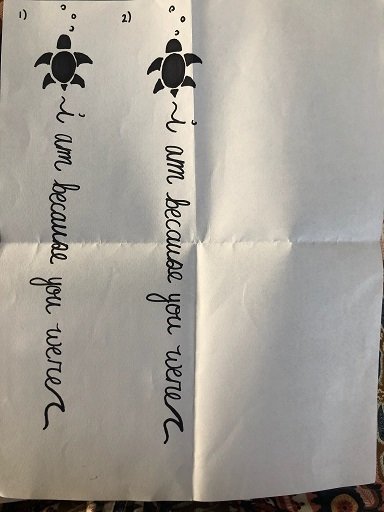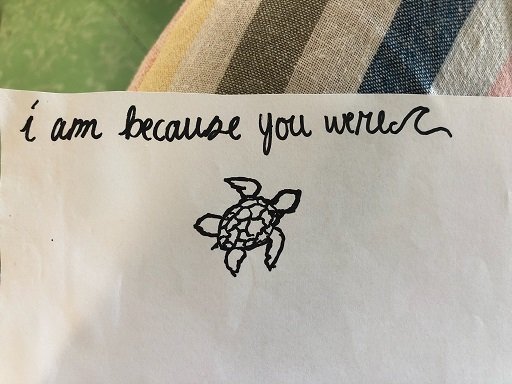 I, however, wasn't too keen on getting a normal turtle tat, I mean I could go with a tribal design; maybe a ninja turtle or Crush from Finding Nemo but that really didn't fit my personality. As the conversation and design process continued while consuming many alcoholic beverages, I ended up saying "I like turtles" from one of the viral videos that always made me laugh. Eureka!!! I need that kid from the video on my arm for life. My wife and kids all burst into laughter so I knew that had to be the one for me.
I started calling tattoo shops in the area, we were only there for two more days and most places were already booked. I found a place in the mall called the Ink Spot willing to fit us in on our last night there, I was thinking "oh great, a mall tattoo" I wasn't expecting the best work but the designs were pretty simple and we didn't want to dump a ton of money. I was pleasantly surprised with this place; everyone was welcoming, knowledgeable and professional. Ezra did all of our tattoos and he was great, he took his time making sure everything was placed right and didn't make you feel dumb if you didn't like the spot the first time, I think he redid the placement of my daughter's spine stencil 4 times making sure that it was straight.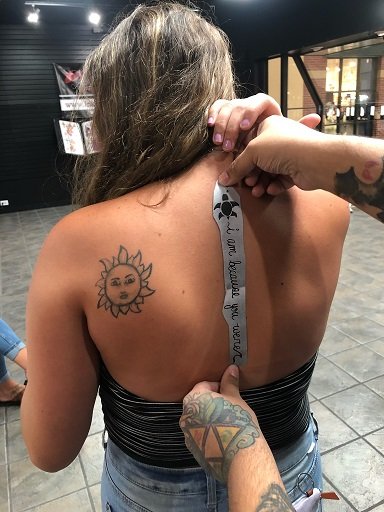 My oldest daughter was the first. She laid flat on her stomach, popped her earbuds in and prepared for the worst. The girls stayed up late the night before watching YouTubers explain the excruciating pain of spine and rib tattoos. Ezra started on the lettering and my daughter didn't even flinch, she said there were a few rough places in the middle of her back but overall not too bad. He knocked her's out in about 45 minutes and she was relieved that her time was done.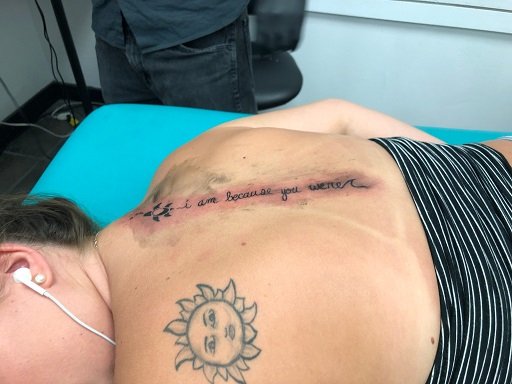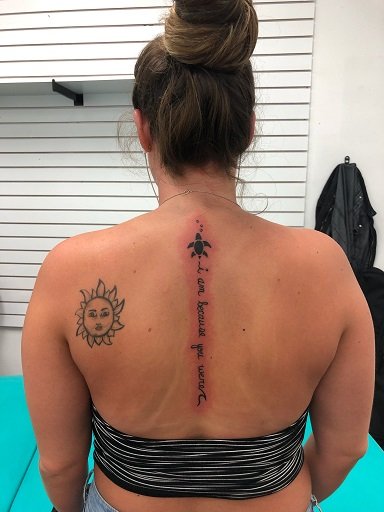 Next was my youngest daughter, who was scared shitless because of the YouTube crybabies and it being her first tattoo. Ezra again took his time with the placement, moving the script down and the turtle more towards the front twice, making sure she was happy with it. He dug into the words first and she squeezed her sister's hand tightly while her face winced. She adjusted rather quickly and handled the rest pretty well, at one point Ezra asked if she wanted the turtle shaded more and I spoke up and said he should. (a little payback for all the rolled eyes she gives me when I try to give her advice) He did about 5 more minutes of shading and she was happily looking in the mirror at the final product.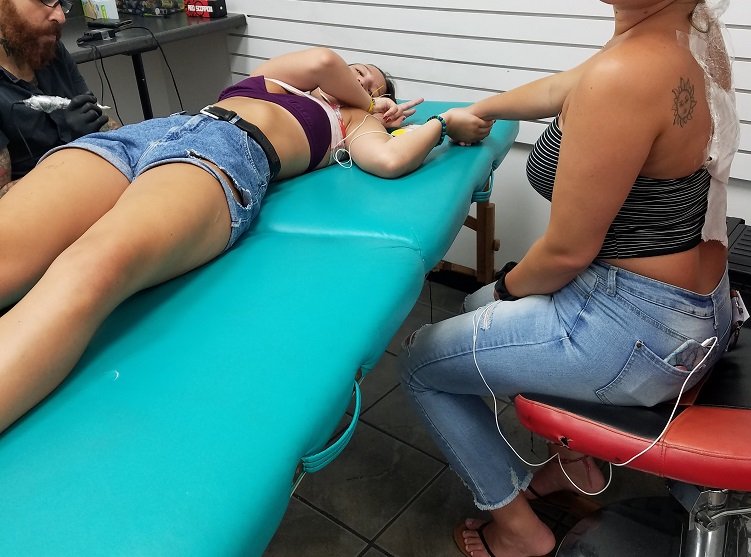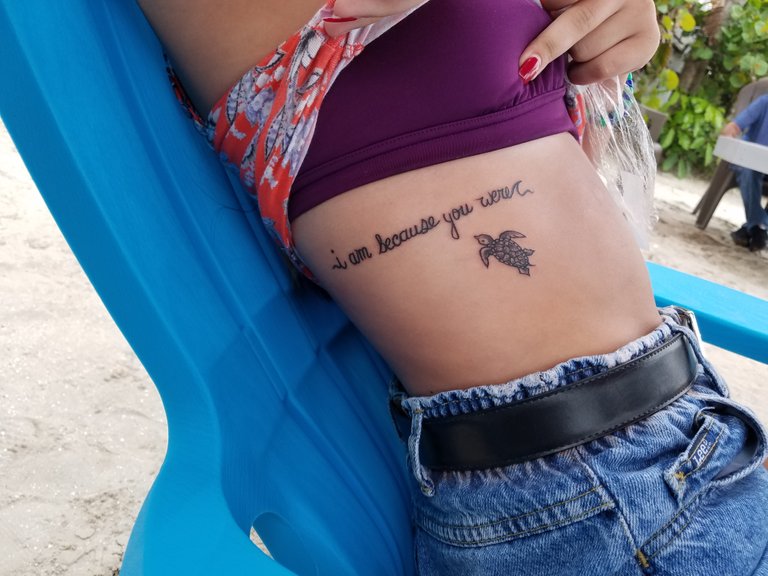 Now it's time for my wife, she has a few tattoos and wasn't worried much. She liked the first placement of the stencil and put in her earbuds, drifting off to Ziggy Marley heaven while watching the progress of her new ink. This is where Ezra blew me away, his version of the tattoo turned out so much better than the image we showed him. She would have been happy if it turned out the same but is thrilled with the outline color being a light blue instead of black and the detail he put in the middle. I think hers turned out the best which is nice because it's in a place everyone is going to see daily. I really appreciate the time he took and his vision of the design.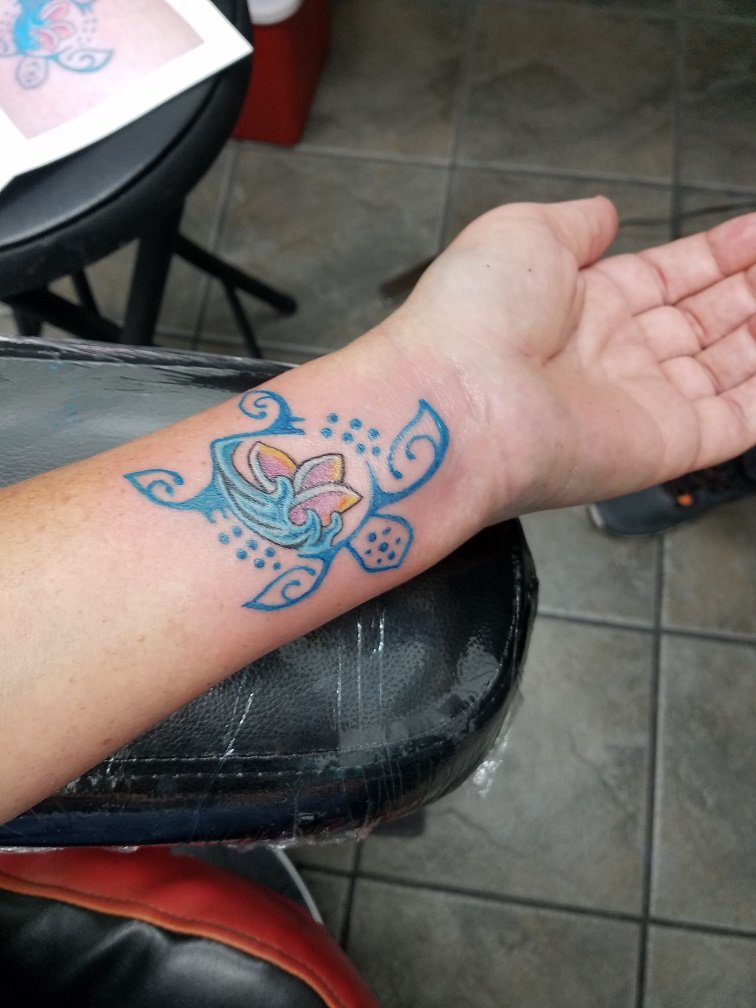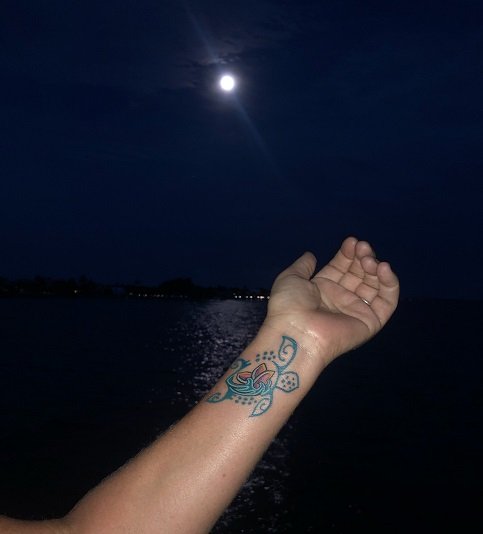 Last but not least is the piece de resistance. The" I like turtles kid" is about to be immortalized on my arm bringing me as much joy as when @papa-pepper saves a snapper from crossing a busy road. With this tattoo, I will now be in the turtle elite and will surely be welcomed into any swamp, beach town or marshland with open arms. Ezra had never seen the video till that morning so he had a constant grin on his face while setting up. I popped my Nickelback cassette into my Walkman and Ezra went to work, even though this is small, I never felt a thing. Definitely, the most gentle tattoo I ever got, this was the first time somebody used a rotary machine on me so maybe that was the difference but it was a piece of cake. Now, there will never be a doubt if I like turtles or not, I can just roll up my sleeve and give them a nod.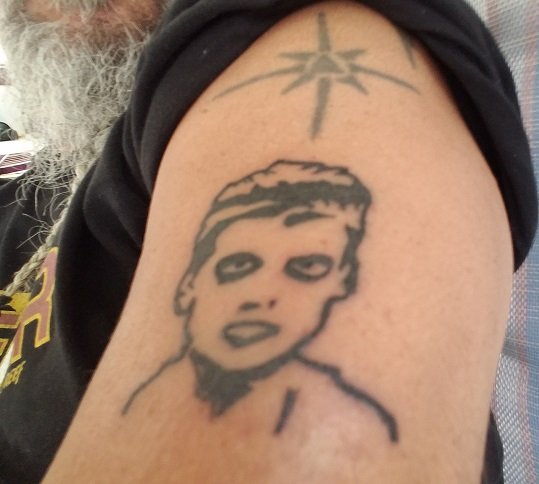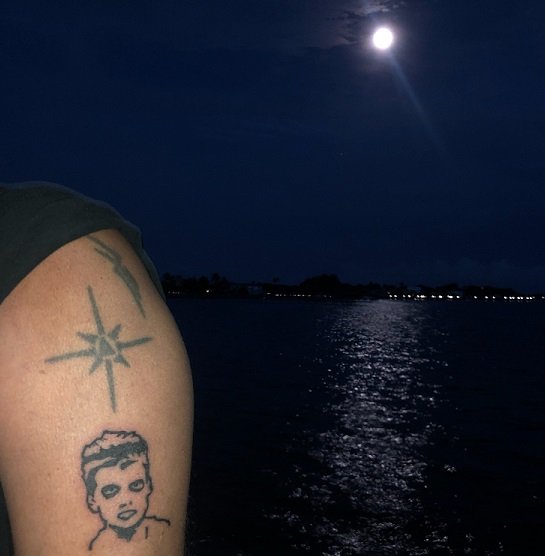 If you plan on watching the sea turtles laying their eggs please be respectful and follow the guidelines set by The Sea Turtle Preservation Society
If you want a good turtle tattoo in Melbourne hit up Inkspot and show Ezra some love on Instagram @ezra_corden