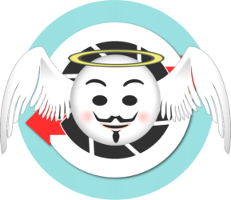 Hi all!
---
As of last week, some, well, morally superior creature has decided to downvote all my posts.
I don't know what his reasons are. Apparently those types have a lot of qualities, but communicating is clearly none of them. Probably some bully who has been thrown off twitter and who now comes here to give free rein to his frustrations ...
Anyway, his latest hobby has consequences for my posts here.
The rehives and upvotes have not been impacted of course. I will continue to do this and the weekly payments to the delegators will continue.
The rehive contest will also continue as usual. The only difference here is that the winners may get Dhedge instead of Archons ... but that's up to our sponsor @taskmanager and has nothing to do with our hyperkinetic downvoter.
But as for the daily dice roll ... that's a different story. As you know, I divide the post pay-out among the winners of the day ... but if someone takes pleasure in downvoting each post to 0, there isn't much left to divide, huh.
For me personally, however, not much will change ... I started this project as a hobby and to improve / challenge my programming skills. Javascript and the blockchain are still new to me and it remains quite a challenge and a lot of fun to create something that ... sometimes even works 😁
The fact that someone wants to sabotage this (anonymously) doesn't bother me ... I keep posting and you can expect the daily dice roll every day.
But of course I can't expect you to waste any further upvotes on this. That is the reason for this post. I wouldn't want anyone to think I'm taking down the prize pool ... So if you don't want to upvote anymore, no problem, I get it, nobody ever has enough votes to use. 😉
Maybe some of you will think that I am taking this all up rather stoically ... and that's right. I've been on this blockchain long enough now ... actually started on the earlier one, remember that blockchain we are not allowed to speak of…steemit, steem?
Well, one thing I have learned: you can worry, start a flag war, shout from the rooftops how unfair it all is ... it doesn't help.
The only thing I regret is that I notice that this chain is going exactly the same way as the previous one ...
Oh yes, it are other players who screw things up, but the result remains the same ... they decide what is allowed and what is not ... The freedom of speech is limited to the size of your wallet ... Funny, if I remember well, I saw that exactly same thing happen… elsewhere 😉
---

If you enjoy my upvotes, don't forget to pay my delegators a little visit to show your appreciation
Right now, they are :

@amico.sports
@bengy
@branbello
@deerjay
@ecoinstant
@femcy-willy
@globetrottergcc
@jamerussell
@jeanlucsr
@johannpiber
@justclickindiva
@khan.dayyanz
@lightcaptured
@melinda010100
@redheadpei
@sandymeyer
@sayago
@sgt-dan
@silversaver888
@simplegame
@thekittygirl
@thunkgaria
@tobywalter
@traciyork
@troynamps
@wesphilbin