So we've today the last article of this promo set and it's very clear that we have some key cards in it, I've posted about the others splinters in my precedent articles in these links if you're interested:
And now we will see the Red splinter with the interesting Lord of Fire: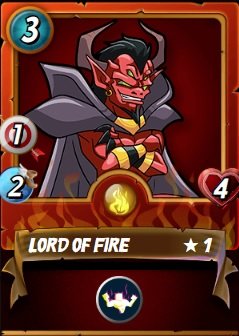 The most cheap in mana terms of the legendary monsters after Shin Lo, doesn't seem a big deal but can be very dangerous against teams with high armor and multiple healers, it has also some anti magic with his silence ability that allows Red monsters to survive more to those pesky Blue teams.
By now it isn't being very used but I suppose that this card will have it's importance when the new ruleset combinations are implemented, remember we will combine two rulesets instead of one, having much more competition modes. I think that this card will give more versatility to Red on those. So is a card relatively cheap now if we compare it with the Corrupted Pegasus, which is clearly having its functionality in Up close and personal already. I expect the value of this card to rise up soon.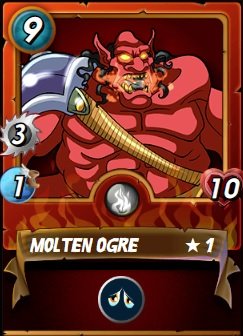 A card that I personally don't like but has some utility in Up close and Personal, outside this format is maybe the "weakest" card of the WoC set. Anyways its convenient to be careful and don't sell these like they were trash for the same reasons of the LoF, the new combined rulesets can make this card much more useful in some of the new formats that we will see.
Red has imo some disapointing cards compared with the rest of splinters, but maybe we will see some balancing in the future so who knows.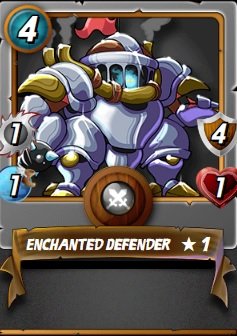 Useful card in many splinters, especially for Black since we hadn't a specific card with thorns, we can opt to play the Spineback Wolf in the back but it isn't his ideal position, anyways is risky to play it if we expect to play against Green because of the Goblin Sorcerer.
Very interesting especially in Up close and personal and combined with an Armorsmith.


A very valued card and important in some formats, useful in Back to basics with Blue and with Delwin, considering how Blue dominates in some rulesets this can be a key card in mirror matches of Blue, stunning a LoS is no joke on those.
Is expensive for some simple reason, is one of the best cards of the promo set and the fact of being neutral gives him an special status.
I hope you enjoyed the article!, see you soon!, dear readers.