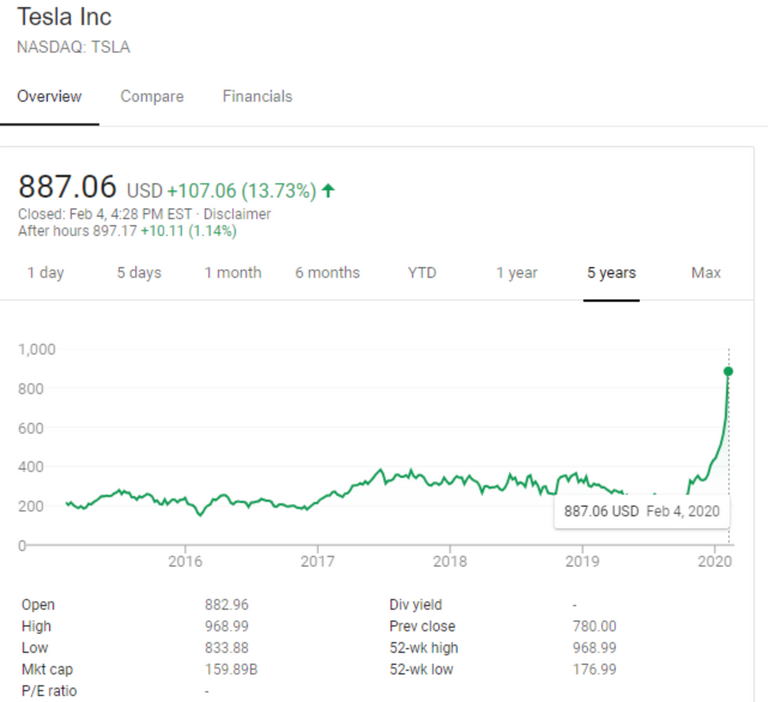 Images from Google Finance
I have been around the financial markets for over 20 years now and the reality is that the markets are truly sustaining unprecedented moves. While I have seen panic and fear in the markets, never have I really seen the volatility that we have seen in the past 3-4 weeks. The Volatility Index (VIX) is proof of this as it has reached record highs which have surpassed those seen in the Financial Crisis over 10 years ago. That says plenty as the Financial Crisis was the closest to a systemic shutdown since the Great Depression.
It has proven that the old saying of "what goes up, must come down" is alive and well. Despite the world economy showing signs of being in its best shape ever with historic asset values and low unemployment, the uncertainty surrounding what the impact of a global pandemic will be has truly hurt the prospects of the future. Asset values are based on future expectations so while the reality is that Companies today are probably not worth 30-60% less overnight due to the pandemic, the reality is that the uncertainty of the future skews the opinions of investors to determine true value.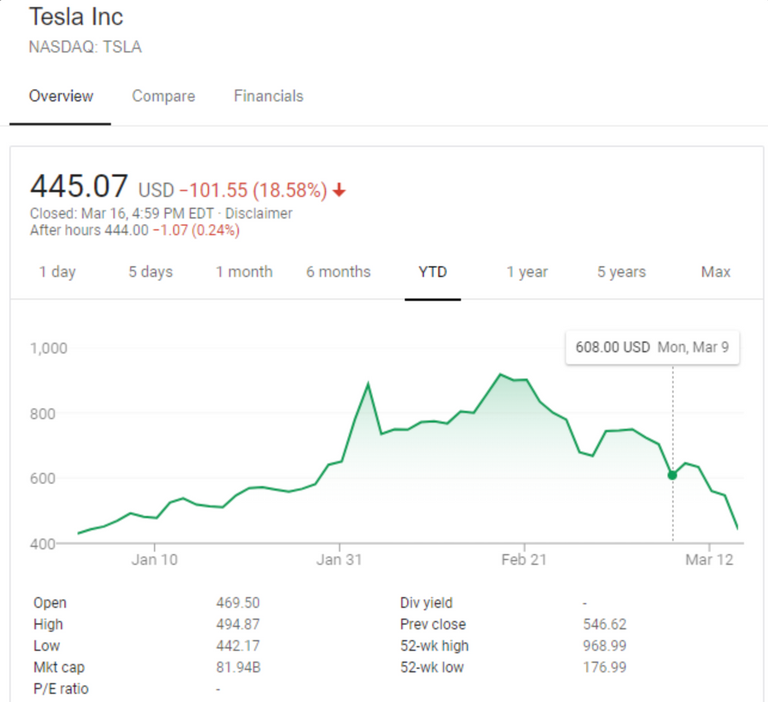 It happens on both sides, up and down. Tesla is probably the best example I have seen in recent times. Before the pandemic hit the markets, we saw Tesla hit remarkable valuation levels due to its out-performance in the business it is in. Given that investors were so polarized to its future (and valuation), those that had bet against it were temporarily forced to go with the trend. The stock and its valuation skyrocketed in a very short period of time. Unfortunately, it has now comeback down by over half of the move.
However, Tesla continues to be much higher than it was before the move. It has also made some great decision during the move higher like raise capital at a high valuation. While it upset investors, it now has the liquidity it needs to not only continue its growth and innovation but also to weather the economic downturn that is probably upon many in its industry. It has some liquidity issues in the past so imagine if they did not raise the capital and that time and its prospects leading into a likely economic recession?
These will be the decisions in the coming weeks that will separate the strong and the weak in the economy. The uncertainty of how the pandemic will impact the economy is now more clear as it will lead to a significant slowdown but the length of the impact is yet to be seen and will be the focus now. Governments are again taking out their checkbooks to support the economies and businesses but they have never been efficient at working together so uncertainty remains. The crisis is health related but can easily flow into other areas if not taken care of.
This will be another lesson to learn from and will produce interesting opportunities in the markets. Given the need to be socially distant and isolate ourselves, it its providing a good opportunity for many of us to look inward and determine our next steps. This could be an opportunity for each of us to reinvent ourselves and push forward a reset to move forward and come out on top. The one thing we do know is that after every crisis, change remains. We must learn to adapt and be prepared for the evolution ahead!

Discord: @newageinv#3174
Chat with me on Telegram: @NewAgeInv
Follow me on Twitter: @NAICrypto
The following are Affiliate or Referral links to communities that I am a part of and use often. Signing up through them would reward me for my effort in attracting users to them:
If you are like me and interested in continued personal growth, invest in yourself and lets help each other out by leveraging the resources Minnowbooster provides by using my referral link
Start your collection of Splinterlands today at my referral link
Expand your blogging and engagement and earn in more cryptocurrencies with Publish0x! Sign up here!
The best new browser to protect your privacy while still being faster and safer. Try the Brave Browser today with my affiliate link here: https://brave.com/wdi876
Try the Partiko Mobile app to engage while on the go with my referral link
Get started on the latest game on the blockchain Drug Wars by signing up here!
If you select one of my above referral links, I will sponsor a @steembasicincome SBI in return. Let me know if you do so in the comments below!

DISCLAIMER: The information discussed here is intended to enable the community to know my opinions and discuss them. It is not intended as and does not constitute investment advice or legal or tax advice or an offer to sell any asset to any person or a solicitation of any person of any offer to purchase any asset. The information here should not be construed as any endorsement, recommendation or sponsorship of any company or asset by me. There are inherent risks in relying on, using or retrieving any information found here, and I urge you to make sure you understand these risks before relying on, using or retrieving any information here. You should evaluate the information made available here, and you should seek the advice of professionals, as appropriate, to evaluate any opinion, advice, product, service or other information; I do not guarantee the suitability or potential value of any particular investment or information source. I may invest or otherwise hold an interest in these assets that may be discussed here.