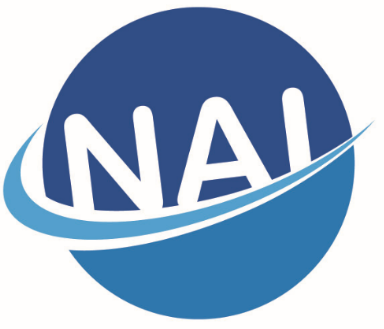 This is the latest it has ever taken me to not only publish this quarterly report but also to write it. Unfortunately, time continues to speed by for me as every part of my life is feeling so accelerated. Whether it be the ever increasing workload in my career due to my increasing responsibilities or the self-imposed stress of selling my home to move the family elsewhere, I can admit that Steem and engagement has fell of my list of top priorities. However, I continue to be committed to providing content and remaining present as I believe that the community continues to add value and develop an ecosystem that will be a key participant in the Blockchain revolution or evolution we will soon see. The journey continues to expand making this a two part journey like previous reports.
I had an active start to the year looking at my Steem data as 2019 was the busiest and most productive year for me in the ecosystem as I continued to take advantage of the price of Steem to add to my stake over time. While I eventually ended my Dollar Cost Average strategy, I remained committed to accumulating as much of the Steem resources available given my belief in their long term value. Although I spent a lot of the Steem purchased and earned for my Splinterlands Collection, my account grew a good deal in 2019. I did not achieve my goal of getting to 25k Steem Power although the value of the combination of my Steem Account and my Splinterlands Collection far exceeds that. My goal of Steem being my most significant Cryptocurrency holding still holds because of this.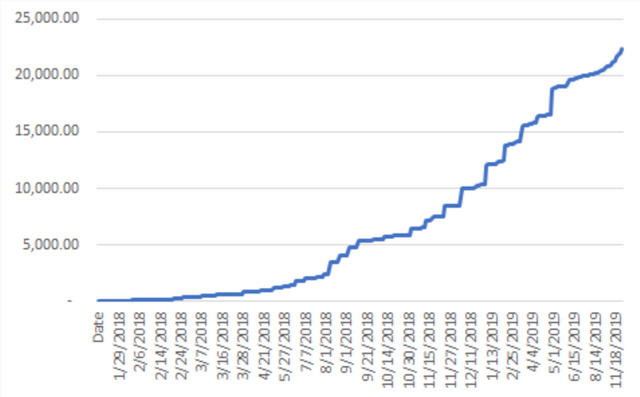 Despite the challenges, the power of Staking on the protocol demonstrated itself as the Steem Power continued to grow. During the quarter, I decided to accept all rewards in Steem Power which helped with the steady increase over the period. In addition, as I was reconciling the earnings and balances for year end tax reporting, I noticed that I had Steem Power unaccounted for which is due to the inflation provided by the protocol. This alone added about 380 additional Steem Power to my account. I remember when I began that being able to accrue 1 Steem Power a day was my goal which I have now exceeded easily.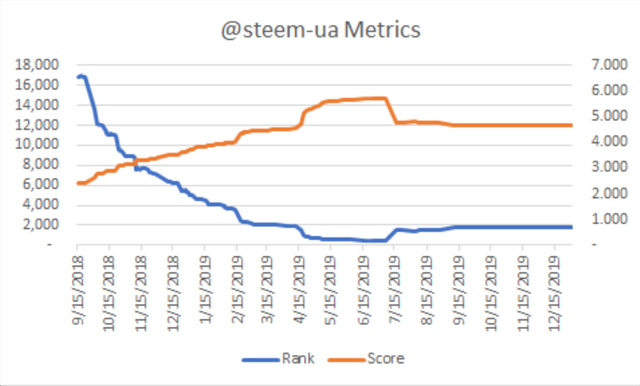 My engagement surely leveled off this quarter as I have admittedly pulled back from engaging on other's posts. While I originally thought it was due to my disappointment on how the Hard Fork had impacted the ability to incentivize those members that engaged on posts, it was really because of my busy schedule not allowing me to be available online. My screen time has been down substantially which is an acceptable trade off as I have spent that time working and with the family. I think that it is at a good balance although I do want to be more active given the recent launch of communities. Ultimately, I still made it to the Top 100 list from @abh12345 last year which is an honor!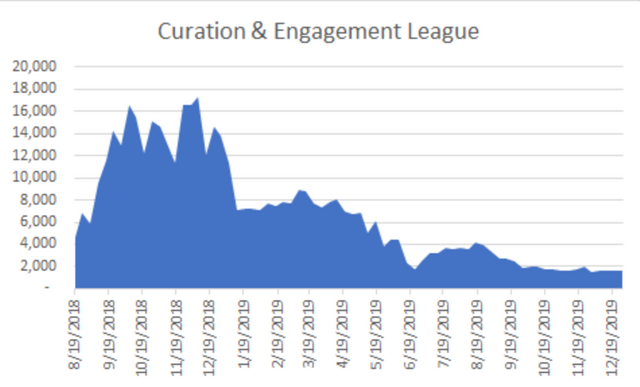 I appreciate the engagement I have had on my posts although they too have suffered at the same time. My focus remains on producing a post every day and engaging with those who comment on them as it allows me to remain present and establish relationships which drive the value of the ecosystem. In addition, my continued dedication to curate and engage with new users that introduce themselves to the community has remained consistent. I was able to curate and post every week in 2019 which is an achievement for myself. I am rethinking how to engage with newcomers as I myself have needed to relearn how to onboard given the continued development in the protocol.
The last quarter of 2019 was also a time for me to make some adjustments with stakes, delegations, and even votes. I have always tried to have about 25-35% of my Steem Power delegated to Steem based projects. I continue to believe that many other users, developers, or teams are much more capable to put Steem Power to work than I will ever be. I rather have them add more value than the value I am able to create with my content and engagement. However, it has become increasingly difficult to allocate Steem Power as many projects continue to struggle and even altogether leave. While projects come and go as most startups fail, it was very difficult for me to take away one delegation in particular; @partiko. It was one of my favorite ways to engage which I continue to use today given the mobility it provides. However, the team has all but disappeared despite multiple attempts to get an update.
I ended the year with far less delegated that I would want to so my journey now begins to find more projects that can fill the gap or add to existing ones that continue to perform and encourage the community to engage and grow like @qurator and @steembasicincome. I also made changes accordingly with witness votes as many have stopped running nodes after the Hard Fork. This is becoming an increasing important decision given the recent transition occurring with Steemit, Inc. and Tron. I am still reading to form an opinion but technology changes very quickly so we must adapt and execute when opportunities arise.

Discord: @newageinv#3174
Chat with me on Telegram: @NewAgeInv
Follow me on Twitter: @NAICrypto
The following are Affiliate or Referral links to communities that I am a part of and use often. Signing up through them would reward me for my effort in attracting users to them:
If you are like me and interested in continued personal growth, invest in yourself and lets help each other out by leveraging the resources Minnowbooster provides by using my referral link
Start your collection of Splinterlands today at my referral link
Expand your blogging and engagement and earn in more cryptocurrencies with Publish0x! Sign up here!
The best new browser to protect your privacy while still being faster and safer. Try the Brave Browser today with my affiliate link here: https://brave.com/wdi876
Try the Partiko Mobile app to engage while on the go with my referral link
Get started on the latest game on the blockchain Drug Wars by signing up here!
If you select one of my above referral links, I will sponsor a @steembasicincome SBI in return. Let me know if you do so in the comments below!

DISCLAIMER: The information discussed here is intended to enable the community to know my opinions and discuss them. It is not intended as and does not constitute investment advice or legal or tax advice or an offer to sell any asset to any person or a solicitation of any person of any offer to purchase any asset. The information here should not be construed as any endorsement, recommendation or sponsorship of any company or asset by me. There are inherent risks in relying on, using or retrieving any information found here, and I urge you to make sure you understand these risks before relying on, using or retrieving any information here. You should evaluate the information made available here, and you should seek the advice of professionals, as appropriate, to evaluate any opinion, advice, product, service or other information; I do not guarantee the suitability or potential value of any particular investment or information source. I may invest or otherwise hold an interest in these assets that may be discussed here.