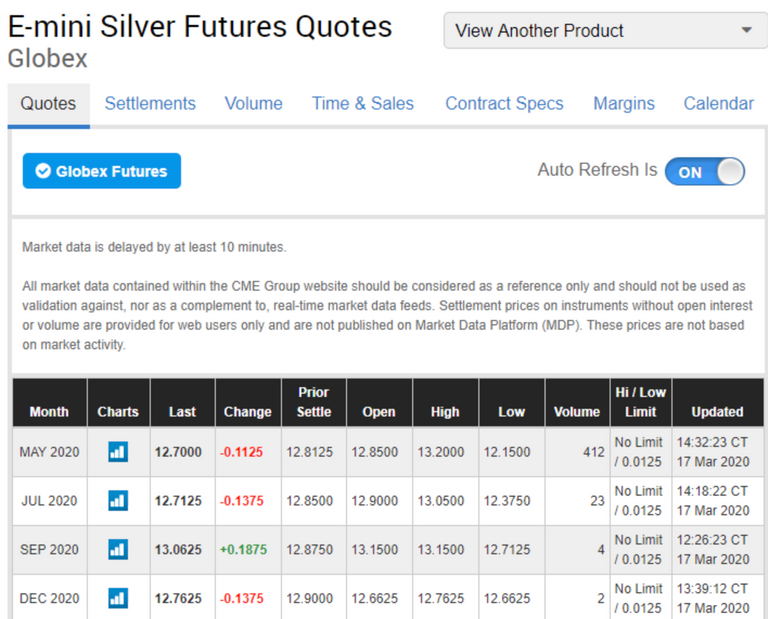 Source
With the panics of not only the markets but the general population, I have continued to look for not only opportunities but ways to protect my finances. I have always looked at precious metals as a way to hedge any extremes interruptions in our money supply. I have luckily been able to accumulate a fair portfolio which I have been proud of. In the recent weeks, I had prepared for extreme disruptions in my family's life but was still looking for ways to be ahead of the potential "panic" scenario.
I have built a great inventory of food, medicine, ammo, and cash so I believe that I am relatively ready for anything that could happen although I think that the potential for extremes is relatively low at this point. However, I have learned that people and markets are never rational so when I saw that the price of Silver had collapse to below $12 per ounce, I thought it would be a great opportunity to add some to my collection. Given that I had just bought some only weeks ago for above $17, this seemed like a steal!

Source
However, I was floored when I called both dealer that I have used in the past and discovered that they were sold out of physical Silver! One even told me that it had been days that people have been calling and going to the shop to load up on some for inventory and due to the price so the shortage was broad. I then went online and discovered that most of the online vendors were also reporting shortages and delays. What was incredible is that due to this demand and the corresponding shortage, price being ask were even more expensive that when I bought weeks ago. I was seeing the average ask price above $20 per ounce, yet the Spot price was barely $12!

I was not willing to buy up to those premiums so I did the next best thing; I bought some SLV ETF shares! I am now up more than 10% but I will continue to hold as these clearly shows how irrational markets are and how the paper market of future and derivatives are suffering a liquidity crisis. May also demonstrate the magnitude of how the market is being manipulated for prices rather than the true demand and supply of commodities. I wish I had bought some more physical as I still think it is a good idea to have but I will try to take advantage if I could. Who knows, maybe I will sell some physical Silver if I can get more than $20 per ounce! Amazing times!

Discord: @newageinv#3174
Chat with me on Telegram: @NewAgeInv
Follow me on Twitter: @NAICrypto
The following are Affiliate or Referral links to communities that I am a part of and use often. Signing up through them would reward me for my effort in attracting users to them:
Start your collection of Splinterlands today at my referral link
Expand your blogging and engagement and earn in more cryptocurrencies with Publish0x! Sign up here!
The best new browser to protect your privacy while still being faster and safer. Try the Brave Browser today with my affiliate link here: https://brave.com/wdi876
DISCLAIMER: The information discussed here is intended to enable the community to know my opinions and discuss them. It is not intended as and does not constitute investment advice or legal or tax advice or an offer to sell any asset to any person or a solicitation of any person of any offer to purchase any asset. The information here should not be construed as any endorsement, recommendation or sponsorship of any company or asset by me. There are inherent risks in relying on, using or retrieving any information found here, and I urge you to make sure you understand these risks before relying on, using or retrieving any information here. You should evaluate the information made available here, and you should seek the advice of professionals, as appropriate, to evaluate any opinion, advice, product, service or other information; I do not guarantee the suitability or potential value of any particular investment or information source. I may invest or otherwise hold an interest in these assets that may be discussed here.