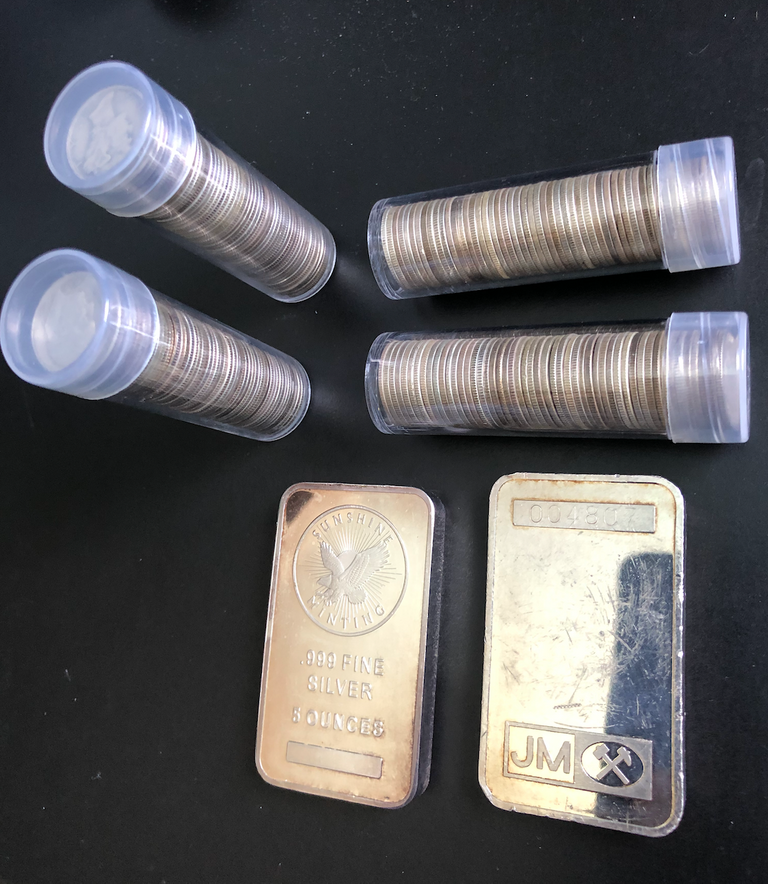 A couple of weeks ago, I made a new purchase of some Silver as I recognized after my Platinum purchase that my allocation to Silver is really low. I did some research around the Silver stacking communities around the world and picked up on a couple of interesting facts that I had not known about since I began this slow journey towards diversifying my overall assets. I then applied that new found knowledge to make purchases somewhat different than what I have done in the past.
I have never purchased any of the coins and metals in my portfolio for the purpose of capital appreciation. Instead, my focus has really been to having a better store of value and a way to have portable/mobile assets in case of emergencies. I would have never thought that a test of these scenarios could come up like it has these days but I am glad I have some allocated in the short term although I really do not think it will get to the point of actually needing them.
In fact, it seems like prices have been impacted due to the prospect of lower demand for these assets and the need for liquidity in cash so I am seeing a price that I have not seen in years since I started following it. I may see myself going to back some more given these prices as I guess the time I bought was almost like a short term peak we have seen this year. However, the purpose of my purchase was for the utility and not the speculation aspect.
I decided to actually buy a good amount of silver dimes from the pre 1965 period to have the ability to have small and divisible amounts of silver in case of future emergencies. Many coins from the United States before this time actually had about 90% of the metal used to make them in Silver. Therefore, while they are not a pure Silver play, they allow good ways to make the value of Silver more mobile in case of needing to travel with it. I decided to go with the smallest available which are dimes for more mobility.
Each piece is worth less than $1 USD but more than its face value. Having the ability to carry a good amount could come in helpful in cases of extreme liquidity concerns. While I think we are still far from that scenario, having some for it would be helpful. Most of my purchased was around these Dimes although I also purchased some 5oz bars. It was also the first time I bought that denomination as I had only had 1 ounce coins and 10 ounce bars in the past.
Having the ability to divide the value of an asset like Silver which would be the most likely used in emergencies is probably a good idea. Having multiple denominations like in real cash is probably the best approach. Seeing the price again at these levels has me wondering if I should by some more in the coming days while I still feel comfortable going out (and am allowed to do so). Amazing to see some of these words coming from my thoughts but we are definitely bracing for changes in our life!

Discord: @newageinv#3174
Chat with me on Telegram: @NewAgeInv
Follow me on Twitter: @NAICrypto
The following are Affiliate or Referral links to communities that I am a part of and use often. Signing up through them would reward me for my effort in attracting users to them:
If you are like me and interested in continued personal growth, invest in yourself and lets help each other out by leveraging the resources Minnowbooster provides by using my referral link
Start your collection of Splinterlands today at my referral link
Expand your blogging and engagement and earn in more cryptocurrencies with Publish0x! Sign up here!
The best new browser to protect your privacy while still being faster and safer. Try the Brave Browser today with my affiliate link here: https://brave.com/wdi876
Try the Partiko Mobile app to engage while on the go with my referral link
Get started on the latest game on the blockchain Drug Wars by signing up here!
If you select one of my above referral links, I will sponsor a @steembasicincome SBI in return. Let me know if you do so in the comments below!

DISCLAIMER: The information discussed here is intended to enable the community to know my opinions and discuss them. It is not intended as and does not constitute investment advice or legal or tax advice or an offer to sell any asset to any person or a solicitation of any person of any offer to purchase any asset. The information here should not be construed as any endorsement, recommendation or sponsorship of any company or asset by me. There are inherent risks in relying on, using or retrieving any information found here, and I urge you to make sure you understand these risks before relying on, using or retrieving any information here. You should evaluate the information made available here, and you should seek the advice of professionals, as appropriate, to evaluate any opinion, advice, product, service or other information; I do not guarantee the suitability or potential value of any particular investment or information source. I may invest or otherwise hold an interest in these assets that may be discussed here.