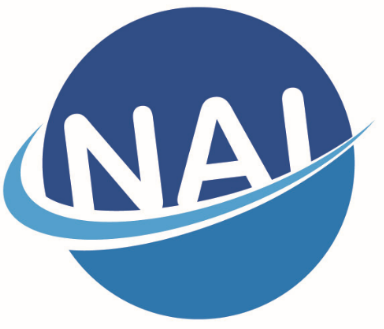 It was sure a month to remember as the traditional financial markets have plunged the most since the Great Depression which have led investors to flee risky assets and shore up their liquidity as the health crisis foreshadows the pending economic and financial crisis that is upon most of the world. Cryptocurrencies were not immune from the selling despite being a strong uncorrelated asset and having its benefits versus the fiat currencies available in the markets. In the end, it was demonstrated that capital is no longer King, as liquidity and cash on hand dominates the minds of investors.

Source
The river ran red this month as we saw the market capitalization of the cryptocurrency market drop below $150 billion after starting the month at $244 billion given the strong start to the year we have had. A strong bounce afterwards led us to end the month around $179 billion as most of the selling pressure has subsided; likely due to the actions that Central Bank around the world have to shore up liquidity for almost everyone. Bitcoin continues to drive the market and outperformed most assets as it is truly the center of the crypto asset class; it saw its dominance increase to 66% after a couple of months of dropping.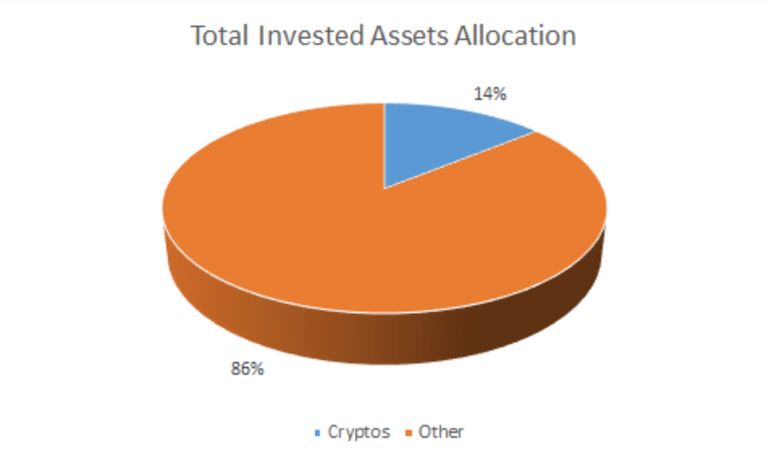 My allocation of invested assets to crypto assets remain level as my other assets have maintain their value because I have been mostly out of the markets. However, that may very well change going forward as I have also started to move some cash into the equity markets; nothing material, but enough to probably make a difference in my invested asset allocation. I have not included some new capital in these figures as the cash from the sale of my home will be used to reduce debt and not to invest. I have been thinking about allocating some of it to investments as I think that the downturn in the economy will make the financial markets become irrational and opportunities may arise in the process.
I have also not include my Steem/HIVE related assets here yet because I really have not had the time to setup the spreadsheets and also, I continue to be saddened by what has occurred. However, I will do so over the next quarter to start presenting all cryptocurrencies together at least for the invested asset allocation. For now, I am encourage that the fork has given us an opportunity to have two assets that seem to be holding their value. I have some strategies with this but that will be for a future post. Opportunities will arise in the crypto space as this all happens as well.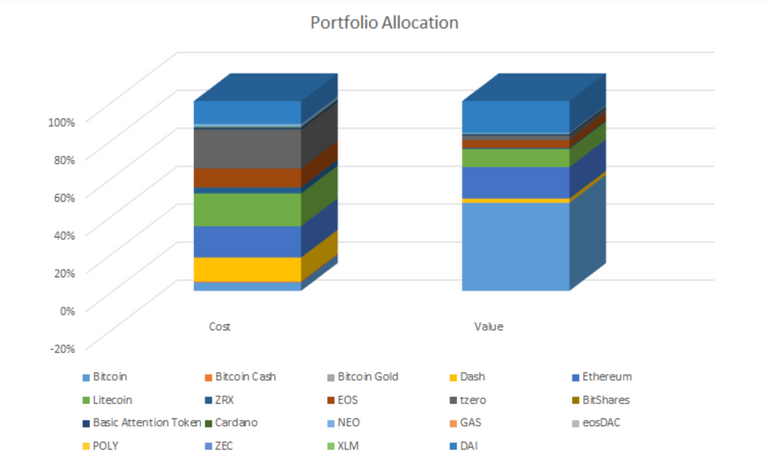 Regarding my portfolio, I really wanted to buy the dip but missed it as my capital was not ready for purchasing at the right time. In fact, I did add to my ETH holding this month right before the large declines! While bad timing, it was done at prices that continue to lower my average cost for my ETH holding which will help as I continue to accumulate enough for Staking in the future. I still think that the strong will survive and although the likes of others in the space have made progress as Dapp platforms, Ethereum continues to be the center of attention.
The main reason it has continued to move forward is the attraction to the latest trend for Blockchain with the Decentralized Finance (DeFi) push. I love the concept despite some of the challenges we have seen; assets under DeFi platforms continue to grow which is still encouraging. For that reason, I continue to participate in my monthly purchase of DAI although the cost of doing so has risen because the price has been above $1.00 due to the market volatility this month. I have not made the move into using the new assets for DeFi activities as I have only begun to really research some additional alternatives from the Oasis which I have already been trying.
The month did allow me to allocate a good amount of capital to have available for additional purchases. I have not deployed it as I still think that traditional markets will remain under stress as the beginning of economic data starts to flow. Mixed with the ongoing health crisis, I would think that lower prices in all asset classes are still ahead of us. I am glad I sold my largest asset, my house, as Real Estate itself may be in a bad ride in the coming months. Now, the challenge remain as to how to take advantage of the opportunities may arise; as long as we can all remain healthy for it to really all matter. Stay Safe!

Discord: @newageinv#3174
Chat with me on Telegram: @NewAgeInv
Follow me on Twitter: @NAICrypto
The following are Affiliate or Referral links to communities that I am a part of and use often. Signing up through them would reward me for my effort in attracting users to them:
Start your collection of Splinterlands today at my referral link
Expand your blogging and engagement and earn in more cryptocurrencies with Publish0x! Sign up here!
The best new browser to protect your privacy while still being faster and safer. Try the Brave Browser today with my affiliate link here: https://brave.com/wdi876
DISCLAIMER: The information discussed here is intended to enable the community to know my opinions and discuss them. It is not intended as and does not constitute investment advice or legal or tax advice or an offer to sell any asset to any person or a solicitation of any person of any offer to purchase any asset. The information here should not be construed as any endorsement, recommendation or sponsorship of any company or asset by me. There are inherent risks in relying on, using or retrieving any information found here, and I urge you to make sure you understand these risks before relying on, using or retrieving any information here. You should evaluate the information made available here, and you should seek the advice of professionals, as appropriate, to evaluate any opinion, advice, product, service or other information; I do not guarantee the suitability or potential value of any particular investment or information source. I may invest or otherwise hold an interest in these assets that may be discussed here.