Gross Pizza Delivery Stories-Part 1 // Historias asquerosas de reparto-Parte 1
Let me start this off by saying I genuinely like my job. Most days I'm bombarded by drama and to be honest I don't give a fuck about these people and their bullshit. What I enjoy is solving the problem and making people happy. My job is to do everything possible to keep the store running and the pizza flowing, but I do it while handling customer complaints and I do it with a (fake) smile.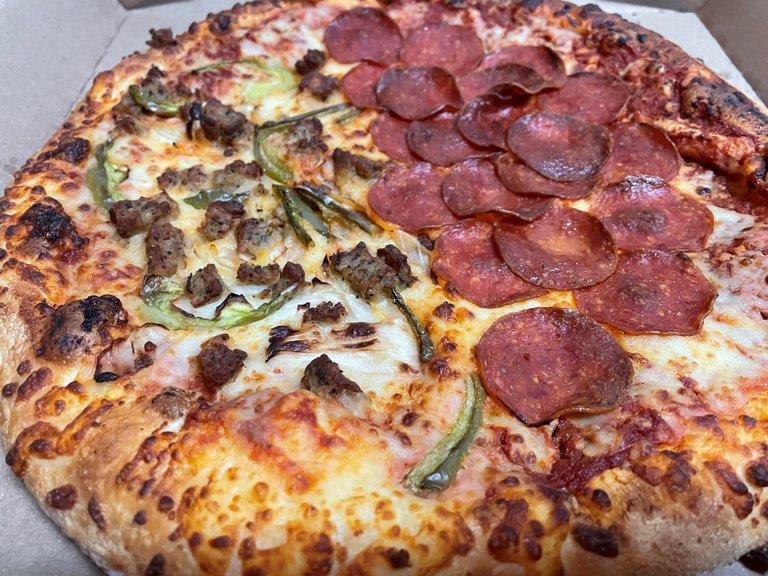 A photo of a pizza I messed up
I am an Assistant Manager so it's not often that this happens (anymore) but part of my job is to fill in as a delivery driver when needed. There's a lot of people out there and most of them are completely normal. Some of them are not. I've decided to share some of the stories about those that were not normal encounters, starting with today.
STUPID SUNDAY
Sundays are dumb. Of all the days I don't like to work, Sundays are those days. The pace is slow, the customers are rude and time slows to a crawl. Today was no exception.
For starters, it was a bit of a strange day. It was decently busy for a Sunday and then the pace just died. Throughout the shift there was a specific truck that would park in front of the main entrance, sit for 15-30 minutes then leave. On the third occasion, it happened after dark and since it was out of the ordinary I made a mention of it to my boss. I finished making the food, dispatched it and left on the delivery.
I was halfway to the delivery when my phone buzzed. I figured it was just Reddit or Discord and kept driving. When I arrived at the house, directly in front of me was that truck. Figuring it was just coincidence I grabbed the food and walked to the front door.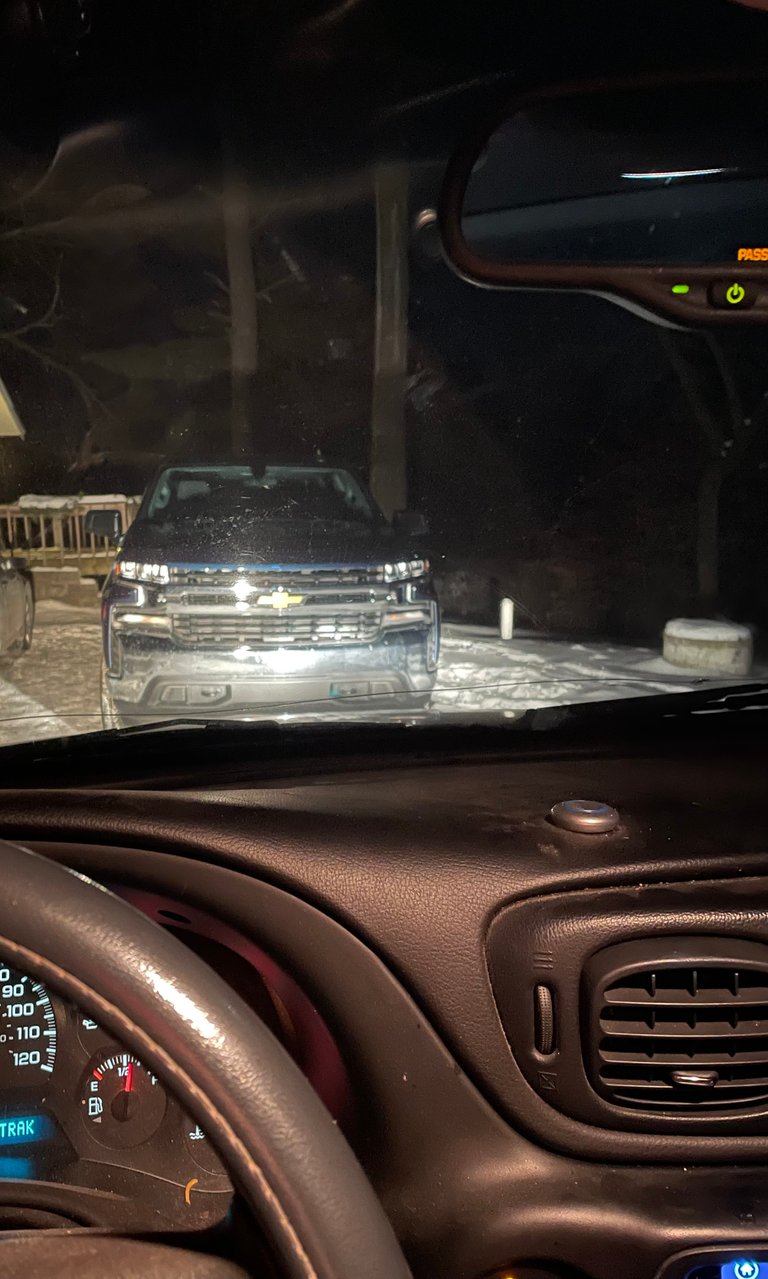 Exhibit A: Creepy Silverado
CHILDREN OF THE CORN
I didn't even get to the door when I began to feel that something wasn't right. I checked the shadows as I always do but kept walking to the door. A man was in the door staring at me, which was strange given that it was -10 F, and what was even stranger was that his 3 children and wife were standing evenly spaced behind him and all of them were staring at me. I stopped right where I was, at the bottom of the stairs and more than an arm's reach away from him. I handed him his food and leaned forward a bit for him to grab it. Without saying a word he lunged forward and bear hugged the food, rubbing his hands gently from my wrist all the way down to my hand as he grabbed the box. He stared me in the eye the entire time he did so. He then quickly bolted inside and spun around to throw a $10 on the deck in front of me and closed the door while staring at me. I grabbed the tip money and quickly retreated to my car, noting that the truck was missing a rear plate, as was the one that kept parking in front of the restaurant.
I washed my hands with hand sanitizer at least 5 times and took a photo of the truck and the car next to it (I cropped it to exclude all identifying info) and sent it to my boss. I then saw that my boss had sent me his photo (also edited to remove all identifying info) from the surveillance cameras with the faces of the people who had just done the creepiest thing of the week to me. He was staring directly at the camera. He was checking out our security. Why is this a family event? What the fuck?!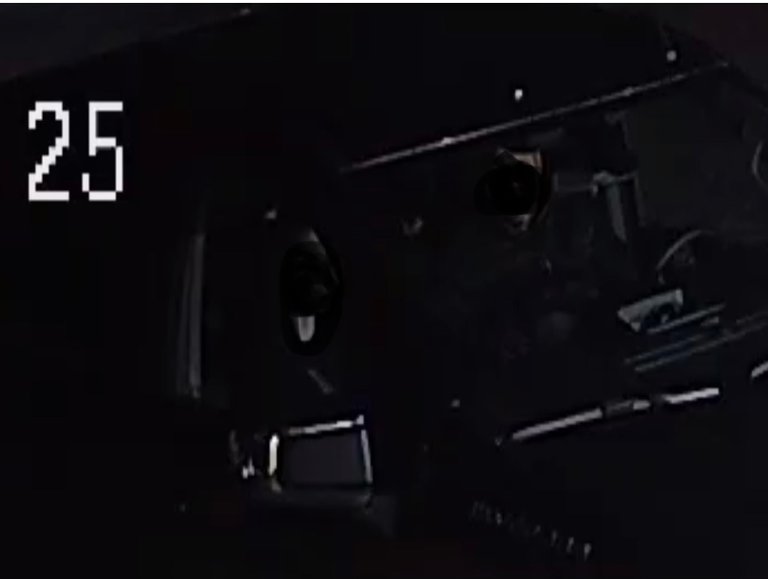 Stop looking at me
It makes me wonder what he would have done to us had we not had cameras.
ESPAÑOL
Permítanme empezar diciendo que realmente me gusta mi trabajo. La mayoría de los días me bombardean con dramas y, para ser sincero, me importa un carajo esa gente y sus mierda. Lo que me gusta es resolver el problema y hacer feliz a la gente. Mi trabajo consiste en hacer todo lo posible para que la tienda siga funcionando y la pizza fluya, pero lo hago mientras atiendo las quejas de los clientes y lo hago con una (falsa) sonrisa.
Soy ayudante de dirección, así que no es frecuente que esto ocurra (ya), pero parte de mi trabajo consiste en hacer de conductor de reparto cuando es necesario. Hay mucha gente por ahí y la mayoría son completamente normales. Algunos no lo son. He decidido compartir algunas de las historias de aquellos encuentros no normales, empezando por hoy.
DOMINGO ESTÚPIDO
Los domingos son tontos. De todos los días que no me gusta trabajar, los domingos son esos días. El ritmo es lento, los clientes son groseros y el tiempo se ralentiza. Hoy no ha sido una excepción.
Para empezar, era un día un poco extraño. Ha habido bastante actividad para ser un domingo y luego el ritmo se ha detenido. A lo largo del turno hubo un camión específico que aparcaba frente a la entrada principal, se sentaba durante 15-30 minutos y luego se marchaba. En la tercera ocasión, ocurrió al anochecer y, como era algo fuera de lo común, se lo comenté a mi jefe. Terminé de hacer la comida, la despaché y me fui a la entrega.
Estaba a mitad de camino de la entrega cuando mi teléfono zumbó. Supuse que era sólo Reddit o Discord y seguí conduciendo. Cuando llegué a la casa, justo delante de mí estaba ese camión. Pensando que era una coincidencia, cogí la comida y me dirigí a la puerta principal.
HIJOS DEL MAÍZ
Ni siquiera había llegado a la puerta cuando empecé a sentir que algo no iba bien. Revisé las sombras como siempre lo hago pero seguí caminando hacia la puerta. Un hombre estaba en la puerta mirándome fijamente, lo cual era extraño teniendo en cuenta que había -10 F, y lo que era aún más extraño era que sus 3 hijos y su esposa estaban de pie uniformemente espaciados detrás de él y todos ellos me estaban mirando. Me detuve justo donde estaba, al final de la escalera y a más de un brazo de distancia de él. Le entregué su comida y me incliné un poco hacia delante para que la cogiera. Sin decir una palabra, se lanzó hacia delante y abrazó la comida, frotando suavemente sus manos desde mi muñeca hasta mi mano mientras agarraba la caja. Me miró fijamente a los ojos todo el tiempo que lo hizo. A continuación, entró rápidamente y se dio la vuelta para lanzar un billete de 10 dólares en la cubierta delante de mí y cerró la puerta mientras me miraba fijamente. Cogí el dinero de la propina y me dirigí rápidamente a mi coche, observando que al camión le faltaba la matrícula trasera, al igual que al que seguía aparcando delante del restaurante.
Me lavé las manos con desinfectante al menos 5 veces y tomé una foto del camión y del coche que estaba al lado (la recorté para excluir toda la información de identificación) y se la envié a mi jefe. Luego vi que mi jefe me había enviado su foto (también editada para eliminar toda la información de identificación) de las cámaras de vigilancia con las caras de las personas que acababan de hacerme la cosa más espeluznante de la semana. Estaba mirando directamente a la cámara. Estaba comprobando nuestra seguridad. Por qué es un evento familiar? Qué mierda?!
Me hace preguntarme qué nos habría hecho si no tuviéramos cámaras.

---
---