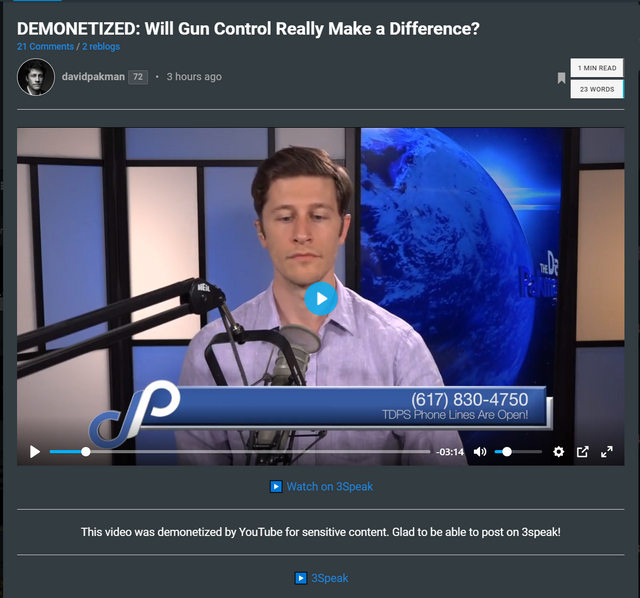 When I was taking my daily stroll through Steem today I noticed a video resteemed by @theycallmedan from @davidpakman. I was excited to see David posting on Steem one because I follow him on youtube and enjoy his content, but also, David has a huge following of over 700k on Youtube.
He like a lot of the other creators I like have been dealing with being heavily demonetized as well as being suppressed by the google algorithm pushing their suggested video sections more towards corporate media.
I quickly followed David, but when I went to his page I was surprised to see he's been posting on Steem several times a day, for as long back as I scrolled. He was getting very little engagement or support which wasn't surprising to me when I investigated. I wanted to make a post to explain to creators how Steem works and the best way they can make Steem work for them as well as the rest of the community (and the world).
Steem is decentralized and people powered
Steemit, 3speak, etc. These are companies using the Steem blockchain. They aren't the ones distributing rewards to you though, not technically. The creators of the platform may upvote your posts as is the case with 3Speak, but technically it's users accounts. The users are the ones "paying" you.
The users are the owners of the platform as well, as anyone that can upvote your post and have it be worth anything is a stakeholder in the platform, ie they have locked up Steem that gives them the ability to distribute the inflation of Steem relative to the amount they have locked up.
The reason for pointing this out is to highlight that it is more important, I'd argue, than on any other platform, to engage the community on Steem. In most cases where I've seen a large following having creator start posting on Steem, they drop off their content without engaging the community at all. This isn't all that valuable to the Steem community and therefore people tend to not reward it.
Steemians are here consuming content but we're all also investors in Steem
Piggybacking off my last point on value for Steem. One day I hope Steem is big enough and has so many users that this won't matter, that people will just consume content and vote on what they like. That's not where we're at right now though. People are investing with their votes. It may always be this way here. It's new tech so things are being figured out as we go. This is the main point
People are more likely to vote on content that they feel adds value to Steem.
You may be thinking, "My content is the thing that brings value." But it's actually your following. That might sound shitty, but that's the reality. The reason Youtube pays you anything is because of the eyeballs you draw to their site that then consume ads. We also need eyeballs to grow, then it's up to individual applications built on the Steem blockchain to figure out how to generate revenue from that, but the key thing here is we are happy to help/support you, if you are willing to help us.
I don't mean we expect you to shill Steem, but little things like at the end of your videos when you go through the list of platforms for people to follow you on, include Steem, maybe say a few words to let people know we exist.
Your best bet in leveraging Steem to add to your support is to get your users following you on Steem. If someone like David had half of the people following him create Steem accounts and either buy or earn enough Steem to have a .01 cent upvote, that would be $3500 per post.
It's really not about pumping our bags. This is how we can realistically create a revolution. We need people to actually understand Steem and use it properly to make a viable alternative to the tech monopolies.
If all the creators keep suckling at the tit of big tech, while treating Steem like a bastard step child, the results won't change.
Don't get me wrong, I get it. The people are on Youtube, Twitter, Facebook, etc. Steem is tiny, but the creators that have large followings are the ones with the most power to start to slowly change things for the better by
First, learning what Steem is and how it works and what it can do for them and their community and
Second, spreading that knowledge, as you are the ones with a platform and the ability to reach the masses.
Help us help you.
How?
Spread the word to other creators to participate on Steem.
Encourage your followers to support you on Steem.
Make some Steem specific content, that would do the first two by default.
Learn how Steem works. This is no small task. Steem is complicated. It's just the way it is right now, but it's also incredibly powerful. Learn how to make it work for you.
Educate others. Steem has the power to completely revolutionize the way media works on the internet. No one has the power to censor you. You can create your own community, your own token, your own economy. The world needs to know what we're sitting on here.
Engage the community. Participate in the conversations you start here. Upvote people's comments when they engage with your posts. This is something extremely powerful that you can do only on Steem to help grow your community here, don't waste that feature.
If any of my fellow Steemians see a creator, new or old following the pattern I laid out above, point them to this post.
See you all in the next one.