Apparently there was a Q&A sesh in the PAL discord yesterday that I missed with @aggroed talking about Palnet and taking questions and suggestions. Sucks I missed that because I'm full of...
OPINIONS!!! :D
Before I get into those though I just want to say I'm super excited about Palnet. I think there is a ton of potential here to sort of get a clean start. I also think there will be some unique challenges but I think all these things can be addressed as long as we have active and engaged builders, which we do, which is why it's so exciting.
So first let's talk about the biggest challenge I think Palnet will face.
Layer Two Solution = Two Layers of Confusion
People already complain about Steem being too hard to understand. If a new user learns about Palnet first and comes here knowing nothing, there's a lot to unpack before they'll have any idea WTH is going on.
For this reason I think Palnet will need to be extra vigilant about education and explanation, so this is a feature I recommended for Steemit, but I think Palnet should have it as well.
The "LEARN" Page
Right at the top, up there with Promoted, Hot, New and Trending, probably off to one side so it's not read as a part of that group. The learn page takes you to a page of VIDEO tutorials that start extremely basic, but allow the user to learn all they need to know if they want to invest the time. I'd recommend these videos be short and animated instead or real people. Unless the production quality is going to be extremely high on the live action footage, it's easier and cheaper to create something that looks professional with motion graphics alone than with people.
I have experience with this and if you all need help, just ask and I'm sure we could work something out. Here are some examples of some of my work.

WIP REEL, Still finishing this up
This is mostly 3D because that's what I've done lately, but I think simple 2D videos would be best for what I'm talking about. More along the lines of the "Coinbase Earn" videos.
For a new user coming to Palnet, they will have a huge mountain of information to learn and currently it's not easily accessible. They will need to create a Steem account, stake some Steem so they'll have some Resource Credits, btw they have no clue what those are, then come back to Palnet and they can make a post. If they want to upvote other users and have it be worth anything they need to buy and stake PAL, which will require them buying some other crypto, depositing it into Steem Engine, understanding buy and sell orders, putting in a buy order, then staking that PAL...it's a lot.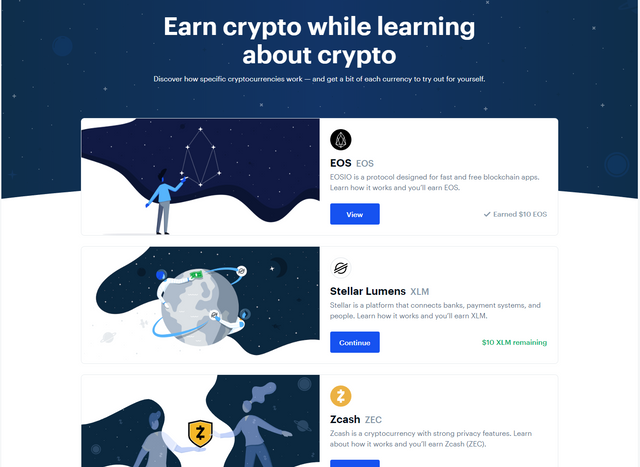 Show Steem Rewards Along with PAL
Ultimately PAL exists as a part of STEEM, I think it would be best to expose users to this right from the beginning. I think it would be best to have as little need to site jump as possible. This make for a worse user experience. I think the North Star we should be headed to is Palnet as independent as it can be, and even though I think it might be counter intuitive, I think the best way to do that is to show both rewards here on Palnet.
Rip Off Steempeaks Sign up flow
Prioritize @steem.ninja and have everything else visually secondary. Steem Ninja is the easiest so I think it should be featured as the preferred option.
Those first three recommendations while I think they're really important I think they largely have to do with new users. In the short term I think it would be a higher priority to create value and utility for current Steem users and people that already have a decent understanding of what's going on.
It's already been suggested and heard, but I'll say it again for anyone who hasn't heard me rant about this.
Donations!
So especially on the Palnet platform, donations would be extremely powerful. I made a whole post about it here. The basic idea being being able to send someone some SE tokens on their post or comment. This would increase the utility of the platform and give users another form of communication on posts and comments. It would also be super fun.
It's not just giving people money also. It would be fun to send each other shitcoins with some sort of message behind them. Like a you're full of shit coin, maybe let's call it FOS, lol. And if you're constantly saying a lot of nonsense, you could be a FOS Whale.
Rip off most of what SteemPlus does for Steemit
Mainly the access to VP and stats. Seeing how much people upvoted you etc. Maybe some fun badges, but if you do badges add more in-between levels to gamify it further. Dolphin to Orca is a million miles.
A Dashboard Page
I know this is a huge feature, but I'm just spitballing. Anyway something like Steemworld, but directly on the site where you can see all the information about your account, your votes, who voted on you, your rewards, etc. Basically most of the Steemworld stuff. Maybe a collab with the guy that make Steemworld?
Featured Posts for Blogs
Being able to pin a post at the top of your blog to introduce people to who you are and what you make. Or if you just want to keep something at the top for a while.
Resteem + Comment
Another feature I suggested for Steemit, but if Palnet could integrate this, it would be miles ahead of Steemit. The idea is having a second type of resteem that in a new post under the resteemers account that contains the resteemed post. Then also has space for commentary on that post. There would be a uneditable beneficiary setup where 75% of the rewards go to the OP and the other 25% goes to the resteemer.
Customizable blogs
Again I know this is a huge feature, but if we could mimic something like they have on tumblr and blogger, it creates a totally new economy for designers to create blog skins and layouts. When these sites were really big, this was a pretty big market. Add crypto into the mix and it immediately gives you something you can spend your Pal on within the system, but of course there would be no need for it to be limited to Pal, they could be bought with whatever.
Dapp Filters
As the Scot suite of Applications grows (Blog, Video, Forum, *Insta(Appics?), *Twitter Clone Incoming?) these are pretty different types of content and I think it will make for a better user experience if the blogging frontend users have more control over how they showcase their content. There really can't be enough options for this. The more the better. So a way to sort the content based on the Dapp that produced it I think would be a great first step. Steempeak has a rough implementation of this by filtering your view of content by tags. If each Dapp automatically creates its own unique tag, then this could be a good V1 implementation. But in the long run I think it would be best if users had even more control, like the ability to create multiple pages on their blogs.
Okay, I'll stop there. There's so much potential here and so many ways this can go, I'm just super excited to see where it all heads. What do you all think? Are these features you'd like to see on Palnet?
Let me know in the comments!