I'm constantly annoyed by the news feed that bombards us every single day. Yes, on the one hand it's my fault, I do have the choice of looking away, of turning off the TV, etc, but on the other hand, it's like trying to avoid the loud bang of a city celebrating the fourth of July.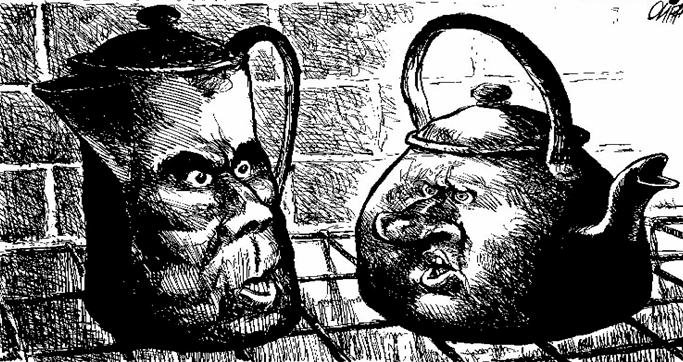 The partisan hackery is in full display as well, both sides are more focused on the "got you" lines, the kind that make the news, than trying to really uncover any sort of corruption. The truth is that possibly nobody involved in "the scandal" is innocent at all.
It's also worth noting, because it seems like we can't do it often, that if one side is proven to be guilty, that does not automatically make the other claim false. I may have a predisposition to believe one side over the other, but facts are facts, and the truth is somewhere, buried in a heap of verbal jargon.
From where I stand, both Biden and Trump seem to have done very illegal things. I know that the "timeline" is supposed to redeem Biden, but it's also somewhat ridiculous to believe that having a 50k a month salary in Ukraine was a result of his son's competence. If you do believe that, then I have a bridge I would like to show you.
Now all this being said, I'm not surprised to learn that Trump wanted this information. He's a businessman who has thrived in a truly cutthroat environment, real estate. So his tactics to "win" should not surprise anyone. That, however, does not mean I condone it, it just means It makes sense.
His recent comments regarding the whistle blower, and how we ought to deal with spies, really sheds a bright light on how we've truly failed. Assange is unlikely to get true justice, and Snowden was right all along. It's not about country, it's about protecting the elites.
How is this theater going to play out? That's anyone's guess. I truly think we've seen the tip of the iceberg when it comes to the circus act. There will be more hearings, more "we got them" moments, and in the end all we will be watching is a bunch of elites, in their ivory towers, throwing rocks at each other.
It's important we don't fall for it, it's crucially important we don't become tribalistic in defending "our leaders", because to think them as "good" is naivety at best.
I was reminded this week of how Nixon was "taken down" and even though he is highly regarded as one of the worse presidents in history, his real sin was not his crimes, but actually going against the elites. That was what really got him, not his war crimes. The similarities are undeniable to anyone paying attention.
MenO