After more than two weeks without posting, here's an English sonnet to help myself come round to an idea, which is, hopefully, well expressed in the heroic couplet at the end of this sonnet.
Just because you're not in pain, it doesn't mean you don't need a hug or a word of love. And just because you get the hug and the love, it doesn't mean you won't have to make an effort to thrive (regardless the price).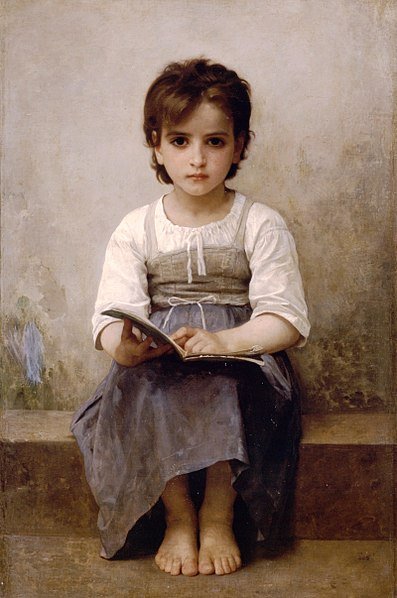 "The Difficult Lesson" (1884) by William-Adolphe Bouguereau - Image in the Public Domain (Wikimedia Commons)
They think you're lucky in your older day,
for all the efforts of a younger life
have paid you fortune, fruit and health—they say—,
a caring company, husband or wife.
---
They think those ones with lesser luck need more
kindheartedness and room to misbehave;
they should be spoiled for they have been so poor;
meanwhile you take your riches to the grave.
---
Such greater luck it is to be hardworking,
and skip the parties to complete your task,
and bypass hell and all the vices lurking,
and give to whom will always need and ask.
---
Commiseration is sometimes all love,
which always keeps most capable above.
---
Posted from my blog with SteemPress : https://marlyncabrerawp.000webhostapp.com/2019/08/a-sonnet-of-luck-and-lies-shakespearean
---