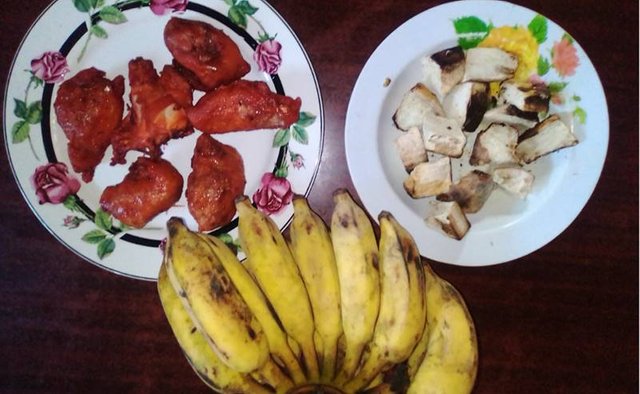 Hello friends🕺,
Thanks for dropping by,
Thanks to everyone that gave an answer to my contest yesterday but nobody got it all right. From my response you'll get a clue of what is to be take out but I still need the complete answer so I am presenting the contest again because 3 people need to win it.
The Contest
As my title goes, I've decided to add a contest to my post today, let's see how it goes. My cover banner has 3 items: 1. Roasted Yam 2. Fried Chicken 3. Banana
The Task
- I am supposed to eat 3 items for dinner but one of the items on my cover photo is not going to be a part and the item that is supposed to be a part of my dinner is not on my cover photo. - What is NOT SUPPOSED to be an item in my dinner? - What is SUPPOSED to be an item in my dinners?
Prizes
The first 3 winner will have 1 SBI each. To make the contest very clear I didn't ask the various things I can eat as the correct item, I was already about eating when I removed it. Lol. So you're not going to argue with me that you can also use ABC or XYZ. I'll hit winners account with their SBI tomorrow. Goodluck. I was mostly on my Lappy all day but took a walk in the evening to get some steps counted. Lt gave me the opportunity to get some stretch and breathe some fresh air. To encourage you to try the contest again I play you this song by Peter Tosh "Not Gonna Give It Up"…I will be fighting… Lol. Have a good night rest people. https://www.youtube.com/watch?v=fExyo2KyR9U Peter Tosh - Not Gonna Give It Up Thanks for reading my post, like I always say, upvote it if you liked it I'll truly appreciate that. Keep your comments coming and follow me if you have not already done that. Again, thanks a lot for your support to me always.



5625

Walking