A Tailgate Full of Pheasants but 30 years of Fun!
The 2019 Nebraska Pheasant hunt was another success! We ended up with just under 40 pheasant and a handful of Quail this year. There is a small group of us who are going to hunt once more early in the morning to try and bag a few more for the freezer. I like eating pheasant and it's a nice change once in a while from what you might usually eat. Breaded and fried is the only way to go, I'll make a video about that process someday soon so you can see how we do it. We have tried many different ways to cook these birds so maybe I can help you out if you ever finding yourself to half to cook them.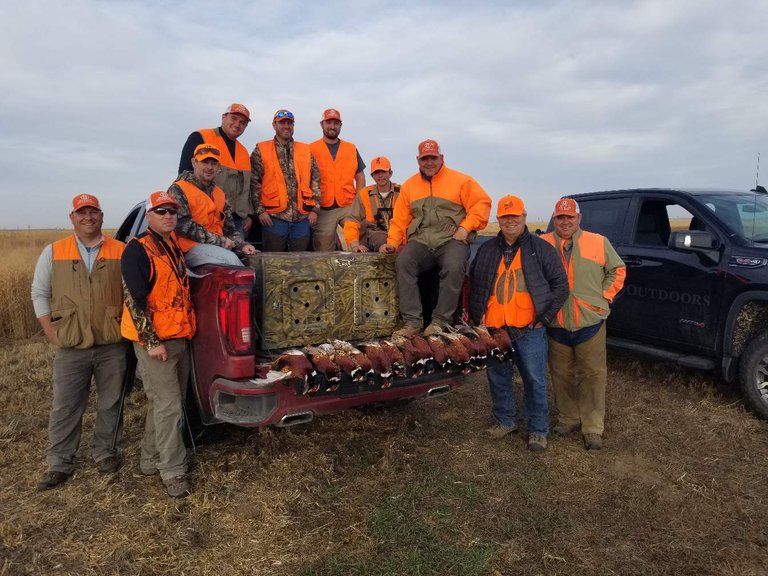 I mean look at the colors on these birds, they are some of the most beautiful and powerful flying birds you will ever see. Hunting them is trickey, they are smart and shooting one is not as easy as you think. They are fast when they get moving. It's always fun to take pictures at the end of the day and I have seen weekends where we have triple this amount. It's not about the birds bagged for me, it's always the process and adventure to try and get them corralled enough to shoot. We hunt areas with deep weed cover, thick CRP grass and heavy tree rows. Lots of places to hide!!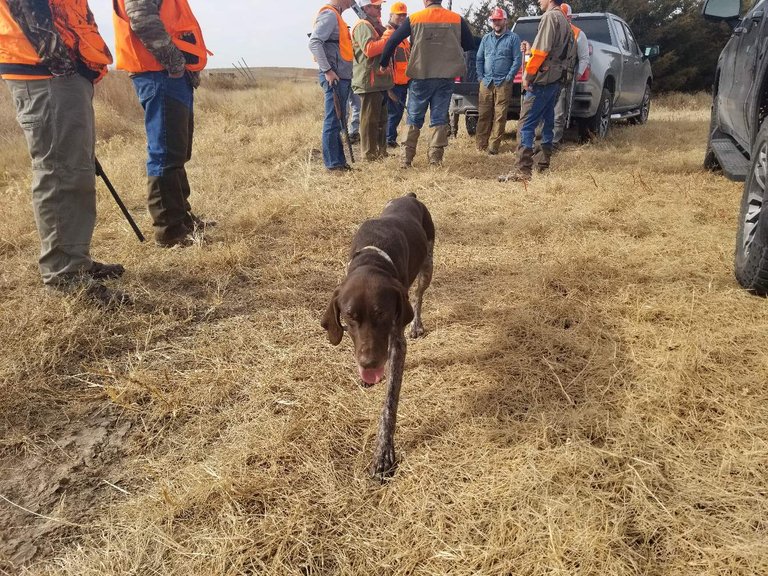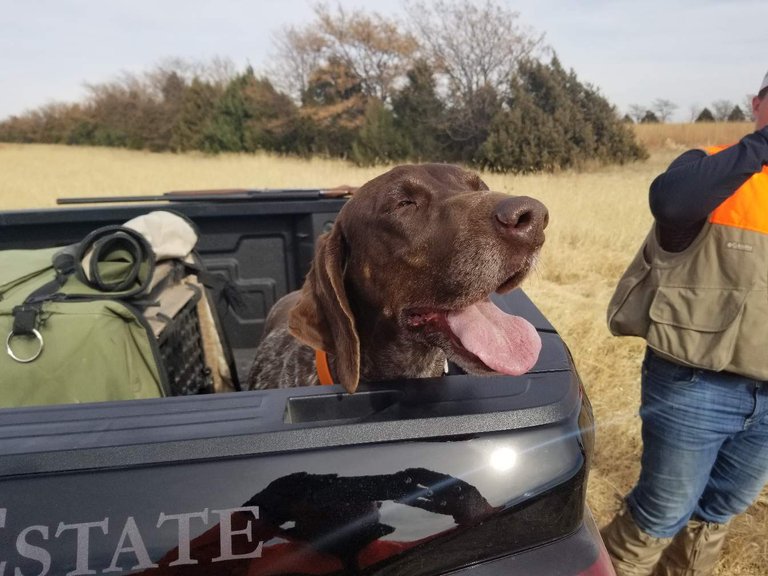 These dogs worked so hard this weekend. I'll tell you what....a German Shorthaired Pointer is a masterful upland hunter. I have had a couple myself but these dogs at Hayden Outdoors are amazing. These dogs plow through stickers, corn stalks and thick grass 3-4 times their height with ease. They have incredible heart and drive and they know exactly what we are doing. They are a true hunting partner and they are vital to success. Without these animals the success rate is at least half. They not only locate birds but also stop them from running on the hunters as well as help us find downed birds. Losing a pheasant we have shot in heavy cover is discouraging because it takes a lot of physical work to get them in the first place. Miles of walking with lots of sticker patches and uneven terrain with some snow on the ground is tougher than you think. By the end of the day we are all wiped out and just watch football games.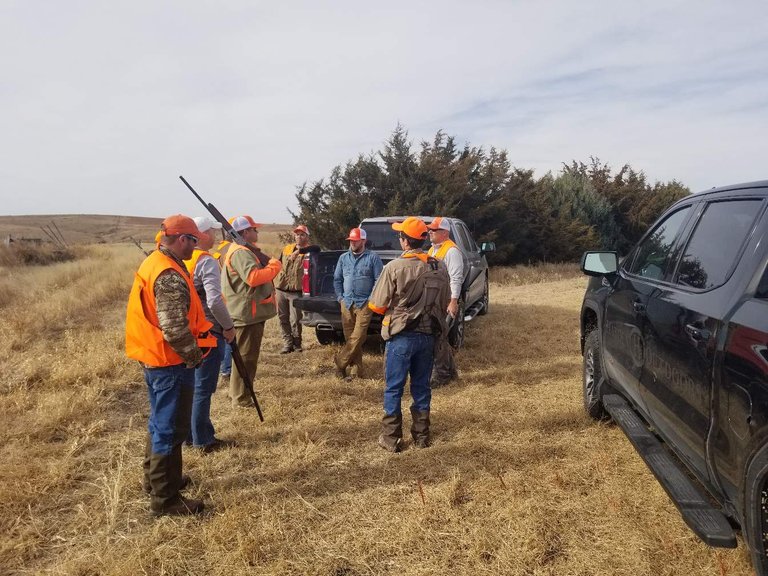 No matter what one thinks about hunting, it's a necessity to contol the amount of animals and habitat to sustain mankind forever. The herd needs to be thinned and the pheasant and quail feed lots of people in the heartland. It's such a fun activity and the fact you get to hang out with your family or best friends while hunting makes it even better. The amount of laughs in the field and especially inside the truck is addicting to me. I have shot hundreds of birds in my lifetime. I have had the privilege of seeing and hunting over a dozen world class hunting dogs. I have had access to some of the best pheasant properties in the midwest that are our private hunting grounds. I have been lucky enough to have seen a field that held 1000 birds. None of those things compare to the time with my friends inside The Bank. The Bank (our hunting lodge) is my favorite place in the whole world and the fact that this good of bird hunting is just outside our front door makes you really understand how powerful mother nature really is.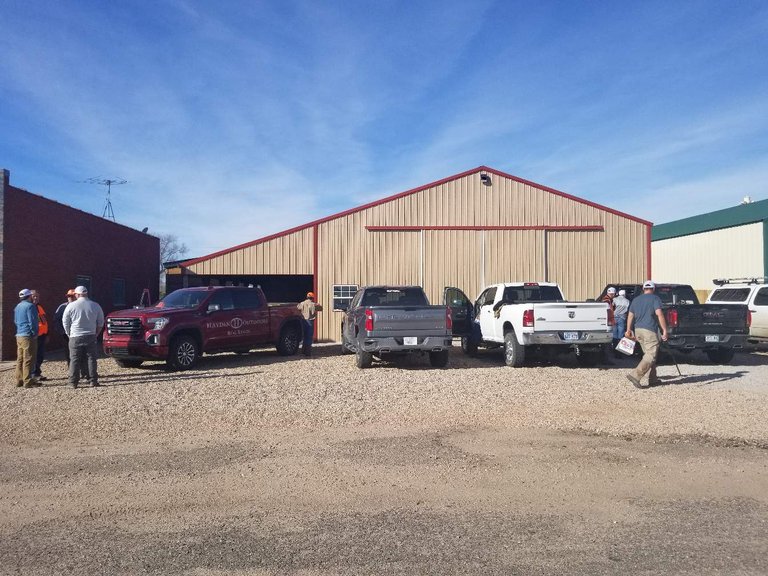 The conditions this year were tough. First of all we were hunting in 83 degree weather. I cant ever remember that happening before and neither could any of my partners. The ground was super dry so we kept the trucks mainly on the roads to avoid a fire bit that's extremely hard on the dogs and the hunters. Dogs need a little moisture on the ground to smell efficiently and even though we didnt have any, our dogs still pointed bird after bird like stone cold killers. It's awesome that a breed like the GSP is so focused to hunt birds and after it's all done more than willing to fall asleep in your lap. What more could a man ever want? I wish I had a place where I could own and train 20 of these dogs.
After tomorrow I'm headed back to Colorado Springs but, I'll be back at the bank soon for more hunting and fishing. Thanks for checking out my biog!!
BRONCNUTZ-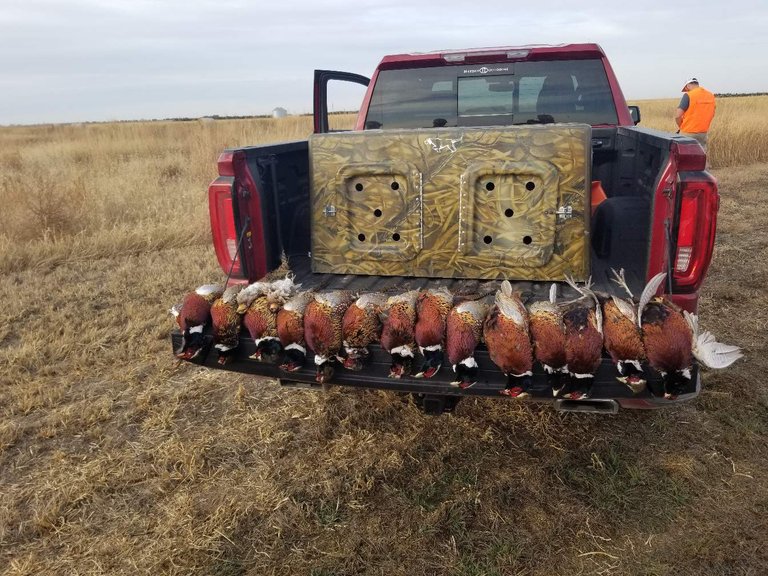 Posted using Partiko Android
---
---