Let's make some hut socks! I'm always being scolded for going barefoot, but I'm used to it. Naked feet is basically a New Zealand tradition. Because of that I only wear laced lower extremity prisons for ceremonies or when protection is needed. However, I'm okay with wearing wool socks when the weather is cold. The problem is that one wears holes in socks quickly. I decided to add felt soles to a pair of socks so that I can still use the socks in shoes too.
The socks are cheap Norwegian army wool socks I got from a military surplus shop. They are made from loose rag wool so not great quality, but good enough. I had already worn holes so the first task was to darn.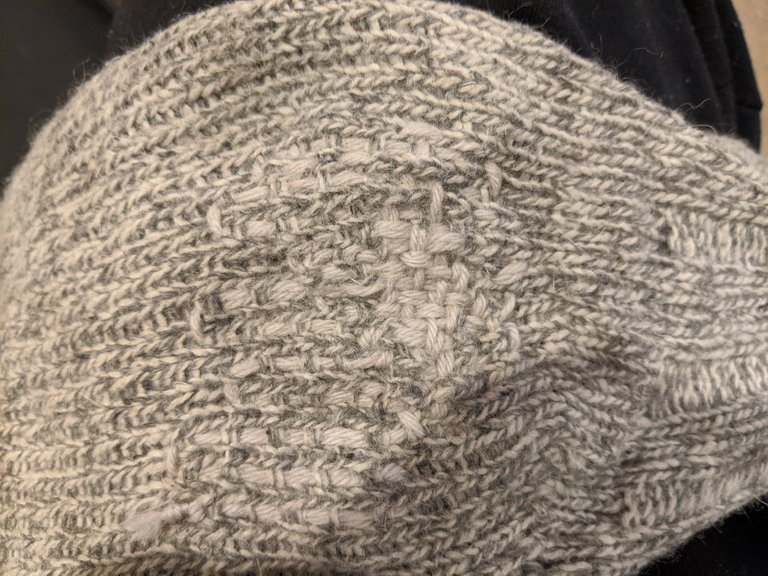 This heel hole was the worst because it was both large and the surrounding wool was worn. I thickened the worn areas by darning in a doubled yarn strand and then established supporting stitches for weaving over the hole itself. The thickening stitches run between the ribs to keep the feel of the sock even. The knot (lower-left) is positioned so that it doesn't interfere with the pressure areas of the foot and so avoiding discomfort and possible blisters. The merino darning wool is noticeably warmer than the rag wool sock.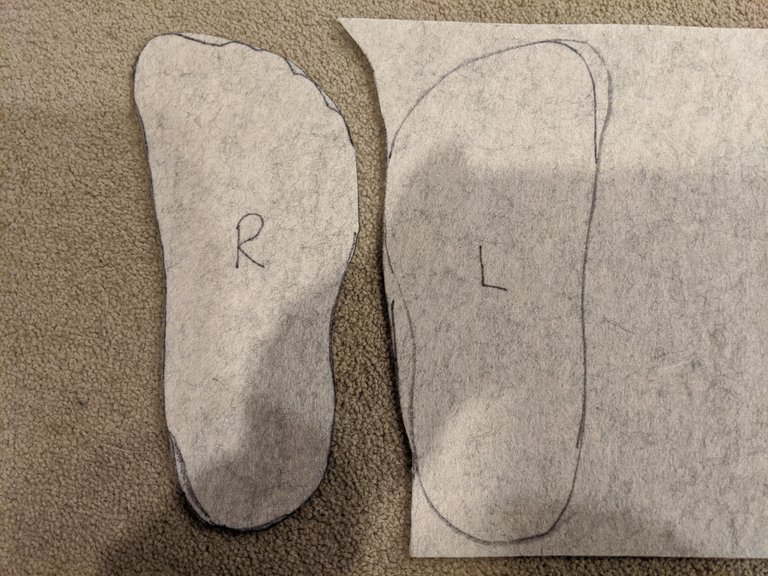 Here I trace my feet onto some acrylic felt. I would prefer wool felt, but there was none in stock at the stores I visited and acrylic wears better. I wanted felt rather than suede because acrylic/wool deals with moisture better. The downside is that acrylic felt will shed plastic fibres. Shedding is not so bad in a house, but synthetic fibre shedding can be a concern in the backcountry. My feet are not particularly symmetrical due to foot injury from my teens.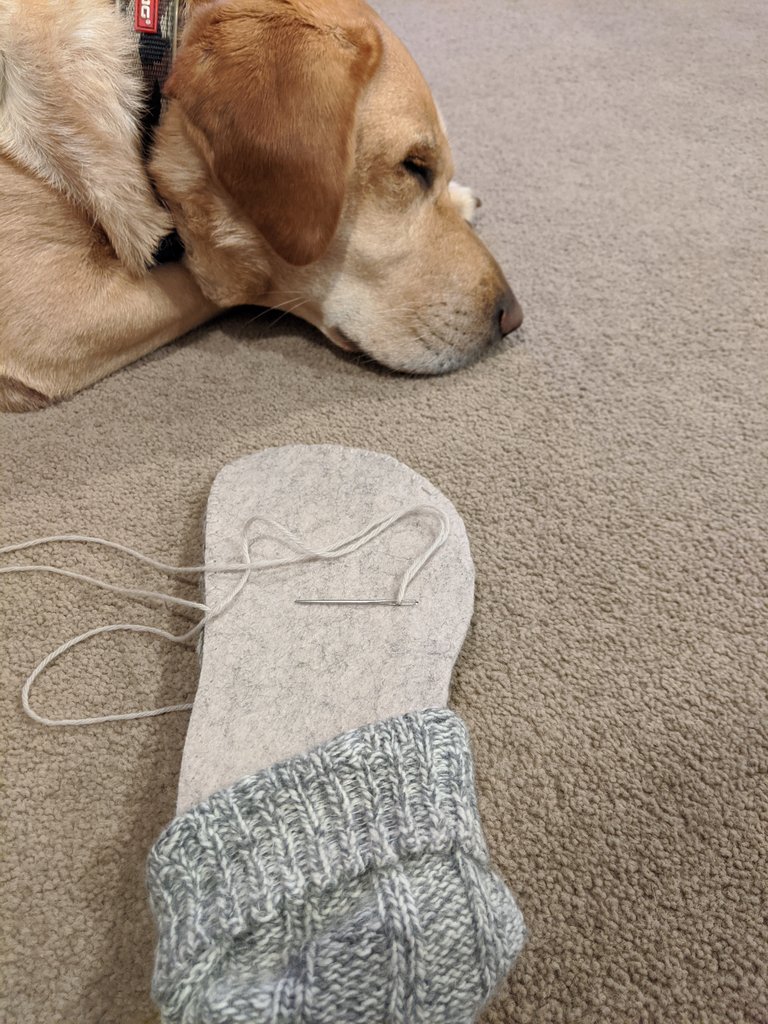 I pre-pierced holes about 8mm apart with a regular needle and then got to sewing. I used yarn to sew on the sole. It took practise to get a rhythm going. A good trick was to use the sock itself to tension the sock over the sole. This also opened up the sock so that I could get my hand inside to hold shape. I made a sewing line on the sock using a sharpie marker when my foot was in the sock. The main concern is that there should be no creases in the bottom of the sock.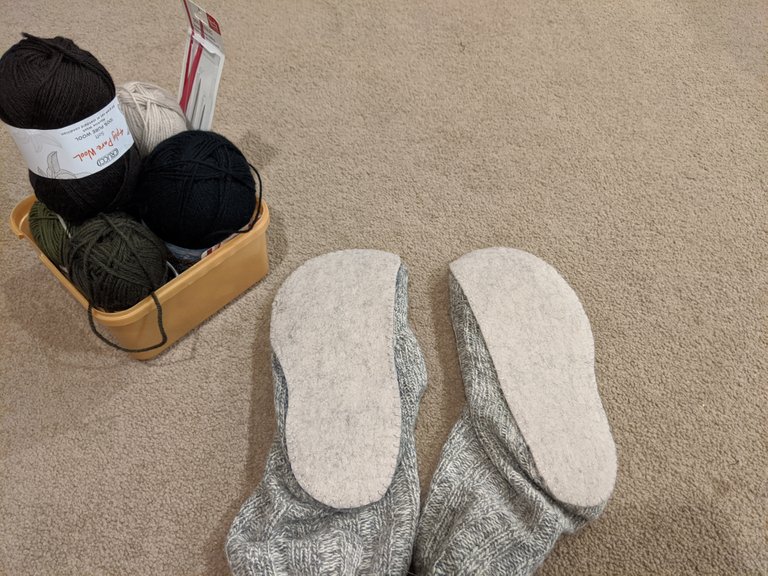 Here's the sewing finished. Custom "soccasins" done. I've heard these called hut socks because you can wear them inside your boots and inside huts (cabins) if you need to. The felt provides additional insulation from the cold ground which is beneficial when wearing the socks without shoes. I've heard people in cold countries use felt boot liners (or at least felt in-soles) to insulate their feet from frozen ground, but it doesn't get that cold here.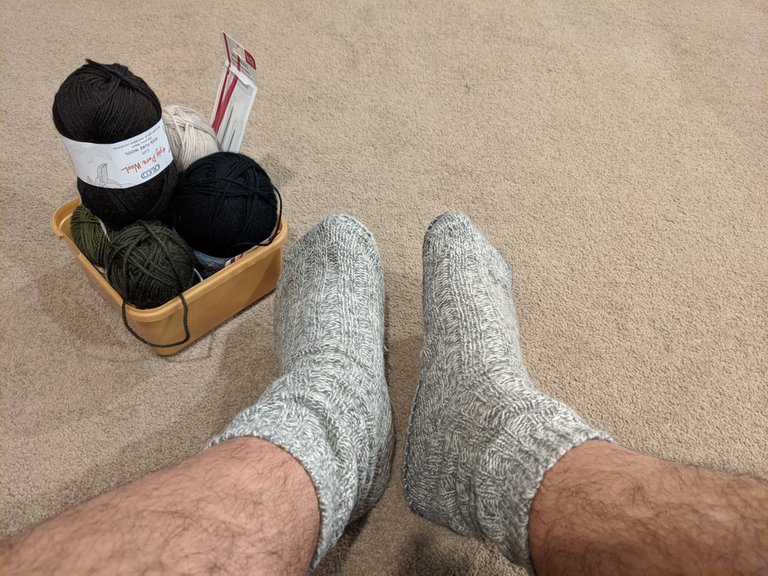 Ah yes, toasty warm. The grip is about the same as wool socks so care is needed not to slip. I might later add rubber from a bicycle inner tube to add traction and wear resistance. I also expect these socks will wear more holes over time, which I'll darn.
The biggest challenge with socks is to keep the shape of the sock with correct darning tension and not adding material in ways that can create blisters. Over time, I expect these hut socks will gain personality as they are repaired and repaired again.
Time-wise, this did take a few evenings because I'm not a speedy stitcher. However, hut sock making is the kind of task you can do while listening to a video anyway.
Darn good stuff. My feet are now very very warm! Until next time.