We took Mor-mor on a holiday to a hilltop farm. I've been doing a lot of hill walking and Mor-mor loves to come with me.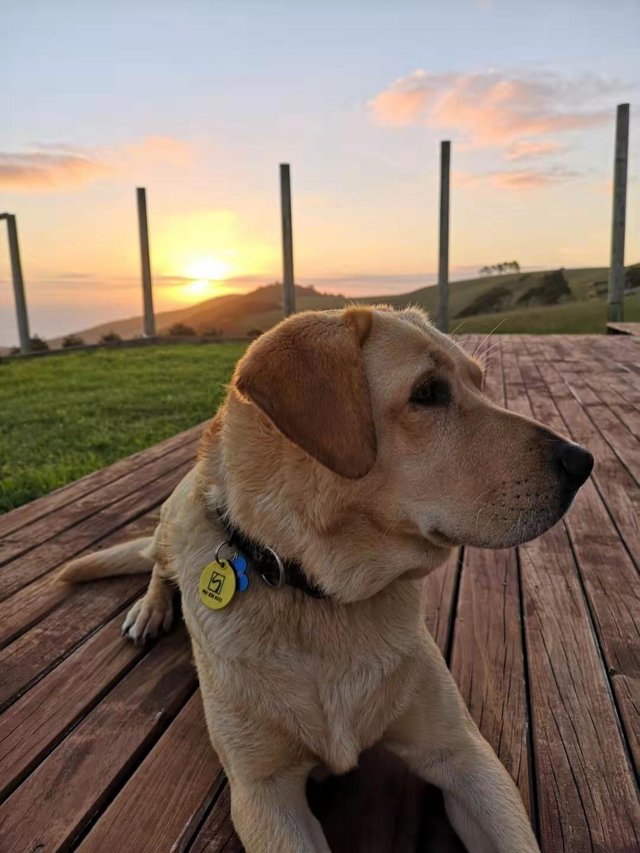 Here's a taster of the scenery we've been enduring. More on that in another post. Today I'm talking about gear. This is what I have on me for a couple of hours roaming about a very hilly farm. It's summer, very windy and with a bit of rain on a few days.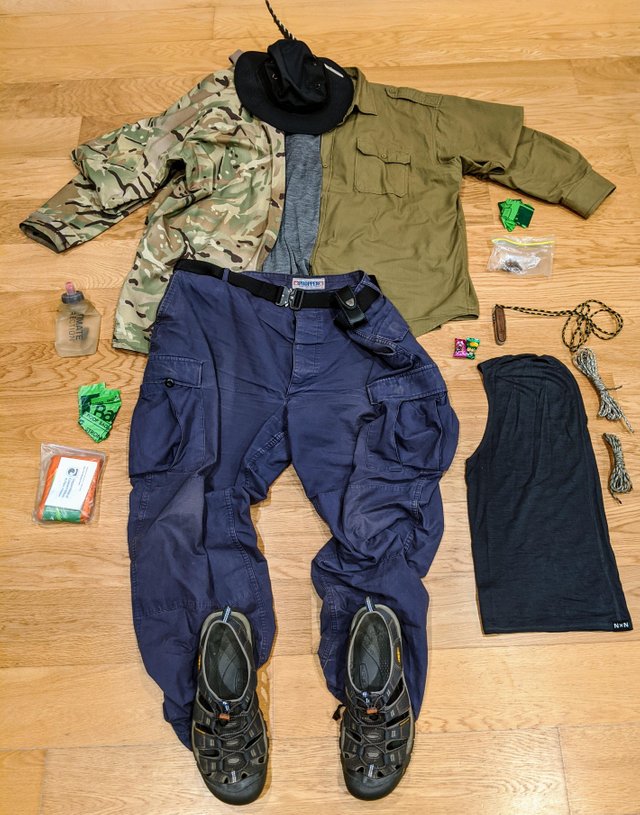 Clothing
Icebreaker t-shirt. 83% merino wool, 17% nylon.
Miltec / Sturm-Handels ripstop cotton shirt
UK Army light duty jacket in MTP camo. Gortex.
Sturmhandels rain hat, boonie style. Turkey feather found on farm.
Proper brand combat style pants. Ripstop.
Synthetic belt with cobra style buckle
Keen trail sandles
Gear
(Clockwise)
Dog poo bags, right breast pocket.
Dog treats, left breast pocket.
Swiss Army knife, Huntsman model, belt pouch on left hip.
Two candies, left front trouser pocket.
North by North balaclava/buff, merino wool, left cargo pocket.
two hanks of 550 paracord, left cargo pocket.
Hunting license, ziplock in right cargo pocket.
Orange mylar survival bag, ziplock in cargo pocket.
Dog poo bags, right cargo pocket.
Ultimate Direction 500ml collapsible water bottle, right front trouser pocket.
Why all this stuff?
It's too warm wearing all three upper layers. I always wore the merino t-shirt. On the day that threatened rain and the day that was extra super windy, I wore the goretex jacket. Otherwise I left the goretex at home and wore the Miltec shirt. The goretex is great for shedding rain and blocking wind but controlling moisture inside is a constant battle.
Those who saw me at SteemFest4 might recall the shirt - that lightweight merino t-shirt and cotton shirt is my new favourite combo because it has such a wide comfortable temperature range and is hard wearing, but it's terrible in the wet.
The goretex jacket and rain hat combo is good in all but the heaviest and sideways of rain. The jacket has dual zips up front and two pit zips. The pit zips run down the inside of the arms rather than the body - presumably because it ventilates better over body armour.
I discovered the turkey feather was a good way to help tell wind direction and strength in open country. The feather will probably get snagged in the bush. The turkeys are a pest and so the farmer has given me permission to take one home for Christmas if I can catch it. Ha!
With the exception of the water bottle, the rest of the things are permanently in those pants. If I get injured and can't make it back to the farmhouse then the orange bag helps me maintain temperature and acts as a signal colour. I always have a hunting license in that pocket because there are some places you can only take hunting dogs.
The North by North balaclava-buff is amazing. Very lightweight and it can do so much. On one walk I used it to protect my eardrums from the wind.
The collapsible bottle is great because I can carry a little water without sloshing around. My tip is to hydrate before you go until you almost want to pee. In that way you're probably good for a few hours.
Finally, why so many dog poo bags? I never want to get caught short. It doesn't matter on a farm, but it does in public places.
This isn't much of a load-out. Just a few basic items to help with a few problems I might encounter but light enough to grab and go. If I was going further I'd carry more of course.
Walk photos will be in a future post. Until, next time.