The @openseed project is a very interesting one. It is something that I started to follow some time ago but was not clear exactly what it is. A while back, @andrarchy appeared with @exyle to explain it on the later's show. That, coupled with a bit more digging provided me with a better understanding of what is taking place.
This is very exciting stuff, so let us dive right in
What is Openseed? This is a collaboration between @ardrarchy, @bflanagin, and @bryklyn8900.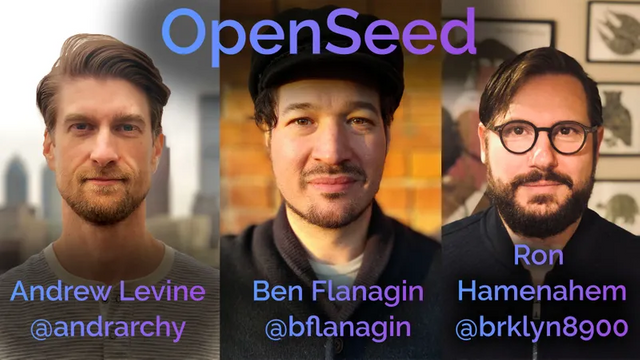 Source
The main idea is to provide tools to developers that will be standard use for blockchain. In addition, they also seek to provide database management which will accelerate adoption of blockchain applications, especially Steem.
We all know one of the biggest advantages of Steem is that one set of log information allows access to all the apps on Steem. Anyone who signs up for an account is able to utilize that feature. At the same time, all followers go wherever one does, eliminating the need to establish a new following with each application. Finally, each application sees the same data, thus providing the consistency of wallet information, etc..
However, not everyone has a Steem account. In fact, with the present onboarding issue, it is rather difficult to get one. Producing an account is not free. This means that someone has to bear the cost of it. We are hoping that SMTs along with Resource Credit Pooling will aid in that. There will be incentive for the applications to have enough RC to get their users going.
This does bring up an interesting case. Does everyone need a Steem account? Could it be that a Steem account is viewed, ultimately, like an elite status? We know that most of the public does not care about the centralization versus decentralization debate. Therefore, why not cater to them on their level.
It is here where we see Openseed looking to address the onboarding issue. By establishing different layers of access, the team is able to the features of Steem without people having to get an account.
The goal is to have people sign up with a username and password, something that would instantly give them access to the applications that integrated Openseed. Hence, they would have users that do not have a Steem account. Openseed would manage the database like any other company does.
Of course, those of us who are full-on crypto, anarchists, government despising, or centralization phobes will still have the ability to operate in the same way. We control our keys and are responsible.
For the rest, who fall outside those lines, the ability to get a new password and the responsibility of the management there would be with Openseed. Again, this is what people are accustomed to.
In other words, we will see a hybrid system.
Going this route would limit some of the capabilities. To start, not all applications, I wouldn't think, are going to integrate this in. Thus, one will be denied access to those without a Steem account. At the same time, it makes one need to "qualify" for a Steem account via activity. Those who show the tendency to be active and involved, they could be approached for an account. An application would be smart to pay a few STEEM to get people like that set up.
What this eliminates is providing Steem accounts to people who post once and disappear.
Exyle, in the interview, summed it up well. In this sense, Openseed is the Gateway to the Gateway To Cryptocurrency.
What this means is Steem is a gateway into the cryptocurrency world. We have a lot of knowledge on this blockchain along with many people who are heavily involved. They are developers, traders, or advocates with a lot of experience in this realm. We are also starting to see other projects, outside of Steem, posting on here to try and expand their reach. Steem is a haven for those looking for crypto-enthusiasts.
https://steemit.com/hive-167922/@exyle/jxlozess
Openseed is looking to become the gateway to that. By providing a database system that can handle the masses, the door is opened. Most, at least initially, will end up operating under the password/username option but there will be a handful that end up shifting to full accounts. Essentially, as Andrarchy explained, it is taking the funnel an just making it wider.
To me, this is an enormous step and one that can radically alter cryptocurrency adoption.
However, users are just one side of the equation. The other is developers and Openseed looks to assist them.
At present, every application is responsible for developing everything from scratch. Whatever feature that the application wants to utilize, outside the basic functionality of the base coding, has to be designed. Thus, two development teams must create the same feature (unless they are somehow collaborating).
Openseed looks to eliminate this by creating a plethora of features and protocols that can be immediately implemented by any developer on Steem. Hence, the idea is to make Steem more attractive by providing tools where application development becomes like doing a website. There are plenty of options to choose from that are already coded.
For example, one glaring absence is a chat room/instant messenger type app. We do not have it on Steem. For the most part, people are using Discord for this purpose. That said, in this era, it only makes sense to have messenger services in the application. Facebook is one of the most commonly used ones.
This is something Openseed is working on. In fact, it is already available for download although I do not think it is fully operational. Openlink is going to provide some of the services that telegram offers. People are going to be able to find other Steemians and message them directly.
Here is a short video on that:
Ultimately, the idea is that most people do not care about using blockchain. They just want to have the experience an application offers regardless of where it is located. However, if we are going to change the plight of humanity and start the process towards Web 3.0, people need to get involved in blockchain. This is where the ability to reward users for their contributions is exploding.
Openseed seeks to leverage this by bringing more people to the table without them having to go full-blown blockchain. Most are going to adopt cryptocurrency slowly. Instead of waiting around for that to happen, why not get them here, even if it is under a system they are familiar with? After a while, they might read about some of the other benefits of blockchain and start to gravitate deeper into this.
Either way, Openseed is another project that has the ability to serious impact the future of Steem. The team behind it are all dedicated to Steem while believing there is great potential for everyone here. They are now putting together a project that should seriously help this become a reality.
If successful, this will simultaneously draw more users to Steem and provide the tools developers needs to quickly establish their applications.
Attacking things on both fronts seems like a winning strategy to me.
I suggest everyone give this project a follow: https://steempeak.com/@openseed
2020 is going to be an exciting year for Steem.
---
If you found this article informative, please give an upvote and resteem.
---
Posted via Steemleo | A Decentralized Community for Investors