Hey everyone, some news from the @ocd team today.
We started the #posh (proof of sharing) initiative initially to assist Steemit with traffic and in turn ad revenue generation in hopes it would help them during the bear market and becoming less dependent on dumping Steem. With the recent changes of @justinsunsteemit acquiring @steemit we believe this help is not needed as much anymore and will from now on be encouraging users to share their posts from beta./steempeak.com instead. This will be a gradual change, we will still give higher curation on posts with the #posh link in the comment section no matter the front-end they share from but will be reminding them to switch over to steempeak.com or another independent front-end of their choosing.
As you can probably tell, this is also a move to support the projects that have the Steem blockchain in their best interest but at the same time we are happy to encourage Steempeak sharing as the front-end is amazing and the people running it are some of the most talented and hardworking Steemians we have here today. I'd encourage anyone who hasn't tested out Steempeak yet or their beta site to test it out!
Another thing to mention about SteemPeak which is great for new traffic stumbling upon a shared post is that they offer guest accounts which allow signups from Facebook/Gmail/Github and will enable more functions in the near future until users get their Steem account.
I'll be mentioning another cool feature from beta.steempeak.com at the end of the post that has to do with the collab announcement, so make sure to check it out if you're not sure about steempeak yet. ;)
---
OCA Collab
Effective immediately we are going to start collaborating with @midlet's community OnChainArt and curate posts there as well. @midlet has joined the OCD Curation team and will be choosing great Art posts from his community to nominate them for curation on the @ocd daily compilation posts. Other than that we will also keep an eye on the community to curate steempeak posts that are shared on Twitter through the #posh initiative like usual. We want to assist other more niche original content communities as well and other than the Steem Gaming Community and SteemDevs Community this will be the next one we will be collaborating with to get it some extra curation!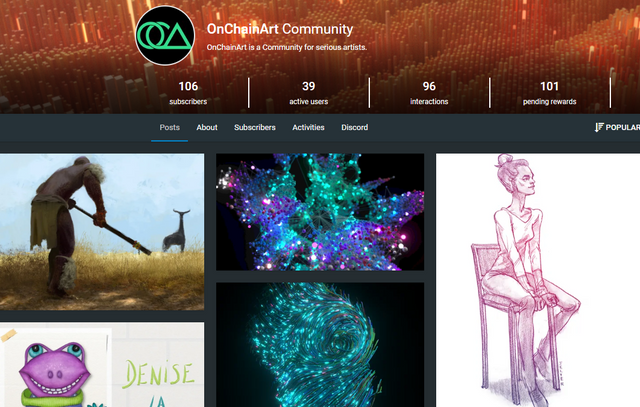 (screenshot of OCA from beta.steempeak.com)
---
Steempeak Cross-posting feature
As we've mentioned in the past, we understand our community is pretty general and broad with any Original Content being accepted and curated, this is what OCD has always been curating but our goal was never to hog up all posts from other smaller communities and we were hoping for a cross-posting feature.
The good news is that Steempeak has already made this possible!
On their beta site you can now cross-post onto other communities!
At the end of a post, you simply click the three dots, then "crosspost in..." and choose a community and also add a note along with the cross-post if you like. I've been told what this does is it generates a new post of the person sharing with 90% of beneficiaries going to the original creator of the post, 5% going to the sharer and 5% going to the community. To prevent abuse communities can mute posts (and downvote if you feel like it).
This sounds really amazing in my opinion and I can't wait to try it out. I think it will help get posts seen by more people, get the author more rewards and bring the niche communities more traffic and rewards when used correctly. Big thank you to Steempeak for already implementing something like this. Maybe Sun bought the wrong front-end? ;)
---
Let me know what you think of these changes and what you think of the cross-posting feature of @steempeak! (also don't forget to vote for their witness if you haven't yet!)