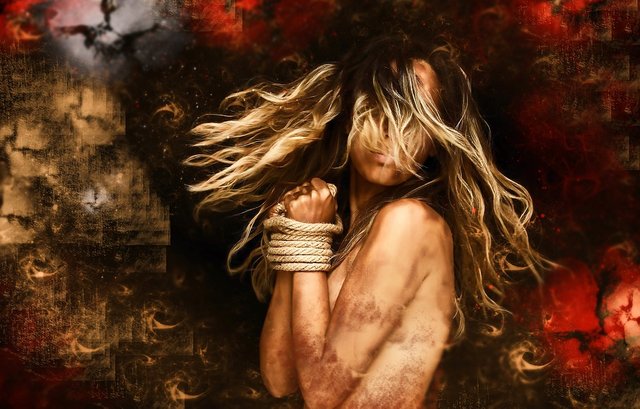 In my storms
♡♡♡
They are my storms, my battles, it is the impulse of life.
Waking up at 2:00 am in the dark, every day, without fail, without even being able to see the moon, only in solitude, in the midst of the storms of my soul, those that accompany me in the silence of my fears, of my mistakes, and of my many questions.
The doubts appear before a non-existent love, imprisoned of his desires to obtain only benefits and pleasure, distance that saves me from his merciless webs; those doubts become eternal as if happiness were stolen, the little air that is left in the room suffocates me, a little breath is mixed with alcohol; minutes go by slowly making the hours feel eternal.
I do not intend to drag someone to live in my world, it is not cold, but I tremble, although it does not always rain like that, I prefer it, if it were rain it could at least wash my fears. Without flowers on the road, because they have died by the passage of my feet, without stars and without skies, I am dying, I can see it. I close my eyes again, I try to fall asleep, I get desperate because I can't be still, movements like spasms that can't be felt or seen.
I know my body, I know it breaks, tries to feel that the moisture does not burn it, but the hours pass and only the fatigue comes, after rolling, after the tears did not stop.
I see a mirage is my soul that abandons my life, she is me who is lying in bed without breath; but I don't care, this may be the end of the anguish experienced. I'm free, I'm still alone and I don't expect anyone to understand my storms.
The alarm goes off at 5:00 am, it was when I fell asleep but my desire to have a coffee brings me back to life, the aroma of the charming elixir of the senses that come alive. I start again, a new day, without doubts, without fears or lies, smiling behind fears and without looking sleepy.
I leave
Picture Pixabay

---
Posted from my blog with SteemPress : http://slwzl.repollo.org/2019/11/09/in-my-storms/
---