Monastery in Schaffhausen
We lived in Schaffhausen for 5 years and then moved to another town nearby. Schaffhausen is a great city, but we lived in a noisy area and couldn't sleep from Thursday to Sunday due to the close proximity to bars and dance clubs. Many times, there would be drunk teenagers ringing our bell at 4 AM and laughing like it was the best joke ever. Well, we didn't find it that funny.
When we were looking for a new place, we decided to move to a different town so that we could walk to work instead of taking a car every day - at that time we worked for the same company. This place is close to Schaffhausen and we regularly visit the city as we still have many friends there. I actually like it even more now when I don't live there anymore.
Schaffhausen is a beautiful city with long history and many sightseeing opportunities. Its first mention dates back to 1045 when the king Henry III awarded Count Eberhard von Nellenburg the right to mint coins in this place.
This document contained the old name of Schaffhausen which was villa Scâhusun. It is not exactly known if the name is derived from ship (schiff) or sheep (schaf), or if there is any other term which gave the town its name. The history of Schaffhausen before this document was released is in dark.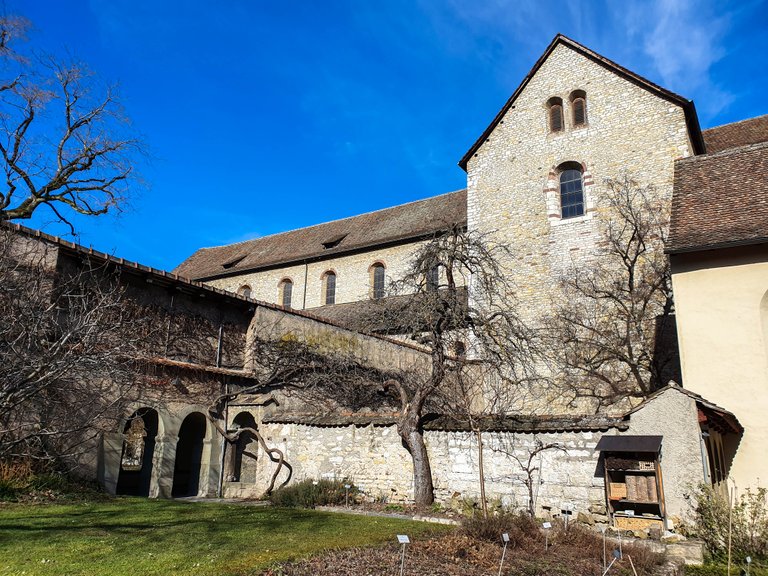 One of the symbols of Schaffhausen is the All Saints Abbey (Kloster Allerheiligen) which was founded and consecrated in 1049. The founders of the Abbey were Ita und Eberhard von Nellenburg and it was dedicated to the Salvator, the Holy Cross, the Mother of God Mary and all saints.
Part of the monastery is the Minster (Münster) that was built in 1064. In 1524 it became the Reformed church of Schaffhausen and even today there are regular services in this church. It's interior is like in any other reformed churched - it's a huge empty space.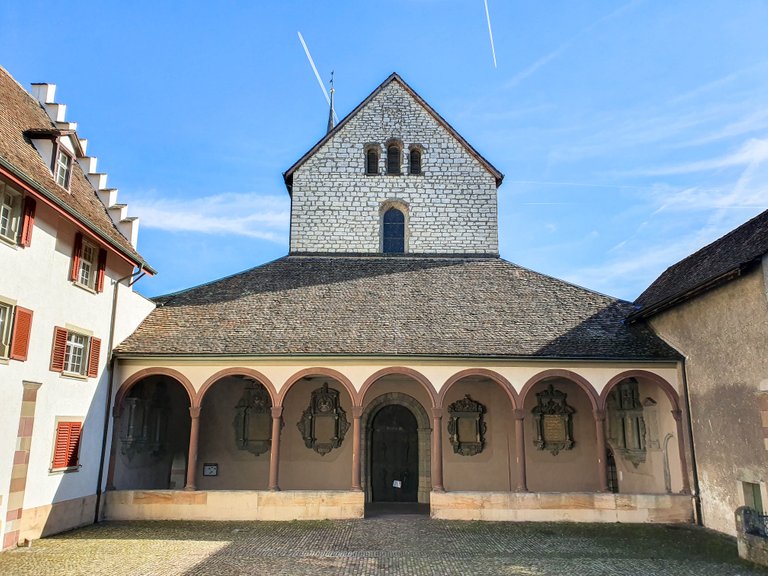 The Johanneskapelle was built between 1049 and 1064 and therefore it is the oldest standing construction in the city of Schaffhausen. There is a museum built above the chapel and you can enter the chapel from the museum. You can't enter it through the door that you can see on the right.
In 1200 the chapel was expanded, and the choir was frescoed. These frescoes show the homage of the church and its saints to Christ. You can see these original frescoes in the museum.
If you ever come to Schaffhausen, make sure to visit this museum as it's very interesting. It's been recently reconstructed and it's very modern and interactive now. You can learn a lot about the history of Schaffhausen and Switzerland as well.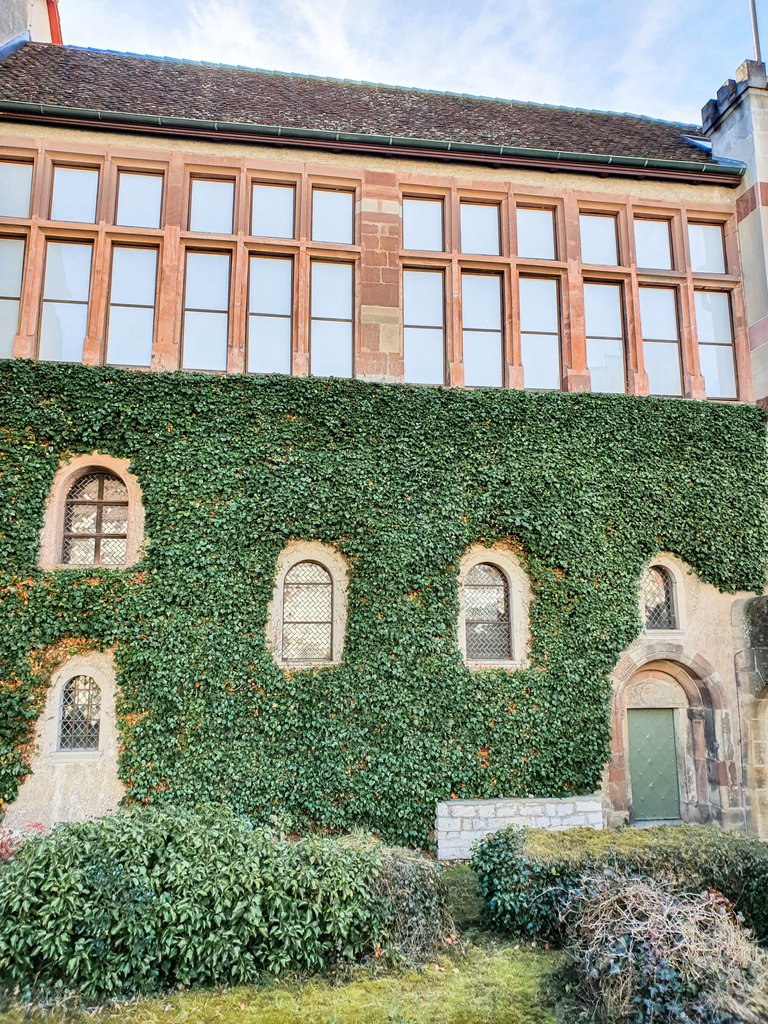 When you stand next to the chapel and turn right you look directly at the prison. When we came here, we were surprised to see a functioning prison in the old town and we were surprised even more when we could visit it during the days of the city. Of course, we couldn't enter the cells, but we could enter certain buildings. It was interesting. It's a nice complex and I think that if I had to go to a prison and could choose one, I would choose this one 😊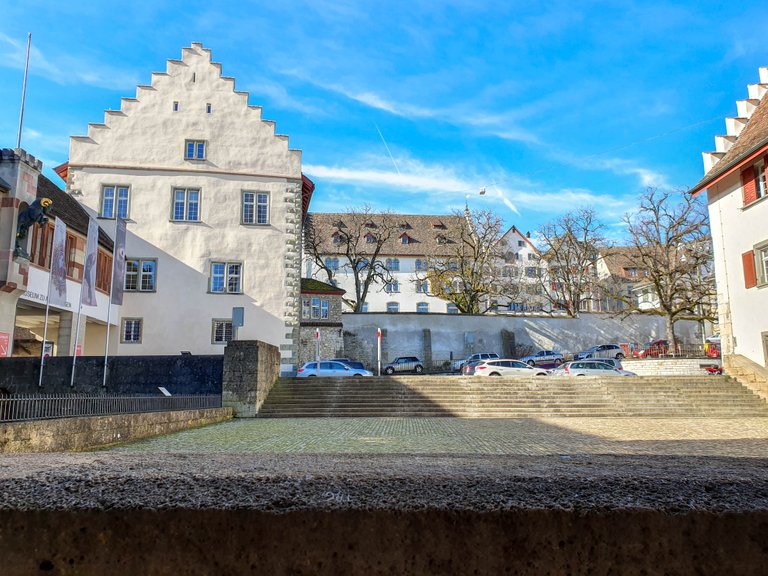 Next to the entrance to the church is the entrance to the roman cloister that dates back to the 11th century. The cloister hosts various events each year, such as the wine tasting or the Christmas market.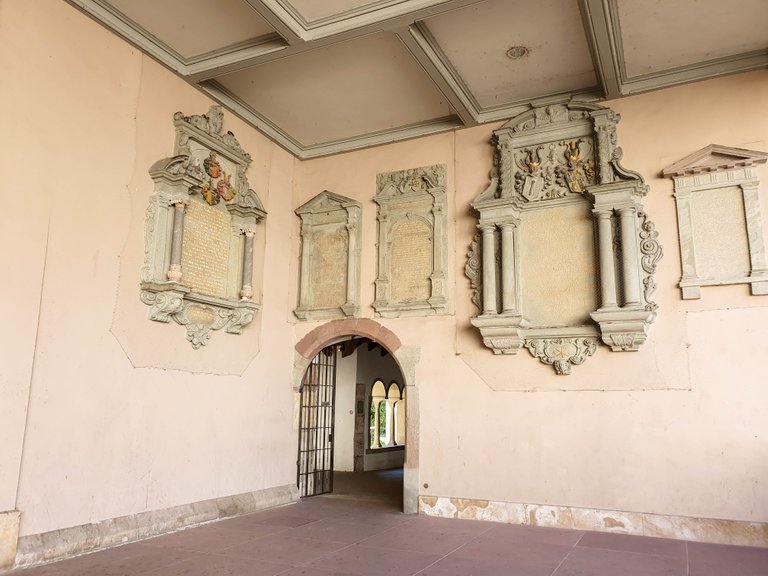 I've read that it's the largest public accessible cloister in Switzerland. You can walk around and go back to the church or enter the herb garden that is on the other side of the cloister.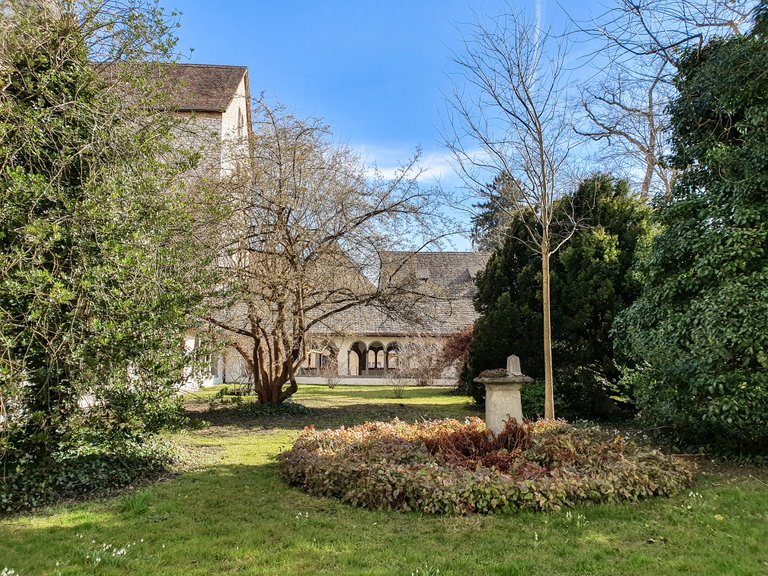 In the middle of the cloister is a green area with trees, plants and flowers but it is forbidden to go there. You can only admire it from the pathway around the cloister.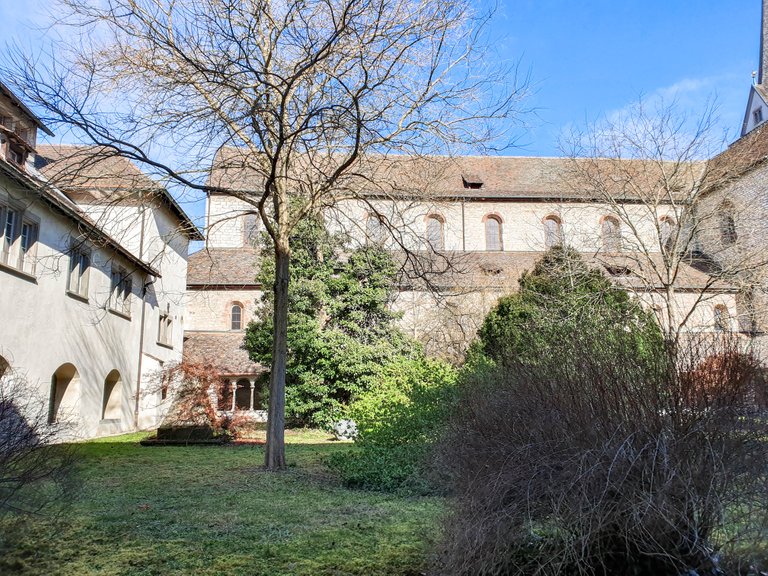 It's a great place for lunch break in summer. When it's hot outside you can see many young people with their lunch sitting on the wall and enjoying the peace in this place with such a long history. It's surreal when you think that monks were walking here almost 1000 years ago.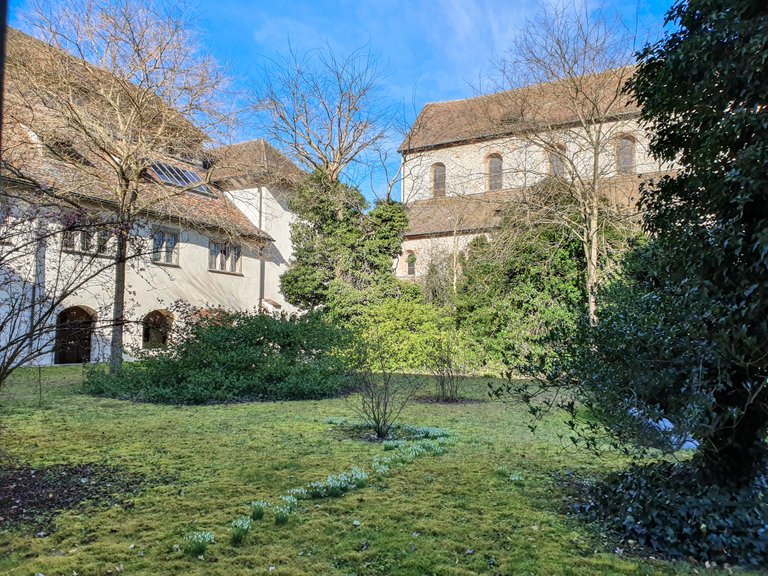 As I already mentioned, there is a museum in the complex as well. It is called Museum zum Allerheiligen and it is open every day of the week. The museum was built between 1921 and 1938 and today it hosts extensive permanent and temporary exhibitions. There is a small cafe which serves some snacks as well. It takes several hours to visit the museum and you will be happy to take a seat and stretch your legs after the tour.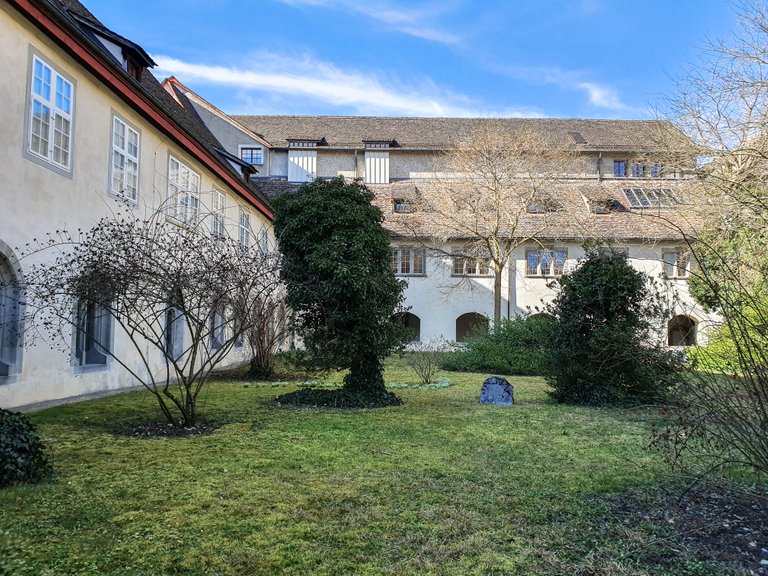 And now we are in the herb garden. It's bursting with life and energy in the summer months. Last weekend we only saw some rosemary, thyme and sage but the garden was cleaned and it looked like the gardeners were preparing for planting new herbs and plants.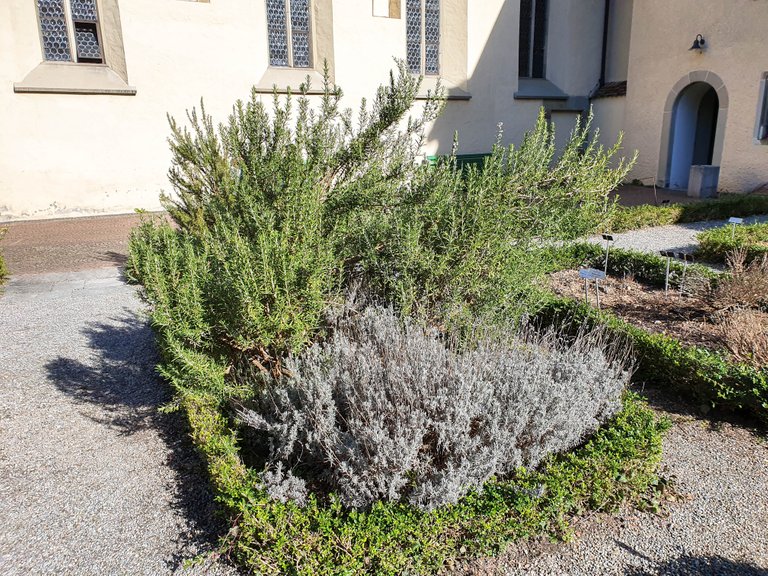 It's an idyllic place and I enjoy visiting it. It's great that it's available to public.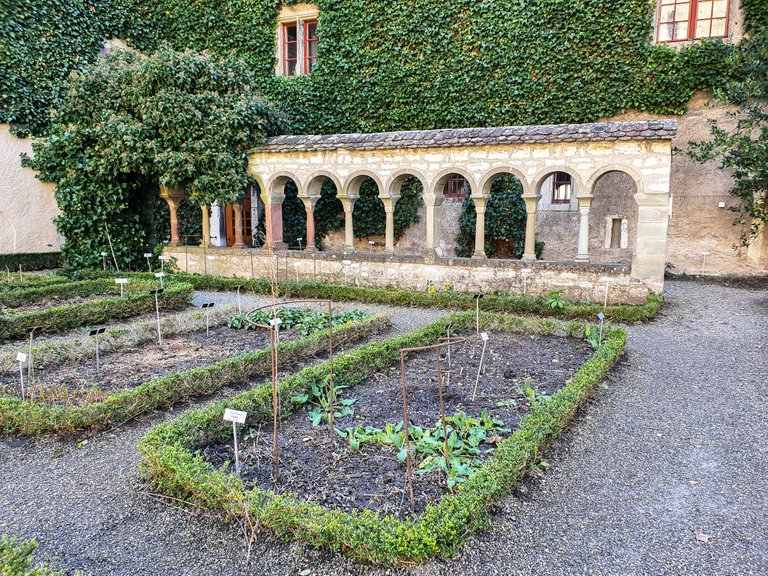 They have so many herbs in summer and most of them go to waste. I am not sure if they are selling them to restaurants or if they use them at all, but it is such a pity to see those delicious herbs being wasted in autumn. A few years ago I asked if I could take just a few leaves of a herb which is not easily available otherwise and I was told that it's not possible because if everyone would do it then there would be nothing left.
Well, I could just take those few leaves, but I would feel like a thief. Then a friend of mine told me that she picks some herbs from here on a regular basis. Let's see if I will follow her example this year.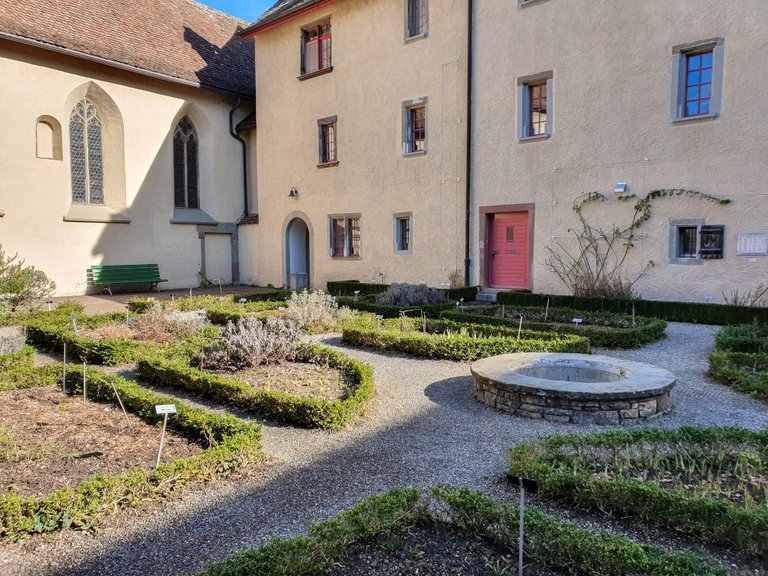 This is how you can see the Minster from the garden (on the left) and the entrance to the city (on the right). There is a huge magnolia tree next to the entrance and I can't wait for it to bloom. I could see some buds already but it will some time until they blossom.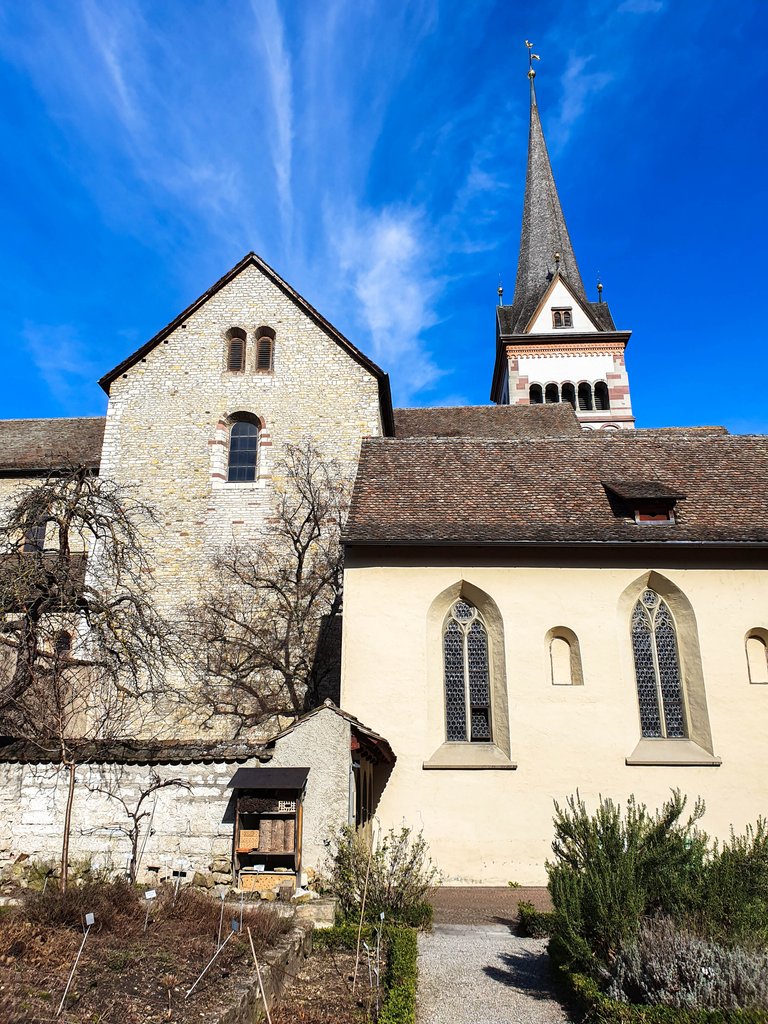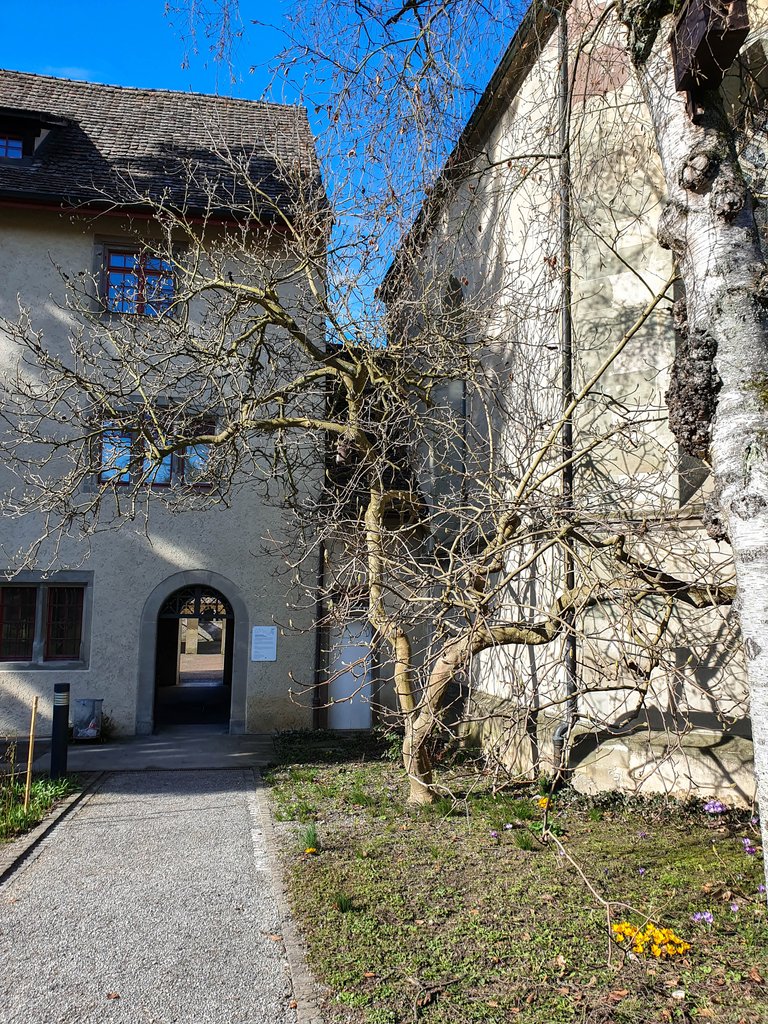 It looked like spring started early this year. We could see many beautiful crocuses. I like that they have so many colors!
I'm lucky that I took photos during the weekend as today it was snowing and there is even some snow still on the ground.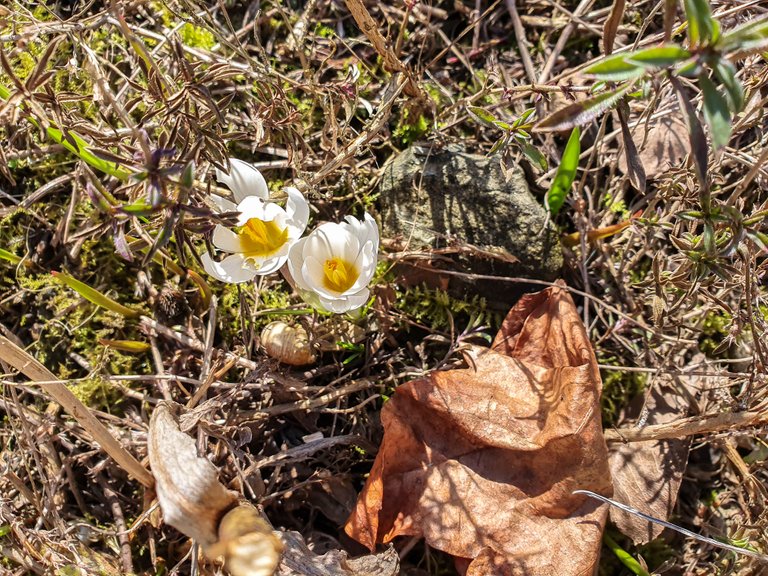 Here are some of those that we came across on Saturday...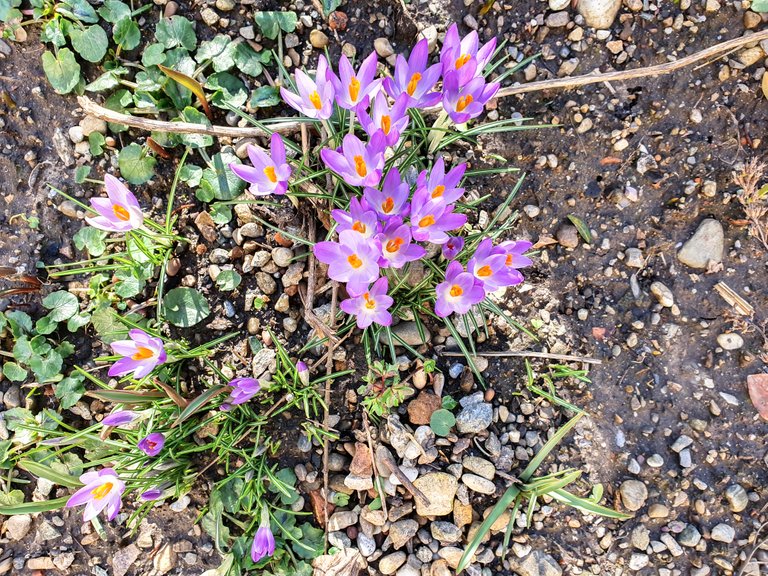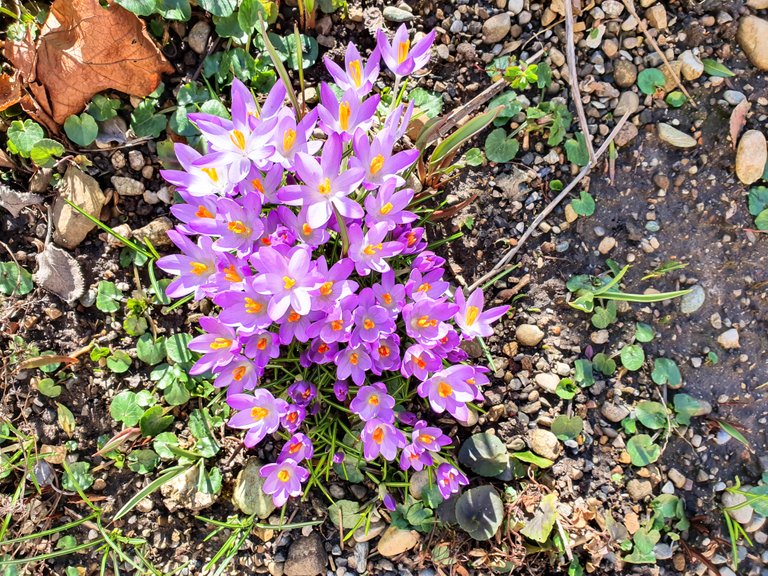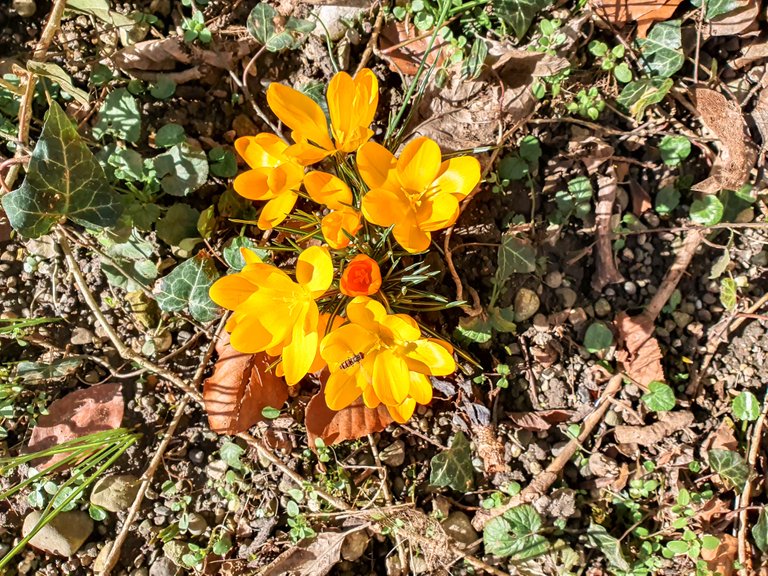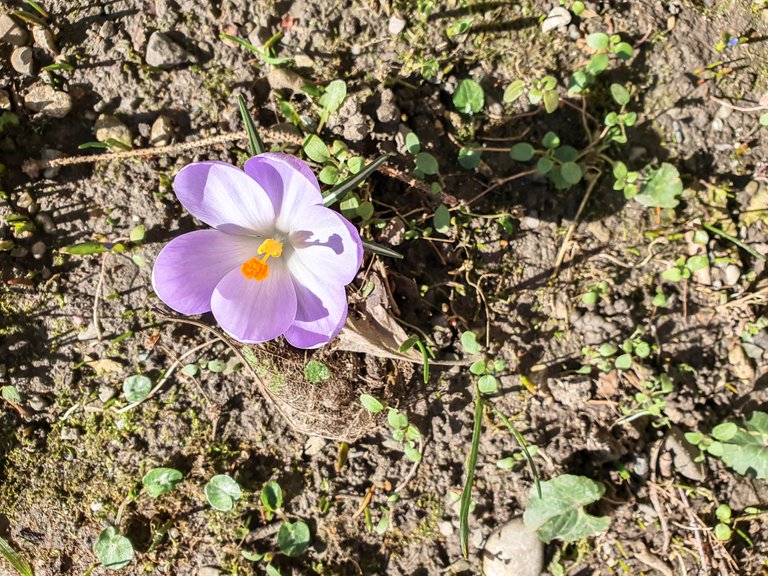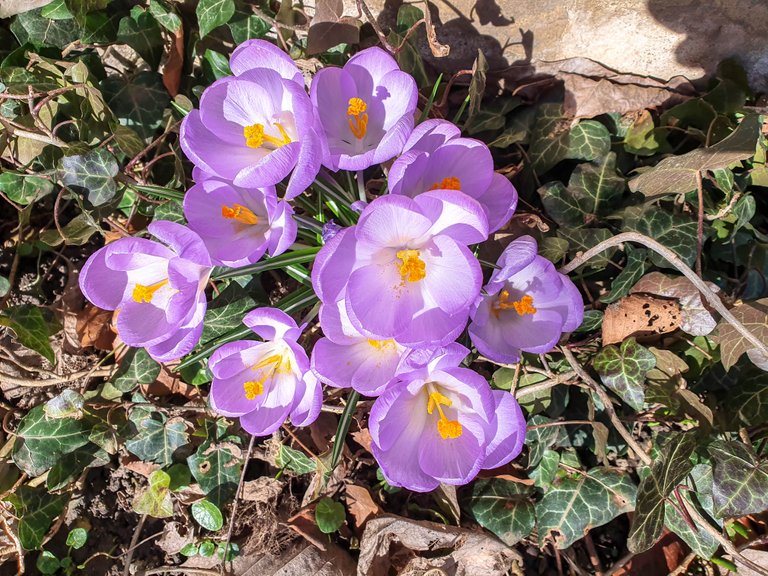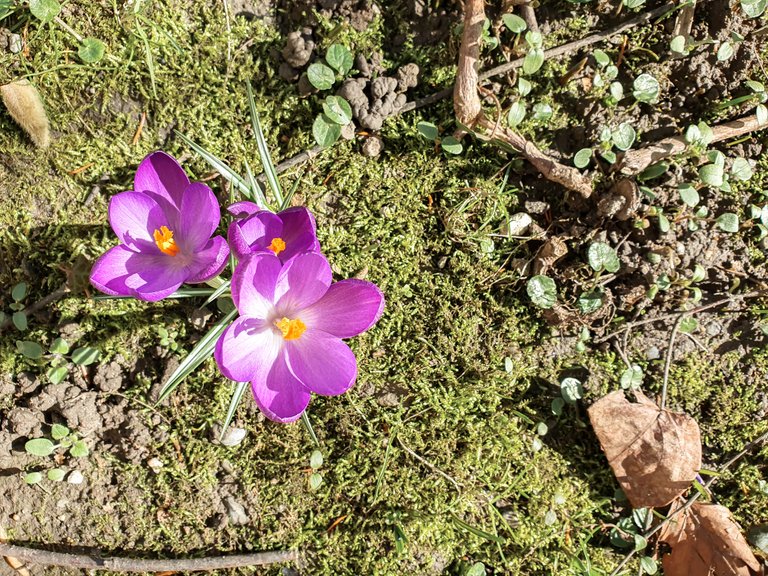 I don't know the name of this flower but it was my favorite. Look at that intricate detail!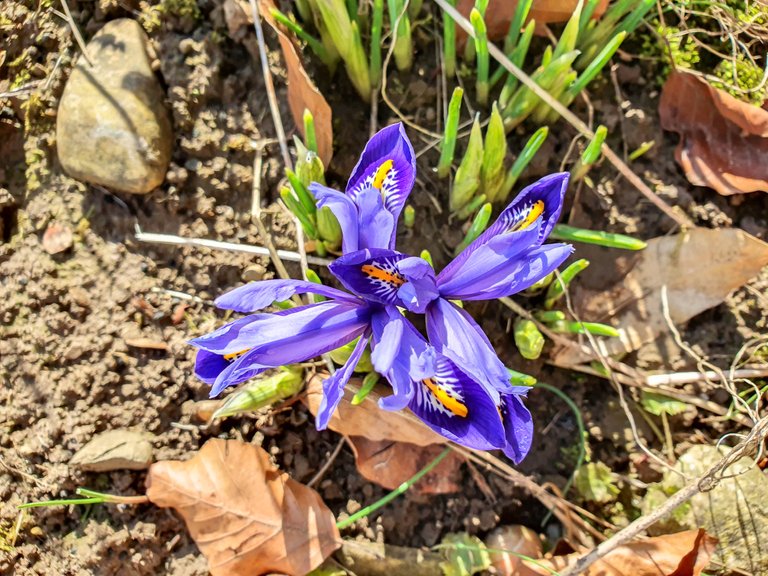 We walked around the cloister and exited the monastery on the other side. From this side we get to see the Minster tower in its full glory.
In front of the tower is the town library. I must admit that I've never been inside.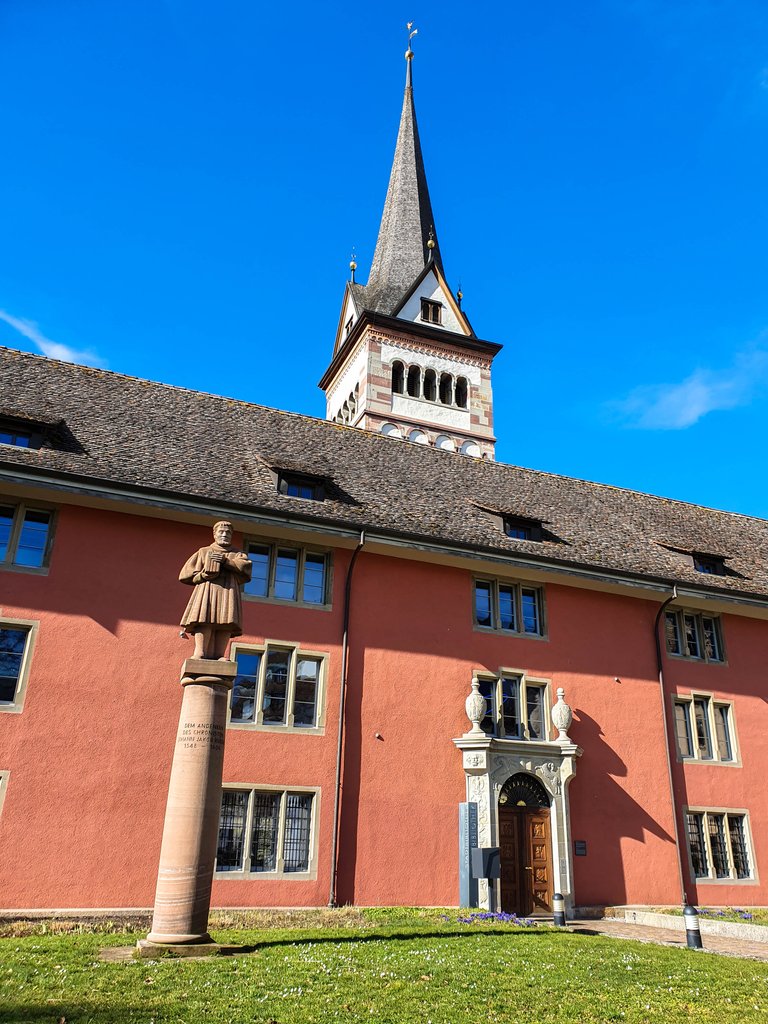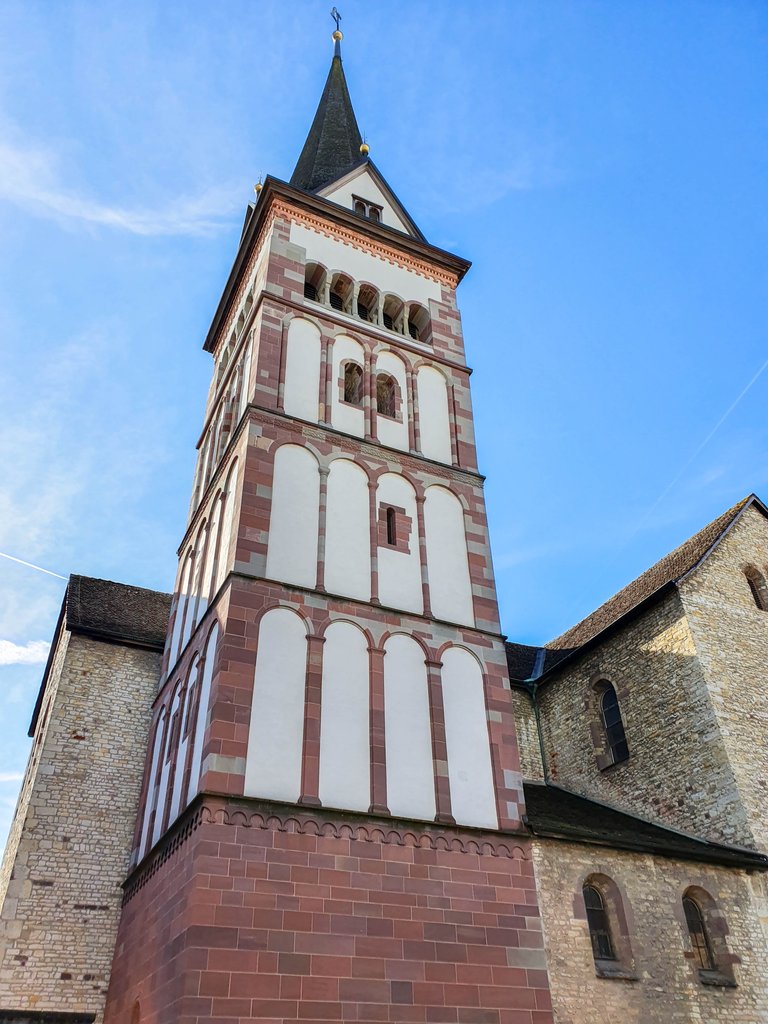 We were lucky to come early to buy some organic veggies at the weekly farmer's market. The selection is not as big as in the supermarket but it's all local and seasonal which I like.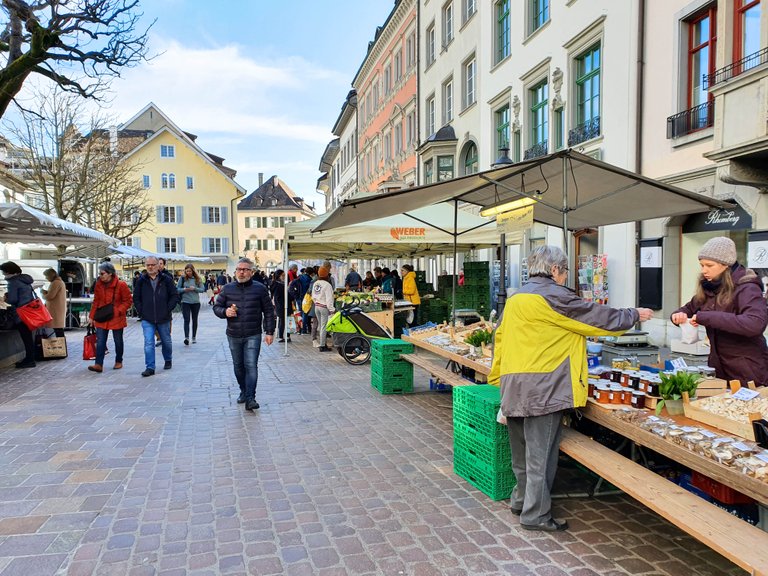 Once we got our veggies we walked back to the car. On the way we stopped at the Herrenacker and had a cup of coffee at our friend's cafe. It was a great way to finish our visit of Schaffhausen.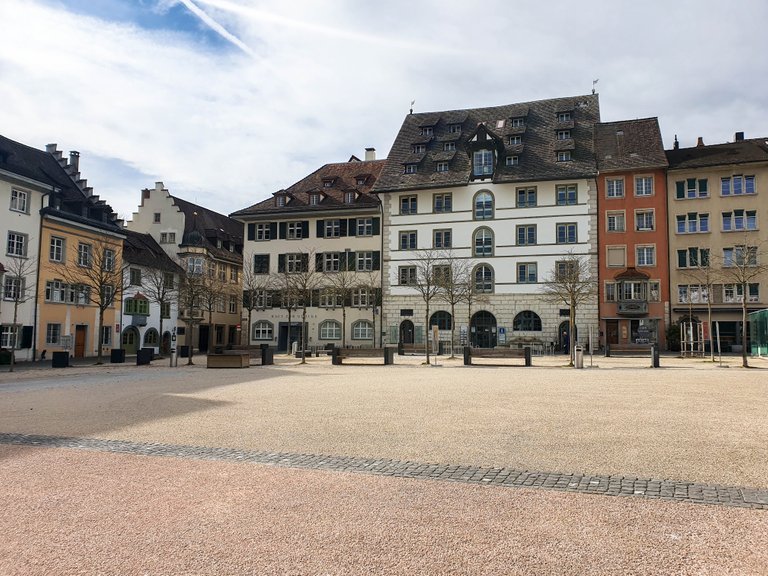 I hope you have enjoyed our walk!
Thank you for visiting!
Cheers!
---
---