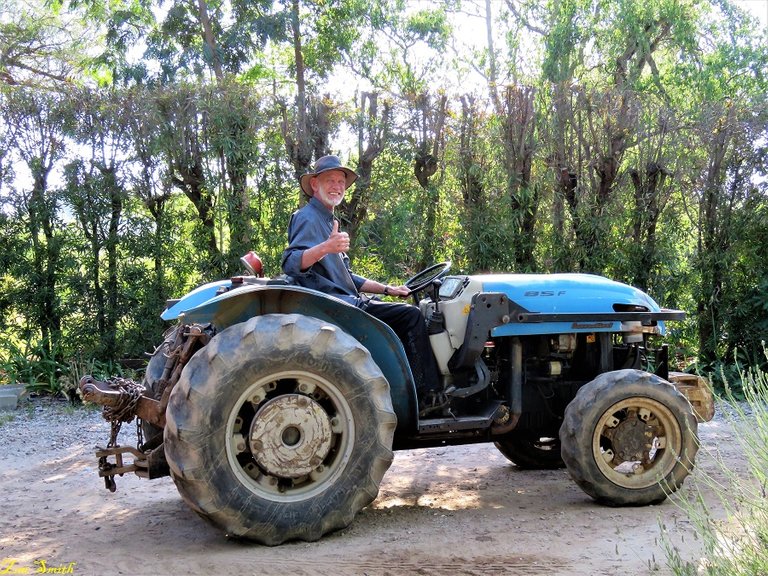 Greetings to all Hiveans!
I am the founder of The Papillon Foundation aka @papilloncharity in South Africa. Founded in 2002, registered and legally compliant in the country. Also Steem Verified.
This is a great Initiative by @theycallmedan and the compiled answers to all of the questions could certainly provide guidance to the future of Hive. I will answer some important questions.
Here we go with the questions.
Question 1. What is Hive to you.
A place where I can meet in freedom with my friends and chat about all things under the sun. Where we can support each other and also all of the other members on Hive. Respect and kindness are some of our habits, as the world is filled with anger, fear, doubt, dissatisfaction and selfishness.
Any fool can spread insults, but not many can spread positive messages of love and hope. @papilloncharity works with many ravaged souls and the rewards of life can be either bitterness, or happiness.
In this post I will show a few photos of our charity work!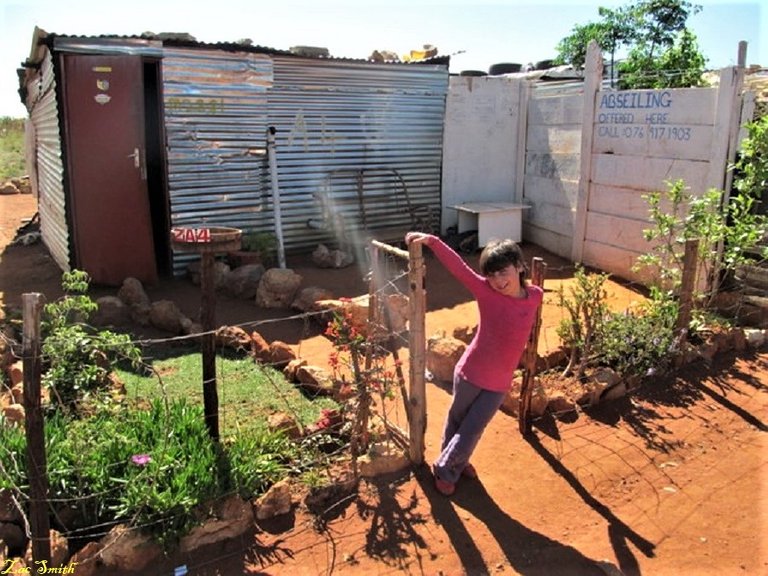 Look! Dirt poor living in a shack, but she smiles!
Question 2. What do you want to see Hive evolve into.
Security and trust are major issues in life today. The one important lesson that we have learned in the charity world is the real value of trust. Hive should be focused to build trust in the communities. The "Don't tell me, show me" mantra can replace much of the senseless noise of the advertising world.
A simple example for instance is to take a screenshot of your first download and to show the income on social media sites. I was advised to do this by a trusted friend and will do this. Fairness and opportunities for everyone will also help Hive to evolve into a popular site. No favourites, as we have seen how the trending page sows disappointed when it's always the big names up there that walk away with the most value. Opportunities for All.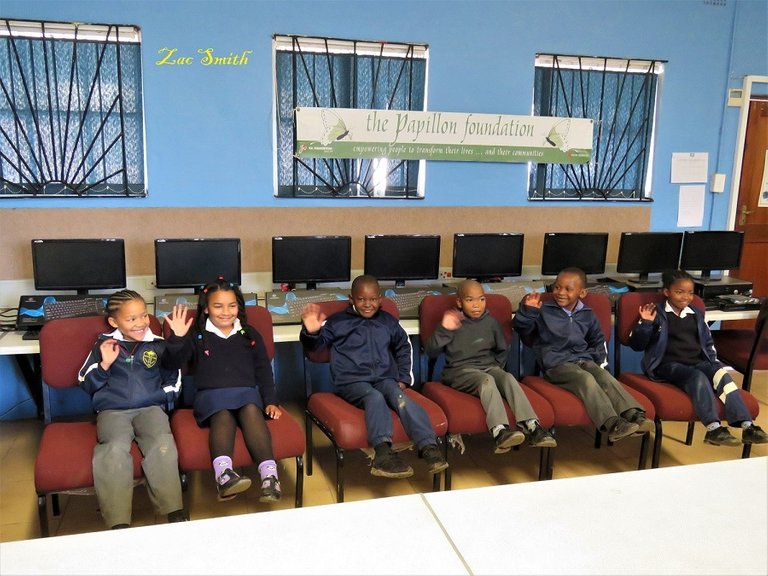 Empowerment begins with education! Computers supplied to poor farm schools by Papillon.
Question 3. What do you think about having a large funded DAO for future Hive development?
I will show you here what works for us in the charity field. I am the author of all the Papillon projects.
Whenever I receive a request, I insist on the following.
1.Business plan. 2. Full summary 3. Duration. 4. Milestones. 5. Compulsory feedback on progress.
We don't entertain submissions that have no limited duration, preferably 6 or 12 months.
Should we not be happy with the progress in reaching the milestones timeously, we simply end the project.
Of course with a large fund many other longer term options can be considered, but compulsory feedback and independent audits must be non-negotiable.
We have limited funding for projects and projects are screened according to importance, value and duration.
If only we had a large fund to create miracles hahaha.
Just some brief service delivery stats of our successes here!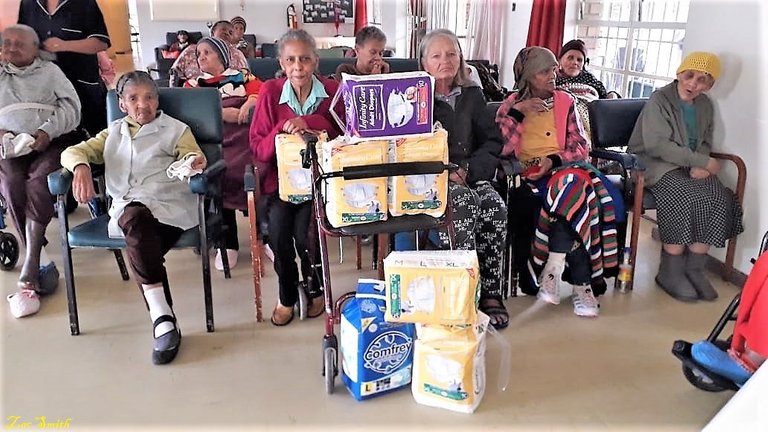 The reason why I shared this photo also in our previous "My Hive Introduction" post is because I am so proud of it.
This old age home was desperate as they did not have enough incontinence diapers (nappies) to last for the lockdown period.
Papillon supplied the diapers and we have also supplied to another call by the "Little Angels" home for cerebral palsy children. There are many others that need help, but we can only do so much.
1352 child workers graduated from our free trauma training.
1698 refurbished computers placed at worthy causes.
9969 skills courses attendants thus far.
423 Tons of donated goods freely distributed.
Question 4. What does Hive mean to me?
I am a simple old man that does not like to chatter and chirp. Hive means that I can continue to build an endowment fund for @papilloncharity and that its work can continue after I depart this planet. We have endured for 20 years now and the prospects at Hive look great to create this mini DAO charity fund for Papillon.
My other love is mother nature and I can continue to show the freedom that we have in nature to all. One can only create in freedom and I think that Hive, under the correct decentralized guidance can prove to be of great benefit to everyone.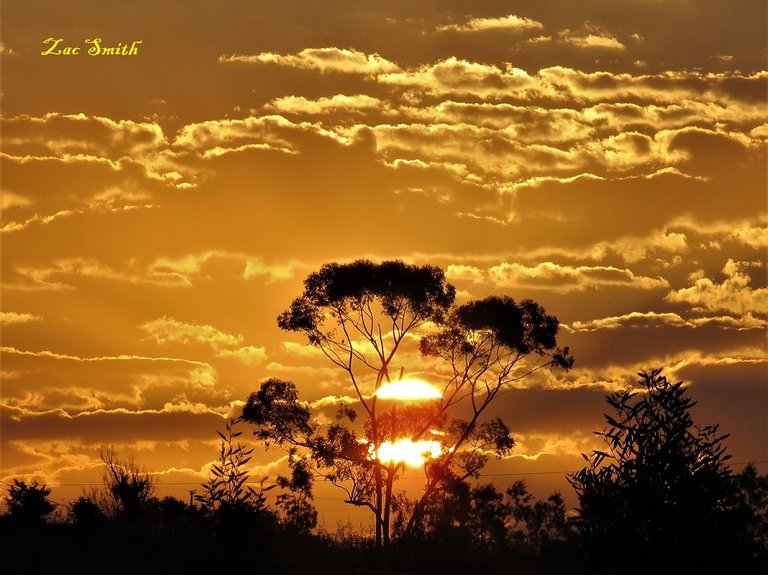 Never face a sunset with a guilty conscience, rather allow it to burn the soul clean to enable a peaceful sleep!
And That's All Folks!
Note: All photos are my own, unedited and only cropped for uploading purposes. All wording is also my own.
The above answers are also only my own opinion for what it's worth and not intended to harm anyone.
Thank you for visiting a post by @papilloncharity


Connecting the people of #STEEM across South Africa. #steemsa
JOIN US ON DISCORD (South Africans Only)
JOIN US ON TWITTER
JOIN US ON FACEBOOK

Team South Africa banner designed by @bearone