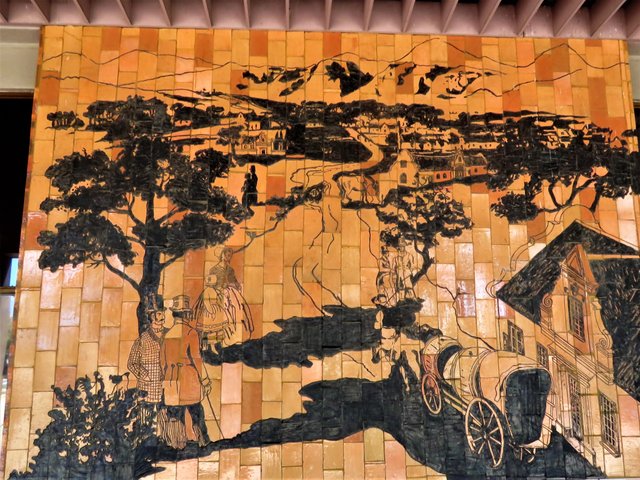 I simply could not walk past this wall at the entrance to the building!
This post is also good for #wednesdaywalk hosted by @tattoodjay
An artist was commissioned to paint the history of a small town in the Cape on an orange tiled wall at the entrance to the municipal buildings. The painting had to conform to a factual history at a time in the past when the town was established somewhere in the 1800s.
Come and have a look at this beautiful artwork!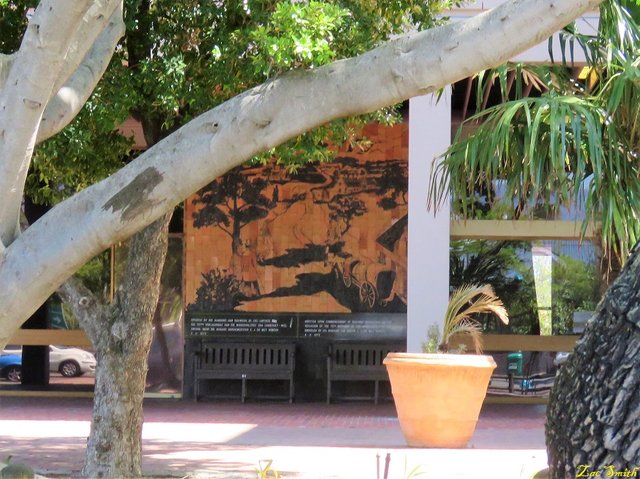 This is the painting at the building and you can see that it is a large tiled wall!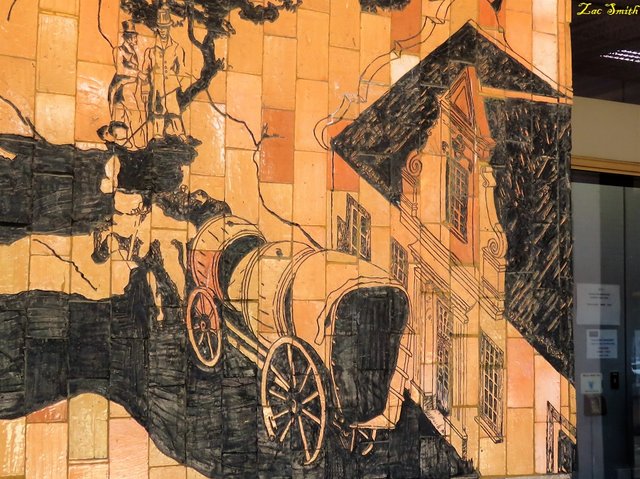 I split the painting into sections on my camera to show you some details.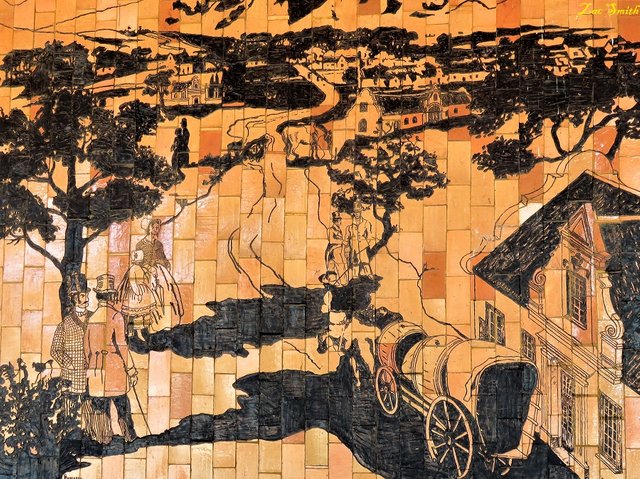 This is an ox wagon with a drivers inn beside it and people in their periodic fashions!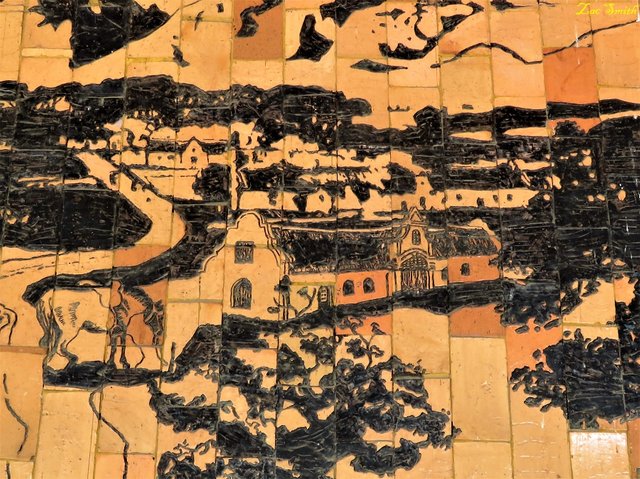 The top part of the painting that looks like a dark cloud from a distance, depicts the land with some delicate little houses and animals in it. Note the saddled horse at the left, that means someone is paying a quick visit somewhere.
For longer visits the horse would be unsaddled!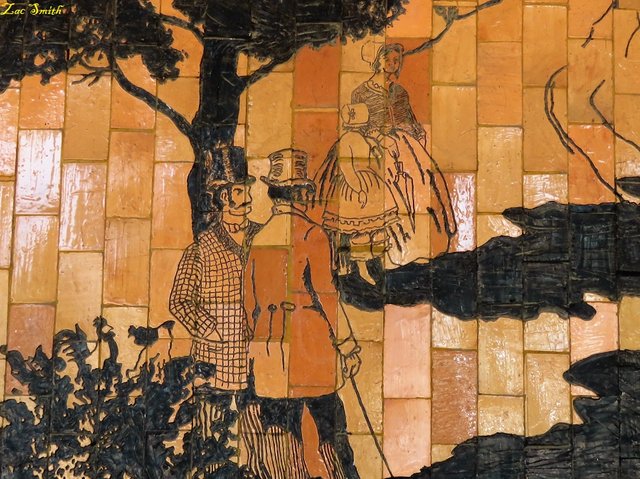 A closer look at the clothing fashions of the time period!
Not a mini skirt in sight Lol.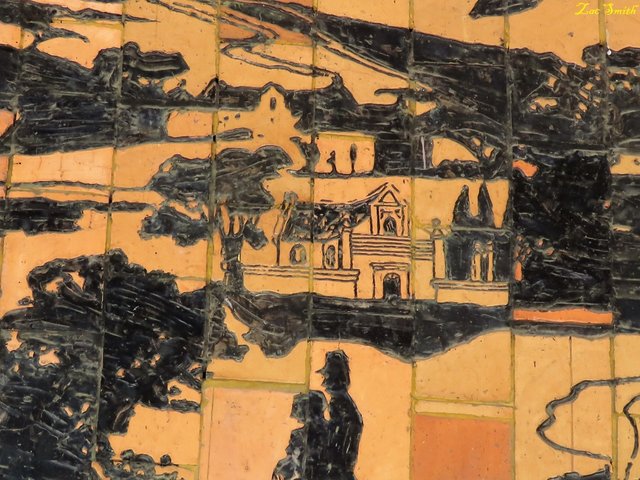 Some more detail at the left side of the dark land sequence!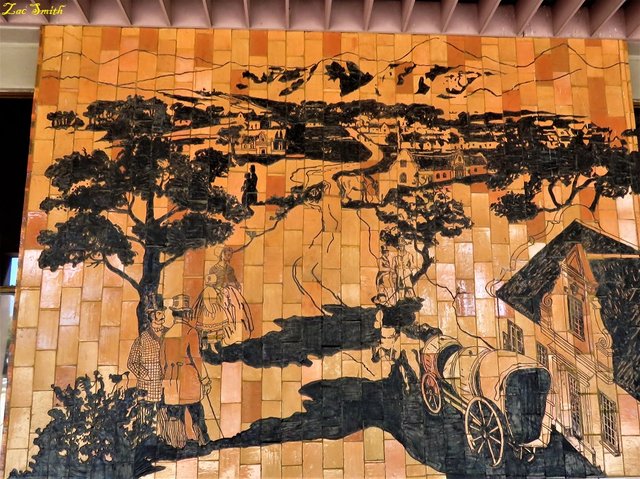 And then the mountains right at the top as a background to the story!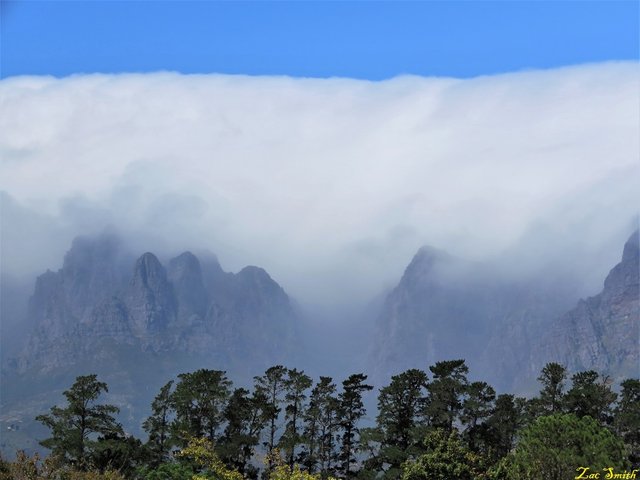 Finally, here is today's photo of the peaks of those same mountains in the painting.
Amazing how the artist did that painting and for one, the artist had to prepare his materials for a very unusual ceramic tile canvas. Not modern tiles mind you, but a canvas that is almost a mosaic challenge.
Yet his lines flow fluidly over the many little tile joints and the painting camouflages the fact that it's only a tiled wall panel.
The black paint on the rusted orange background also matches perfectly.
Indeed a wonderful depiction of history!
So it seems that over time only the mountains stayed the same, as most everything else has been "modernized".
Some old sections and buildings in the town have been maintained in their original condition and they were declared as heritage properties. I for one adore the work of the old master builders and our modern styles of hasty constructions can never compete with the old way of construction.
Maybe I have been born in the wrong time period hahaha.
We hope that you have enjoyed the pictures and thank you for visiting a post by @papilloncharity
Don't forget to also check out @OCA and @Steempeak.


center>

Connecting the people of #STEEM across South Africa. #steemsa JOIN US ON DISCORD (South Africans Only) JOIN US ON TWITTER JOIN US ON FACEBOOK

Team South Africa banner designed by @bearone
</<center<