[CR] "Davy Jones"

Hello friends!
Today I drawed Davy Jones.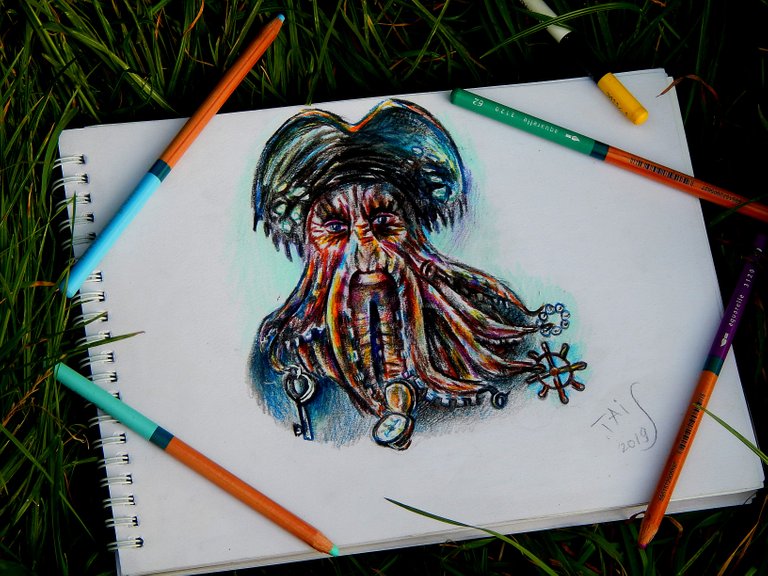 Davy Jones is a character in the Pirates of the Caribbean film series. He is the captain of the Flying Dutchman (based on the ghost ship of the same name);

Davy Jones' look lik a as strange creature. Jones' most striking feature is his cephalopod-like head, with octopus-like appendages giving the illusion of a thick beard. In addition to his "bearded" face, he breathes through a siphon located on the left side of his face.

A long time ago, great sailor Davy Jones fell in love with Calypso, a sea goddess. She entrusted him with the task of ferrying the souls of those who died at sea to the next world.
Calypso gave him the Flying Dutchman to accomplish this task. She swore that after ten years, she would meet him and they would spend one day together before he returned to his duties. However, when Jones returned to shore after ten years, Calypso failed to appear. Believing Calypso had betrayed him, a heartbroken and enraged Davy Jones turned the Pirate Brethren against her, saying that if she were removed from the world, they would be able to claim the seas for themselves. They assembled in the First Brethren Court and Jones taught them how to imprison her into her human form.
Photos of the drawing process:

Thank you for watching!

---
---