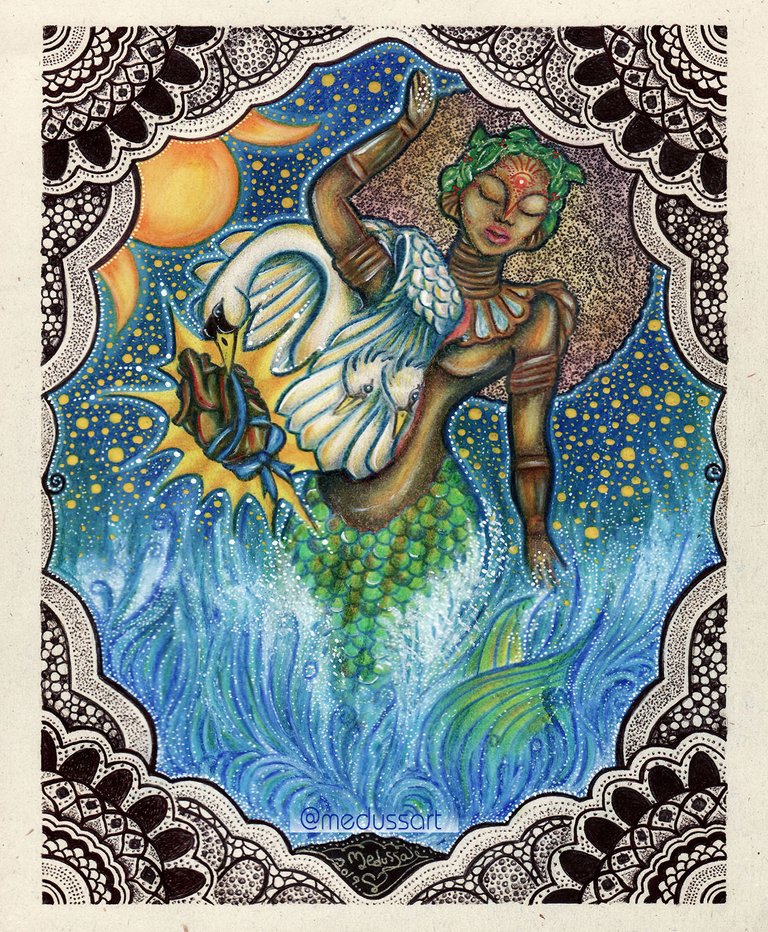 [Esp/En]
Una Poesía Ilustrada:
Escribiendo una carta a mi escritor de cuentos favorito.
An Illustrated Poetry: Writting a letter to my favorite fairy tale writer.
Hace tiempo quise ilustrar una poesía que escribí, decidí darle forma y color a una carta con esta conversación imaginaria entre mi niña interior, la mujer que soy ahora y mi escritor de cuentos infantiles favorito llamado Hans Christian Andersen, tal vez no lo conozcan por su nombre pero sí por sus maravillosos cuentos llenos de inocencia y al mismo tiempo de cierta melancolía, como La sirenita, El patito feo, La reina de la nieve, Pulgarcita etc. Me siento muy conectada con sus historias.
Some time ago I wanted to illustrate a poetry that I wrote, I decided to give form and color to a letter with this imaginary conversation between my inner child, the woman I am now and my favorite children's story writer called Hans Christian Andersen, you may not know him by his name but for its wonderful fairy tales full of innocence and at the same time of some melancholy, such as The Little Mermaid, The Ugly Duckling, The Snow Queen, Thumbelinaetc. I feel very connected with their stories.
Hoy no sólo voy a mostrarles la ilustración y algunas fotos del proceso, también les compartiré la poesía ( en español) que inspiró toda esta composición tan colorida y llena de magia como los cuentos de mi amado escritor danés que me acompañó siempre en la infancia, aqui en mi blog de steemit.
Today I will not only show you the illustration and some photos of the process but I will also share my poetry (in Spanish) in my steemit blog that inspired all this composition as colorful and full of magic as the stories of my beloved Danish writer.
Proceso Creativo - Materiales que utilicé.
Creative process - Materials i used

---
Primero escogí un papel muy particular que me encantó por su color amarillento y natural como de otoño, es un tipo de papel reciclado con pequeñas partículas de flores secas llamado "Flora-Avorio". Luego con un lápiz de grafito y un bolígrafo comencé a crear un marco o filigrana con detalles y patrones inspirados en el arte hinduísta y arabesco.
First I chose a very particular paper that I loved because of its yellowish and natural color as the autumn season, it is a type of recycled paper with small particles of dried flowers called "Flora-Avorio". Then with a graphite pencil and an ink pen I began to create a frame or filigree with details and patterns inspired by Hindu and arabesque art.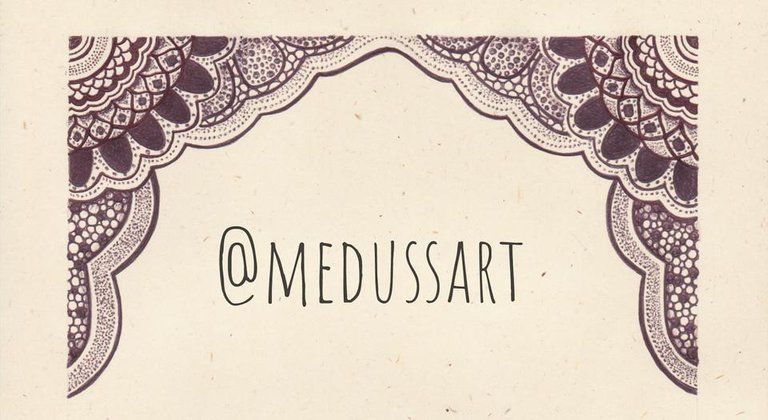 ---
Luego comencé a darle forma a mi poesía con una sirena poco convencional, muy exótica y de piel bronceada con un inmenso afro preparándose para cambiar de piel, fluir, sentir, volar, amar como los cisnes...siempre bajo la protección de la diosa lunar. Me encanta mezclar muchas técnicas como ya sabrán asi que uso diversos materiales como: Colores faber-castell art grip, prismacolor y acuarelas faber-castell.
Then I began to shape my poetry with an unconventional, very exotic and tanned mermaid with an immense afro preparing to change skin, flow, feel, fly, love like swans ... always under the protection of the moon goddess. I love to mix many techniques as you will know, so I use various materials such as: Faber-castell art grip and prismacolor coloring pencils and faber-castell watercolors.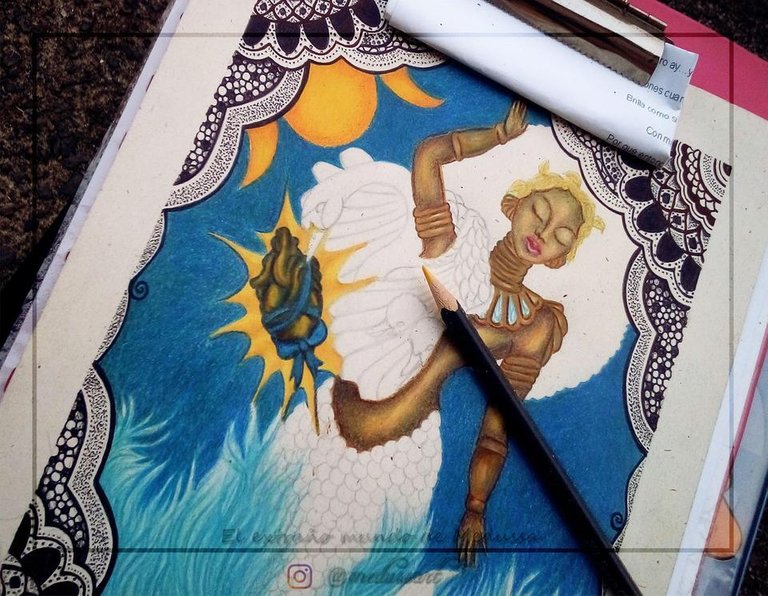 ---
Mi Poesía (en español)
my poetry ( spanish)
He estado recordando
Tiempos aquellos cuando era pequeña
Con aquella ingenuidad e inocencia
Aquellas épocas cuando decía
"Quiero ser como una sirena
y tener el pelo muy largo como ellas"
Tener su linda cola y sus aletas
Me ponía trapos en la cabeza
Fundas de almohadas en las piernas
Y me lanzaba al mar o más bien al piso
Y allí comenzaba el juego con mis muñecas de sirenas.
Tenía una azul, una naranja y otra violeta
Y la madre de mis tres sirenitas pequeñas
Era una rubia muy bella de pelo nevado, Iridiscente
Con su elegante cola de un azul cielo
Nacarado Madreperla
La noble y melancólica sirenita de mi cisne Hans
Siempre fue mi cuento favorito
Pero cuidado con lo que deseas
Yo no sabía lo que representaba en esencia
Ser como una sirena
Ahora que he despertado de un sueño profundo
Después de tantos años
Me miro al espejo y veo mis ojos cansados
Y repito en mi interior
Ya no quiero seguir siendo esa sirena que sin voz
Vive de amores fugados
Y cuando camina vive sangrando
Y que nadie sabe que llora
Porque según cuentan
Las sirenas no tienen alma y nunca lloran.
¿Puedes tú diferenciar entre una gota de mar
Salado y una lágrima de alguien que vive llorando?
Querido Hans, dondequiera que estés
Te ruego me concedas este deseo
Con mi única voz…
Que es el silencio
Conviérteme en un cisne como tú
De suaves plumas y un elegante cuello largo
Que nade en aguas de lagos muy dulces
Ya no quiero ser aquella criatura ficticia
De fantasías
Que se ahoga y muere en aquellos mares tan salados
Peligrosos Solitarios...
---
Medussart ©
---
Gracias por leer y por visitar mi pequeño planeta!!
Thank you for reading and visiting my little planet!!
---
Social Media :
https://www.instagram.com/medussart
https://www.facebook.com/medussart