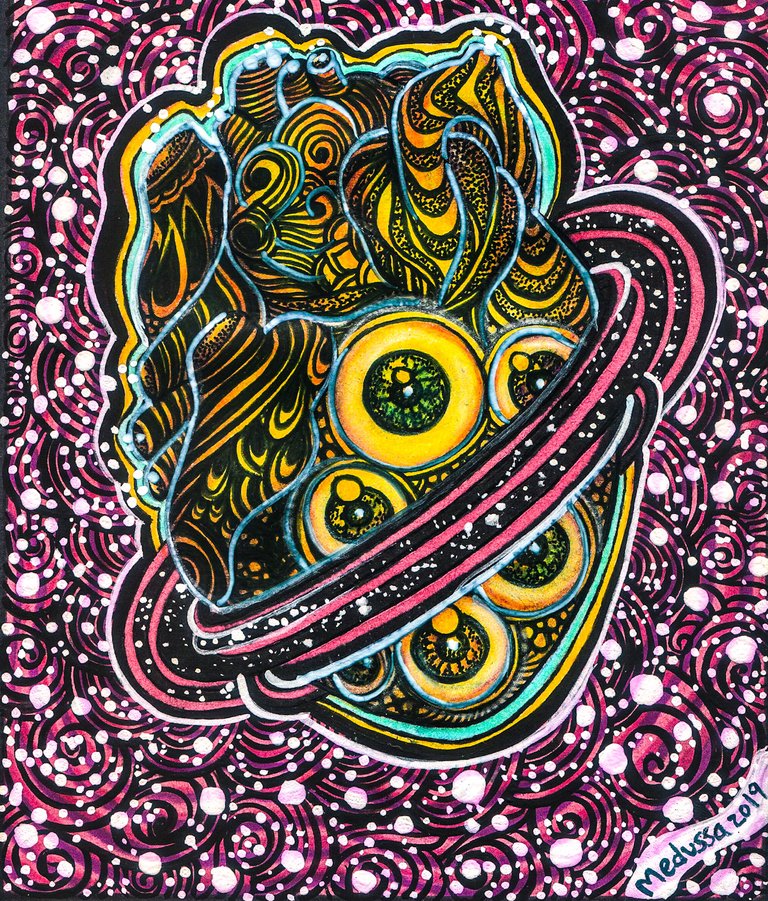 [Esp/En]
Planeta: Corazón
Hola a todos y Feliz año nuevo!!
Finalmente terminé mi dibujo de mi pequeño corazón galáctico, planetario y algo psicodélico. Confieso que pensé que no me gustaría por los colores tan contrastantes pero lo amé. Al final decidí agregarle unos ojos místicos y listo, era la pieza que faltaba, pues usualmente en mis dibujos, los ojos siempre están presentes.
Hello everyone and happy new year!!
Finally I finished my drawing of my little galactic, planetary and psychedelic heart. I confess that I thought I would not like it because of the contrasting colors but I loved it. In the end I decided to add mystical eyes and voila, it was the missing piece, because usually in my drawings, the eyes are always present.
Materiales que utilicé:
Materials I used
Drawing paper
Pencil drawing
Marcador o bolígrafo punta fina negro
Black - Fine point pen or marker
Marcadores artísticos Prismacolor
Prismacolor Art markers
Colores art grip Faber castel
Faber-castell art grip coloring pencil
White paint
Proceso Creativo
Creative process
El corazón es uno de mis órganos favoritos, su forma, todo de él me atrae. De pronto sólo quise crear mi propio planeta corazón, con anillos y demás flotando en una galaxia llena de puntos y espirales.
The heart is one of my favorite organs, its form, all of it attracts me. Suddenly I just wanted to create my own heart planet, with rings floating in a galaxy full of dots and spirals.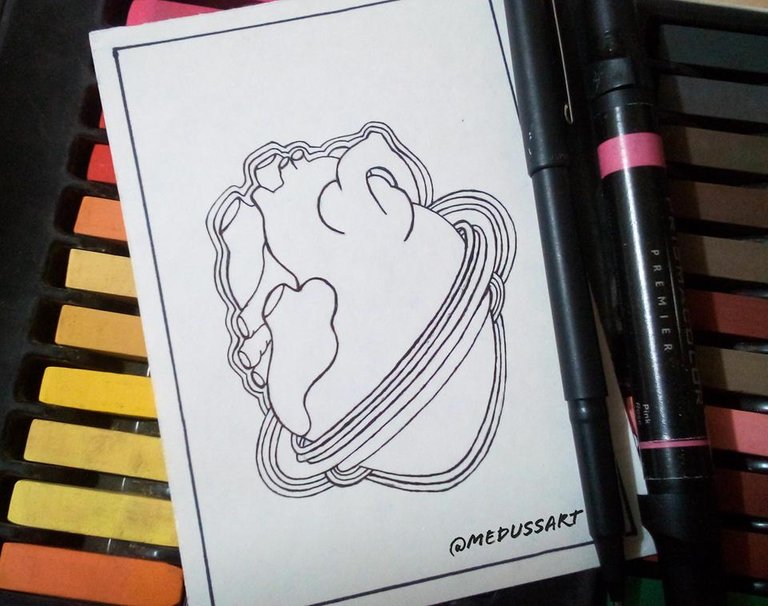 ---
Comencé con mi boceto y a delinear mi pequeño planeta con un bolígrafo punta fina.
I started with my sketch and outlined my little planet with a fine point pen.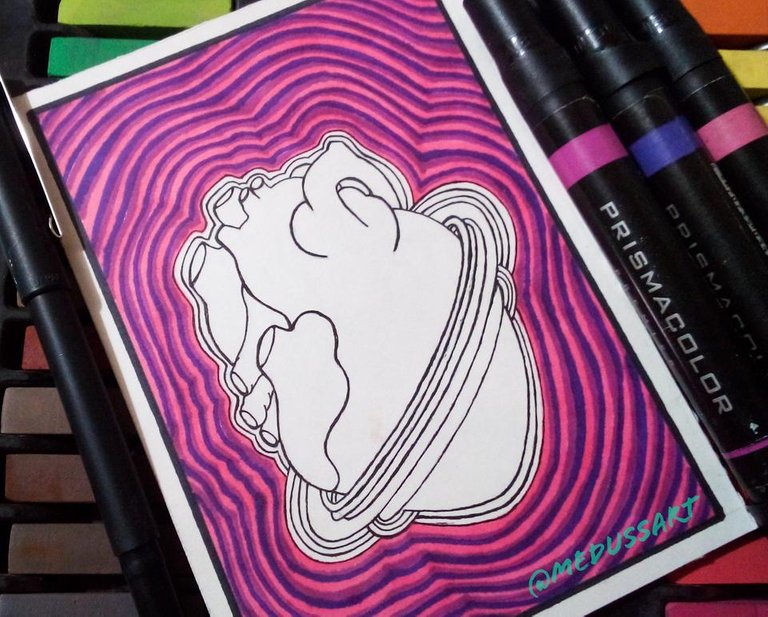 ---
Con los marcadores cree este fondo con mucho movimiento, quería que llamara mucho la atención.
With the markers I created this background with a lot of movement, I wanted it to attract a lot of attention.
---
Para la figura central, mi corazón planetario... elegí el color amarillo para que contrastara de aquel fondo algo loco.
For the central figure, my planetary heart ... I chose the color yellow to contrast from that crazy background.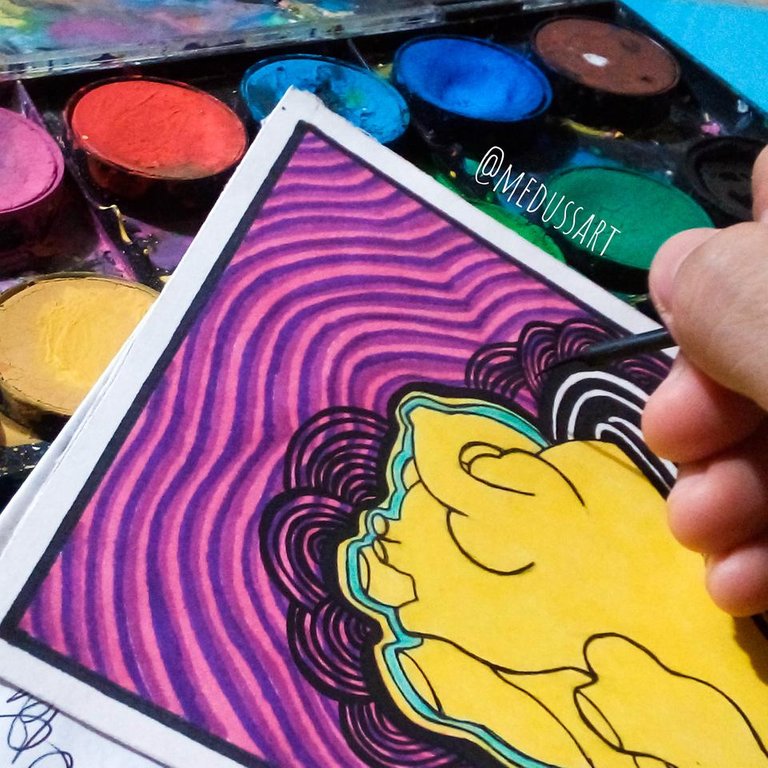 ---
Como no soy muy minimalista, quise complicar las cosas, seguí trabajando el fondo agregando espirales.
As I am not very minimalist, I wanted to complicate things, I continued working in the background adding spirals.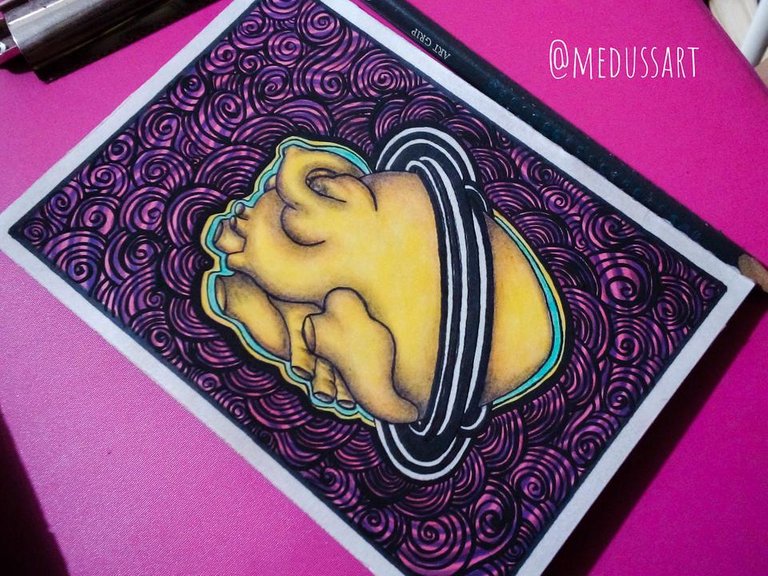 ---
Por días abandoné el dibujo, sentí que me aburría de él por tanto color, pero al final, decidí crear este juego de lineas y ojos sobre el corazón ancestral y galáctico, recordé los tatuajes samoanos que tanto me gustan, los ojos siempre serán un elemento que me encanta por su simbología mística y particular. Así, lo terminé amando.
For days I abandoned the drawing, I felt that I was bored of it for so much color, but in the end, I decided to create this game of lines and eyes on the ancestral and galactic heart, I remembered the Samoan tattoos that I like so much, the eyes will always be an element I love for its mystical and particular symbology. So, I ended up loving it.
---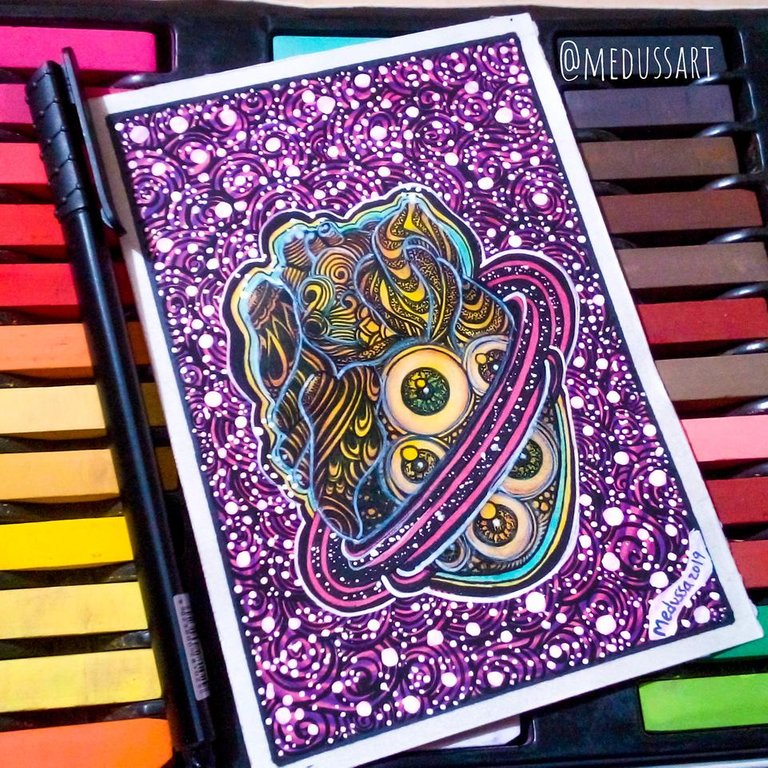 ---
Medussart ©
---
Gracias por leer y por visitar mi pequeño planeta!!
Thank you for reading and visiting my little planet!!
---
Social Media :
https://www.instagram.com/medussart
https://www.facebook.com/medussart