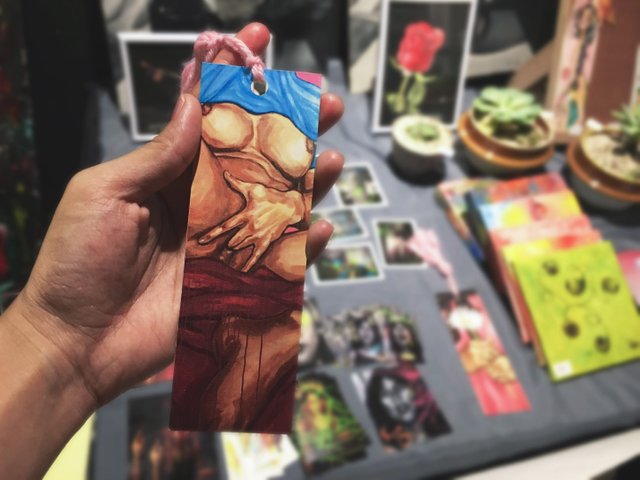 Last November, we had two public shows where we showcased our small works on the streets and in a gallery. I got some funny reactions from people the moment they saw this work of mine (in the form of stickers and bookmarks).
No, I wasn't trying to click bait you. This was technically a painting of mine and was shown in public. And if you haven't noticed it yet, 90% of my works are self-portraits. (And I'm not afraid and ashamed to tell that to everyone) So...
Was that really her???!
When I was at a printing shop to print stickers and bookmarks, the staff there asked if they were my artworks, etc.. Just the usual shops asking customers to build rapport kinda stuff. Just the normal hmm, nice reactions to it.
Until one of my colleagues went to the same shop. He's friends with one of the staff there. I don't know how the conversation went but it got to the point where the staff knew that I was friends with the guy too. The moment they knew that we knew each other, they were like "Are those really her works??" and "Was that really her?? The girl-fingering-herself painting??". My friend confirmed it and they were surprised. They even said they stared at it for long after I left the shop... to maybe just compare the body and see if that was really me or not.
This is me! This is really me!
On the first night of putting our works at a cafe, there was this group of girls who bought some stickers and bookmarks from me.
I could see that they were excited about the works, I think because they like the style or something. One of the girls bought that bookmark and was saying "This is me. This is really me me me." like 5 times. I think she really liked my work and was relating herself to it. Or also she was pleased that someone made it a bookmark (because I don't see this kind of product much tbh). She then asked if I have other erotic paintings. Unfortunately, I don't have much yet because it isn't my focus.
I'll... buy this... please...
Visiting the gallery to claim some profits from the Talipopart pop shop, the admin assistant (which is also my friend and colleague) told me a funny story about some unusual teenagers' behaviors when buying.
She recalled there was this time when some teenagers were quite hesitating and was having a hard time deciding who would go forward and pay for the stickers they wanna buy. She was like hmm what's the matter with these two... until she realized they wanted to buy the stickers with that (the painting above) design and was too shy to do it.
There was this one guy who was quite shy when he bought it too... he was smiling and said he was buying it for someone. lol. Okay.
Also, I have heard some were asking if I'm gonna make more bookmarks of that design because it was sold out and they wanted to buy more...
---
I think the funny part here is that I've never asked my friends if there were some reactions to my products but they just said it randomly. I've never thought I'm gonna hear those reactions as well. I was thinking that pretty sure I'll get some reactions (both positive and negative) but I've never expected to know about it.
Knowing the reactions were fun and satisfying. I like hearing them having a different experience to an art piece. And I think those reactions were part of the art as well. I'm glad that I was able to provoke them in some way.