Nora knocks on the door to Daddy's office, enter and wait for Daddy to permit ehr to speak
"Yes Princess, what do you want"
"Well, Daddy, may I ask permission to have my fiend Charlotte to come for a sleep-over. You know it's long evenings when you work, and come home very late"
"Of course, you may have your friend over, little. You know Daddy don't mind you have fun with your girlfriends"
Daddy look at Nora with a smirk, as Nora recently told Daddy she feel attraction to girls as well, and came out as bisexual to Daddy. She was a bit nervous confessing that, but Daddy approved, and told Nora, he actually like bigirls, as they tend to bere more playful than straight girls
Nora throw her arms rounds Daddy's neck and give him a big wet kiss
"ohhh thank you, thank you, thank you, Daddy"
on her way out of the door, she look back at daddy with her sweetest smile
"I'll remember the mirror Daddy"
Daddy smile back at her
"Good girl !!"
Well, the mirror. It's a big mirror in Nora's room, that is in the wall facing Daddy's room, and have 2 functions, it can be opened like a door, and it works as a window from Daddy's side, but a mirror from Nora's side. To respect Nora's privacy, she can however control if Daddy can view through or not
Nora's POV:
I feel so happy Daddy has accepted me being bisexual, and I'm so excited Charlotte will be coming over tonight. She has some experience being with girls, and she have promised me she will teach me, just thinking about her, makes my pussy wet already. I'm also glad that I know it will give Daddy pleasure if he watch us through he mirror. I know he will enjoy seeing me, and he will save his cum for me for later, he has told me he never wants to loose his cum but always saves it for me
Daddy go to work, and the doorbell rings, I have butterflies in my stomach and feel tingly all over, as I open, and see Charlotte there, so cute, and mine tonight
I hug her, and she kiss me, ohhh so different than daddy's beardy kiss, her soft girllips pressed against mine - we go to my room, and eat snacks, talk, and laugh, watch movies, till its time to go to bed. I have heard the door go, so I know Daddy is home by now, so I make sure he can see through the mirror, I do belong to him after all, and have to share whatever I do, give him his proper share
Charlotte come close to me, give me a quick hug and kiss, sit on the bedside, and tell me to undress for her "let me see you, babygirl"
I slowly pull my shirt off, then remove the pink bra daddy gave me, Charlotte smile "ohhh you have such nice boobs, little" She reach out grab my hand and pull me closer to the bed, "Now take of my top" she moans - Willingly I undress her, and love her small perky tits with big nipples. She push me down on the bed, on my back, get over me, kiss me, kiss down my neck, lick and kiss my boobs, suck on the nipples, make them hard, it sends fire down between my legs, she kiss further down over my stomach, pull my pants down, kiss and lick down on my thighs, on the inside, get a hold of my panties with her teeth and pull them down, throw them away with a flip off her head.
I'm dripping wet already, as she kiss her way up my legs, and bury her head between my legs "now I'll eat your yummy little pussy, babygirl" she moans
Charlotte get her hands under me, grab my butt spread me open, she probe her tongue into my hot pussy.
Faster and faster she stick it in as far as she can, whirling it around. I'm having my legs over her shoulders, totally open - eagerly she keeps fuckin' her tongue in me. I moan out loud "ohhh myyy it feels so good"
She licks up and get my clit in her mouth, sucking and licking it. She have a firm grip on my butt. I start getting close, she slide her fingers into my pussy, fucking them hard in and out my hot little pussy. Eagerly sucking my clit hard, slapping her tongue over it, driving me close - She slow down a bit, whirling her tongue down into my pussy again, up again, sucking my clit hard, pumping her fingers fast and hard in and out of my tight hot pussy.
I grind myself towards her, put a hand on her head and push her down hard in my dripping soaking wet pussy, moaning out loud "I want you, too" I scream eager to taste her as well.
She gets up, take her pants and panties off, get over me, and sit on my face, again burying her head between my legs. I grab her butt, and start licking her as well, ohh it taste so good. I cum the first time, shaking and shivering, as she rubs her pussy in my face, she slowly picks up licking me again, her fingers slowly twisting around inside me, I do the same for her as she does for me, follow her- then moans out loud, as she rubs her pussyjuice soaked fingers over my asshole.
She sucks on to my clit again, as she enters a finger in my little hole, ohhh it actually feels amazing, so I do the same to her, and can hear by hear loud moans, that she loves it, eagerly we grind pussy in each others face, fingering each others tight buttholes, deeper and deeper, faster and faster.
I realize her butt is facing the mirror, and gets even more turned on, knowing daddy is watching me being such a good little bi-slut, licking pussy and fingerfucking my friends ass.
OHHHHHHHHHH we bith cum and cum and cum, several times, just keep cumming soaking each other in our juices, till she roll us over, turn around and kiss me, telling me, she don't need to teach me anything. We snuggle together exhausted, and she falls asleep.
I get up and go to Daddy's room, and as I expected he's sitting there with a big erection waiting for me.
"You liked it Daddy ?"
He give me a big smile "ohh yes you two were beautiful"
I fall to my knees in front of him "Here let me help you cum, too, Daddy"
Take his hard cock, stroke it, and lick the head, suck it in my mouth, stroking him hard, play with his balls, soon he screams out in pleasure, and reward me with his hot load.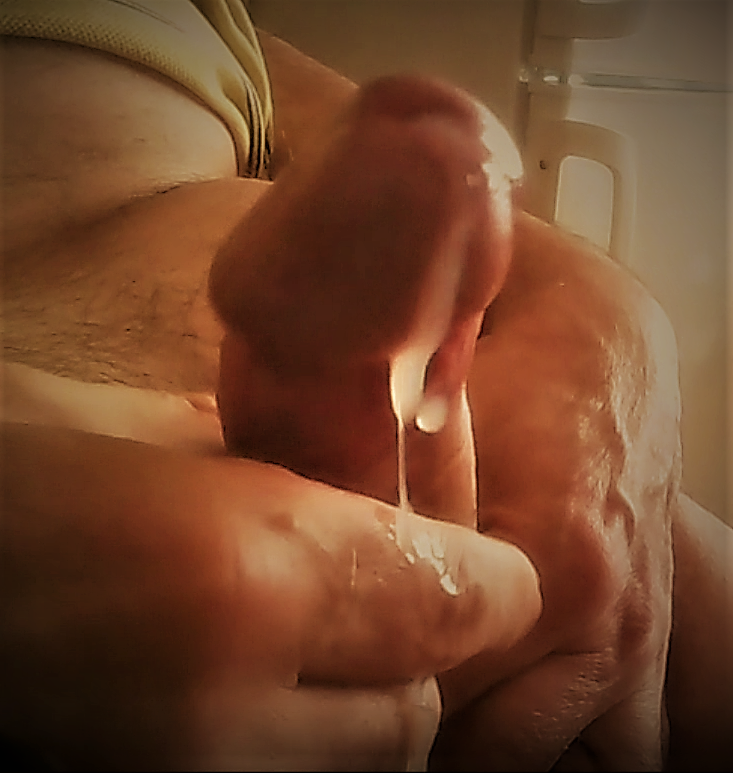 He caress my cheek, smile and tell me I'm a good girl.
I smile, too hug him, and go back to my room, sleeping tight together with Charlotte
Posted via DPorn.co | Get Rewards for Sexual Content