The gov't that you so consistently support as a 'necessary evil' is at it, again.
They are now trying to chase the people off the land that has been their homes for far long than people have been writing on paper.
It's not that they want to chase us off, they would be happier if we just died.
This is why they will poison our water.
Shame on you, if you support this travesty.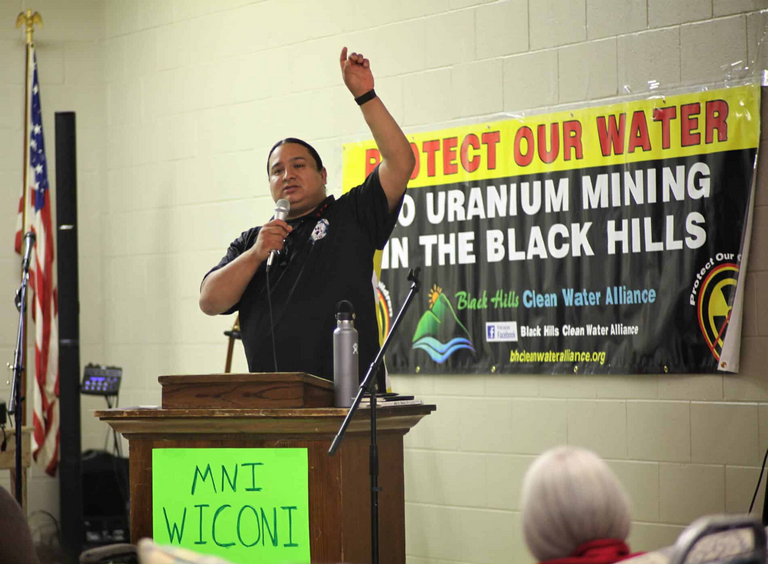 NORTHERN CHEYENNE JOIN BLANKET REJECTION OF BLACK HILLS URANIUM MINING PERMITS
November 23, 2019
DENVER – As of Nov. 17, all 63 written comments the U.S. EPA had received from tribal and other submitters opposed granting water permits for the slated Dewey Burdock uranium mine and mill in the southern Black Hills.
If permitted, the operation would become the first radioactive in situ leach (ISL) mining in South Dakota.
It would be located on 10,000 acres of Custer and Fall River counties adjacent to the Pine Ridge Indian Reservation and upstream at the headwaters of the Cheyenne River.
"There need to be government-to-government consultations with the tribes on the Dewey Burdock Project.
All the bands of the Oceti Sakowin, or Seven Council Fires of the Great Sioux Nation, have tribal resolutions in place in opposition to any uranium mining in unceded 1868 Ft. Laramie Treaty territory, which overlaps a five-state area, including the entire Black Hills," said one commentator.
"The water will inevitably become contaminated as, indeed, the Nuclear Regulatory Commission finding states 'the restoration of an ISL-mined aquifer to pre-mining water quality is an impossibility'.
Don't allow this!" the commentator concluded.
The folks that will kill us to control us have already stated that they will be poisoning the water for the people that live downstream of the mine.
It is not in contention.
It is openly admitted.
This is your clue that those that rule us by force will not place the value of human life above that of even more profits for the already rich.
Stop putting your energy into this system, dear reader, you don't want the karma attached to it.