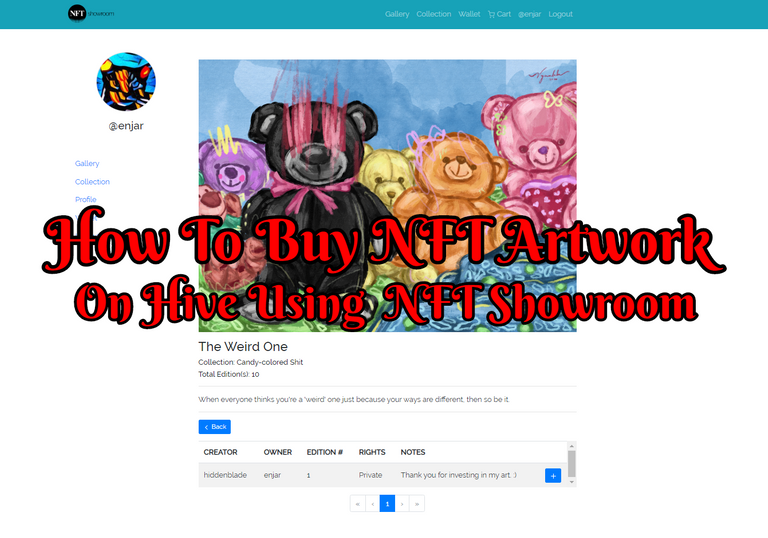 You can now buy NFT artwork on Hive using NFT Showroom. Keep in mind they are still working on further features and developing the platform out further.
Before you get started you will need:
A Hive account. If you need to create a Hive account you can do so on Hiveonboard ( referral link / non-referral link. ) They usually delegate a small amount of Hive Power so you can transact on the Hive blockchain. If you used my referral I go through a couple of times a week and make sure those individuals received a small delegation if they had not.
You will need Hive to make the purchase. If you need to buy some you can check the exchange list on Coingecko for the majority of exchanges Hive is available on.
Hive Keychain for storing and using your private Hive keys. You can get it either by Yabapmatt on Chrome and Brave web browser or Stoodkev on Firefox web browser it is like MetaMask but for Hive. It is used on the Hive blockchain and is accepted as a transaction signing Dapp on many websites that integrate it including NFT Showroom.
Using Hive-Engine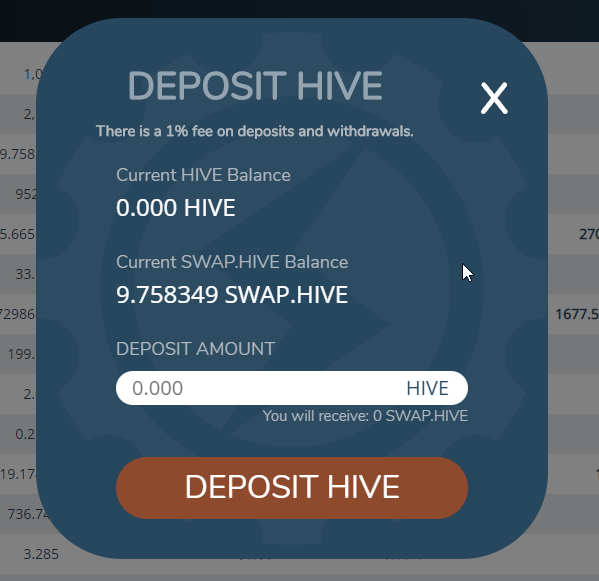 First you need to convert your Hive into SWAP.HIVE. NFT Showroom mints NFTs on
Hive-Engine
and they are also processing transactions for them.
To do this you simply need to log into Hive-Engine using Hive Keychain.

Click on the deposit button.
Select Hive and click on "GET DEPOSIT INFO"
After that select the amount of Hive you wish to move from your hive account. Keep in mind that Hive-Engine charges a 1% deposit fee. Please note the Hive blockchain does not have any transaction fees itself and has 3-second transactions. Hive-Engine can sometimes take a minute or two for depositing funds to appear.
(There is also other cryptocurrency you can deposit into Hive-Engine. They do not charge a trading fee on their decentralized exchange just the deposit and withdrawal fee. You also only need a Hive account to use them.)
You will then be prompted by Hive keychain to accept the transaction if you wish to do so.

You can see your funds by clicking on Wallet and scrolling down till you see the token Swap.Hive it is automatically converted into the peg from the Hive you deposited.
You can withdraw funds by clicking on the withdraw button and select an amount to send to your Hive wallet if it is Hive. Otherwise, make sure to include the correct address if it's other cryptocurrencies.
NFT Showroom
The NFT Showroom is a place where creators of NFT art can go to sell. The platform itself is still in its early stages with active development. Talented artists looking to avoid expensive transaction fees on other blockchains are flocking to it and will be looking to mint their art as NFTs on the Hive blockchain as this platform expands.
For this post, we are interested in buying some amazing art.
NFT Showroom is quite simple to use. You simply click on view gallery for freshly tokenized arts. You then can scroll through the art feed till you find something you like.
Once you find some art you that you like you can click on it to get more details. This includes who made, the price, and other information. If you click on the creator's name you can see if they have any other artworks for sale.
The great thing about Hive is all of these artists could be running a blog. As well as talking about their art, what inspires them, their process, and so on. To see if they blog regarding their art or other things you can simply look for their blog on a site like https://peakd.com/ which uses the Hive blockchain.

Once you have found some art you like and have the funds to afford it you simply click on the plus icon to add to cart.

After that, you simply navigate to the cart icon and click on it at the top of the screen.

There are a couple of screens you will need to go through. You just need to click the buy button.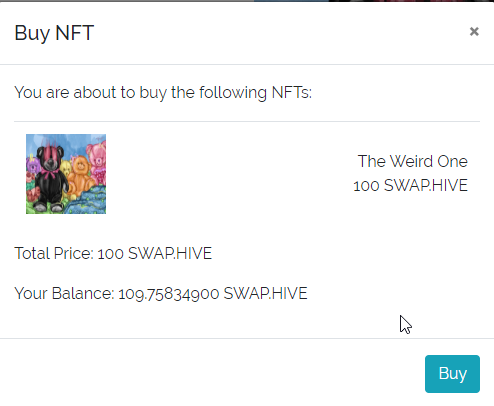 You will be shown information such as the total cost, name of the art, a small preview of it. Along with your current SWAP.HIVE balance.
Once you click the final buy button Hive Keychain will prompt you if you want to accept. Such actions generate a TX on the Hive blockchain such as the one from my purchase above.
Congratulations you now own an NFT Artwork on Hive!
You can view artwork in your collection. Here is an example of any NFT artwork I currently own such as the first edition of The Weird One by @Hiddenblade.
Final Thoughts
The art world can be a highly speculative one when it comes to the price of things. NFT Showroom is still quite an early platform where we have not seen how secondary markets will react yet to the price of art being sold. They have also not opened up auctions yet so you can buy art at the price the creator sets. We should be seeing some wild bidding wars in the future!
You might also notice the artwork I have purchased says it has private rights. This means I do not have commercial rights on it (I have asked for permission to use it in this post). Some artworks are sold with commercial rights for the buyer to use them in that fashion if they wish.
If you do find artwork that does not have commercial rights but that is important to you to have. It is not uncommon for people to try and negotiate a higher price for those rights to be added and a new mint to be printed with them for purchase. Many artists can be found in the NFT Showroom discord which can be found on the website. Also, many of them have their blog on a hive platform such as PeakD. Ultimately it is up to the artist if that is something they are willing to include before a purchase is made.
You should also take note if you are buying a piece unique (aka there is only 1 NFT) or if there are multiple NFT minting. The piece I purchased was the first edition of 10. As such, I did keep that in mind for how much I wanted to spend.
As stated in the NFT Showroom FAQ if you do sell artwork there is a 10% commission taken with a portion given to the creator of that work as a royalty. Which I think is great for artiest to keep earning on something they have made that has hopefully appreciated over time.
Keep in mind there is no guarantee something you buy will go up in value over time. When I buy things like art I do so as a way to support an artist and for an appreciation of that piece itself. It if retains value or increases over time that great.
Information
Screenshots were taken and content was written by @Enjar. The Artwork piece featured in this post such as the one in the cover image was created by @Hiddenblade that I have purchased on NFT Showroom and can be found here.
Disclosure: NFT Showroom is in early development and further features and changes are expected to come in the future.