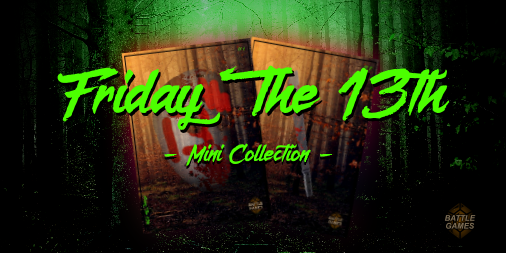 Friday The 13th NFT Airdrop
Tomorrow is Friday the 13th, a good time to drop a few more NFT's right?
We've got 2 cards in this mini collection that pays tribute to the classic horror slasher film Friday The 13th. Card #1 features a rendition of Jason's iconic mask, while card #2 represents his weapon of choice...the machete!
Admittedly he's used pretty much anything and everything to slash at his victims, from spear gun to his bare hands.
These NFT's will be minted on the WAX blockchain using the AtomicHub NFT standards. That means the images are stored using IPFS, a decentralized and distributed file storage system. This is an important feature of Battlegames NFT's.
MAX CIRCULATION: 25
Only 25 of each card will ever be minted, we're keeping these puppies pretty exclusive.
AIR DROP
We're dropping 1 NFT randomly to 10 people already holding a Battlegames NFT in their WAX wallet!
If you didn't get in on the Halloween drop last month not to worry. Comment your WAX wallet address below and I'll choose 1 lucky winner from the comments to win a complete Friday the 13th set!
Winner from comments below will be drawn in 24 hours from now.. go go go..
Have fun..and stay safe!