The purpose of this guide is to get you to play the game as fast as possible with the best strategies for the future. This guide is not affiliated with @nextcolony developers. This is the result of my experience playing the game since April 22, 2019. If you are new to the game or feel like finding some quick tips, this is the place to be. After reading this you will be able to go right in and make very good decisions. At least that is what I'm trying to do here. A complete guide can be viewed at https://guide.nextcolony.io (which has been called daunting, large, time consuming etc.) You can read them at your own pace. The quickest path is below:
What is the first thing to do after logging in?
You will have a free planet to get started.
Go to https://nextcolony.io/skills and https://nextcolony.io/buildings
This will be your focus for the beginning days.
What are the buildings and skills I need to focus on?
Coal/Ore/Copper/Uranium Mines
Coal/Ore/Copper/Uranium Depots
Keep your attention on these. Your depots can have a lower level than your mines. Just keep an eye on when the depots will be full. You can't do anything without resources. That should be the focus.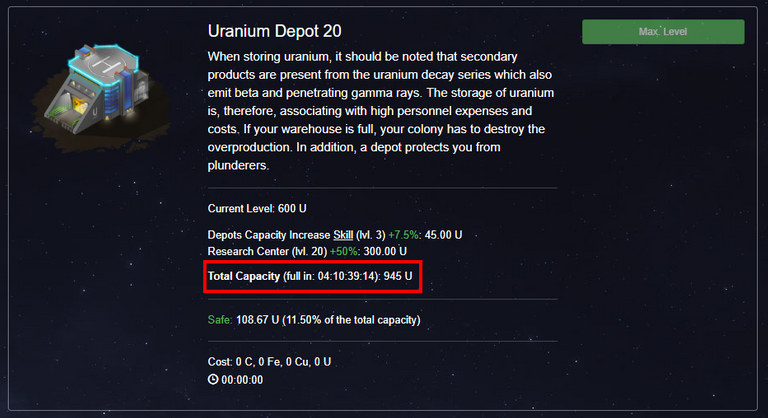 What's the next thing to focus?
Get your Shipyard to level 13
Get your Explorer skill to 20
Increase Mission Control meta skill
Upgrade your Base
Later in the game you can focus on Coal/Ore/Copper/Uranium Production Increase as well as the upgrades to improve your depots capacity. The primary goal is to get to the exploration phase as fast as possible. Mission Control and Base limit the amount of active missions you can have. Keep them up with the amount of ships available for you.
---
What if I don't like the wait?
Not all purchases are prudent. I recommend avoiding Chests that contain resources. It will be a very inefficient use of your funds. Most purchases require Stardust. Go to https://dex.steemleo.com/market/STARDUST or https://steem-engine.com/?p=market&t=STARDUST and buy some.
Explorer I are dirt cheap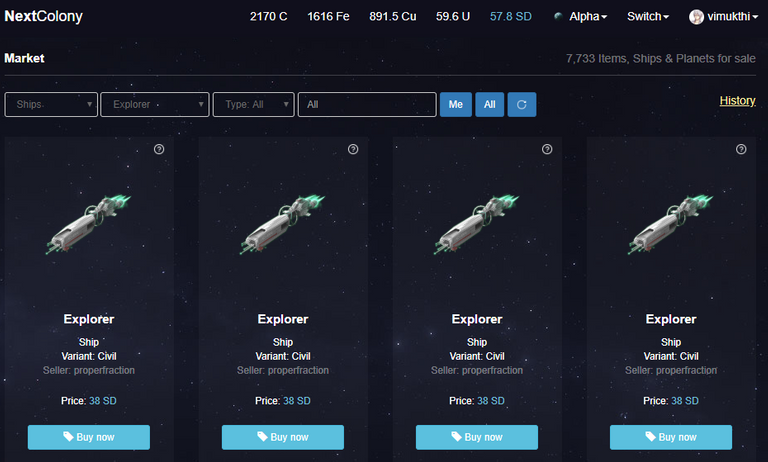 Explorer II are expensive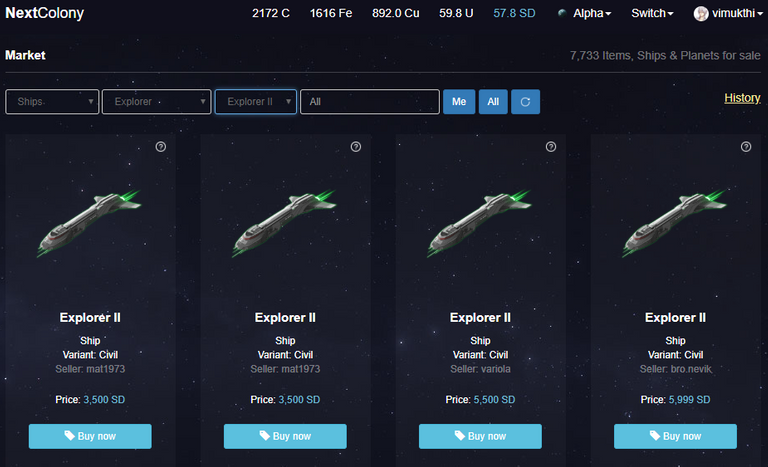 Explorer I can be your best first purchase at https://nextcolony.io/market
Explorer II can be your best Blueprint purchase at https://nextcolony.io/shop
Buying a planet is another great investment
Runes are expensive. Be very selective and it can produce great results in the long run
---
Let's Talk About Planets
Planets are at the center of the game. I will cover the most basic things to get started. There are four rarities and they can boost the resource production based on the "Type" of the planet. If your Explorer finds a planet, it could be:
Common (0% Boost) = 60%
Uncommon (10%) = 30%
Rare (20%) = 9.999%
Legendary (100%) = 0.001%
These planets have the probability to be of different "Types":
Atmosphere = 35%
Coal = 20%
Ore = 18%
Copper = 15%
Uranium = 12%
You can burn your planets for Stardust

What else should I know about planets and exploration?
You may find Stardust or Blueprints to build ships in your explorations
Legendary planets contain 10 Yamato Blueprints (cheapest market price currently available is 999,999 Stardust for one Yamato BP)
The same ship can have different variations. Blueprints for some of these alternatives versions can be found in explorations. Don't be quick to buy them at https://nextcolony.io/shop
What are the most important things to consider when buying planets?
You can find them at https://nextcolony.io/market or negotiate with a player directly. There are more important things than a cheap price. The Blueprints activated on a planet allows more types of ships to be built on the planet. The planet may already have sips from the previous user. But the two most important factors are the following:
Building Upgrades
Proximity to unexplored areas
Why are they so important?
Planets are the most important asset in @nextcolony
Exploration is becoming more and more competitive each day
Building upgrades consume a great deal of time
Well upgraded Shipyard allows instant exploration after purchase at zero additional cost
But how do I know where to explore?
If you are a new player you are likely to spawn in the middle of an unexplored space. I didn't get the best out of this opportunity when I started. Get some explorers and start exploring nearby space. When it's too late for that, try https://nc-client.jarunik.com/maps
---
How To Supercharge Your Game!
If you are too busy or too lazy, you can even automate your game to a considerable extent with the help of third part products. https://shop.buildteam.io has been around for a while and there is a group of very reputable and skilled individuals behind the project with vested interest on the STEEM blockchain. Their bot can do the following:
• Build up your planets in the background
• Explore the area around your planets
• Will build explorers as needed
• Level up your skills as needed
• Defend against raiders to leave them without loot
• Optional: Leave room for manual player actions
• Optional: Build a fleet of your own (you still have to attack manually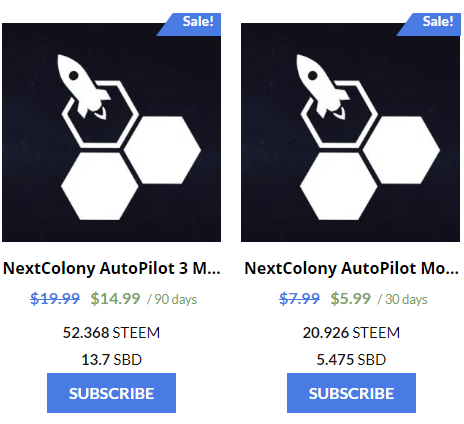 Buffs For Power Players With Aggressive Strategies
It is the 7 day Mission Control buff for 10,000 Stardust that is going to help the new players. If you can buy a fleet of Explorers, you can activate this buff and go all out. But it is going to be and expensive move. Battle Speed can be great for space wars later in the game. But it is useless for those who are primarily into exploration as no speed boost is given to Explorer ships. Another thing to notice is that the "Bullet" ships that have their Blueprints sold on te shop for STEEM get the most benefit from Battle Speed buff.
You Are More or Less Ready Now
You are on STEEM because you have some brains to figure out the value of the platform this early. You can figure out the rest. My goal was to make anyone @nextcolony ready in 10 minutes and I sincerely hope I achieved that. You can upvote and resteem for more people to see and follow me for more content. If you have any important tips for more efficient gameplay, put them down in the comments.
Happy Gaming!