The first Yamato season is half way over. Right now, @zzings (1.5m reward points) is leading the race ahead of @powernap (1.4m reward points) and @dachcolony (0.9m reward points), but there is still a long way to go. So far, hunting Yamatos has not played a major role, but my guess is, that this will become a bigger theme towards the end of the season, when players which are falling behind running out of Stardust might potentially chose this strategy. But that is of course just my personal idea and it might turn out completely different.
One thing has been clear from the start – Stardust plays and important role in the Yamato race. Clearly, this is intentional as the Yamato seasons were designed in a way that they help to balance the game going forward. In order to participate in the Yamato race, players have the possibility to generate Stardust by selling ships and planets on the market, burning planets and doing explorations. All of this weakens their position going forward, so it is a tough decision when to sacrifice what. At the moment, there is additionally also the possibility to participate in the Stardust presale, which we will however most likely end rather sooner than later.
To make sure that the total Stardust supply is stable, we had implemented some additional Stardust sinks right ahead of the first Yamato season. The include a fee for our Buffs as well as a market fee. After the first season is now half way over, it is time to review how this has worked out so far:
Let's start with the supply side first:
The most constant generator for Stardust is clearly explorations. Every exploration mission has a 10% chance to find a small amount of Stardust. Initially, we had set this amount to a random number between 10 and 300. This resulted in an average Stardust generation of roughly 130k per day until the 20th of November. We felt that this amount is somewhat too high, so we applied two changes: Firstly, we implemented the new mission control scheme, which now also limits the number of missions per planet. Secondly, we changed reduced the maximum Stardust amount which can be found in an exploration mission from 300 to 200. The consequence has been, that the average Stardust generation has gone down to roughly 70k per day.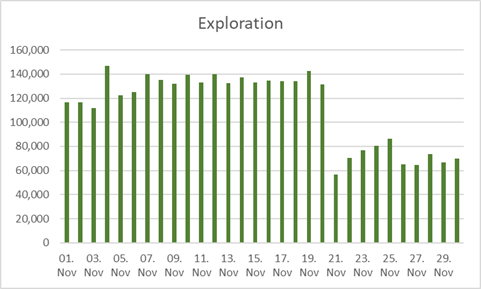 Stardust from shop purchases had originally been 100 Stardust per 1 Steem spent in the shop. This source of supply was stopped on the 24th of November, since then no more Stardust is generated from shop purchases. Until that day, the shop had on average added 90k Stardust per day to the supply.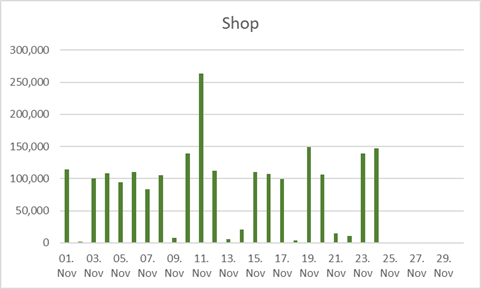 Finally, Stardust generation from burning planets started off slowly as players valued their planets. Until the Yamato season started on the 15th of November, the average Stardust generation from burned planets amounted to roughly 80k per day. This has increased step by step during the Yamato season, as some of the players, which try to win the season, have run out of stardust. During the season, the average Stardust generation from burned planets was 177k, but increased to roughly 800k the last two days.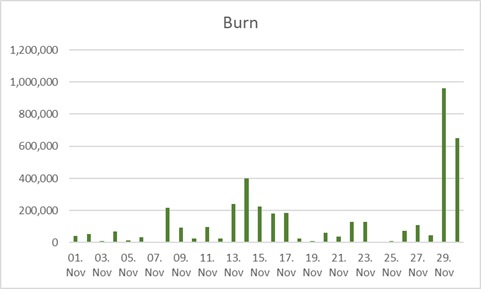 Altogether, the average Stardust generation was 328k per day so far in the Yamato season.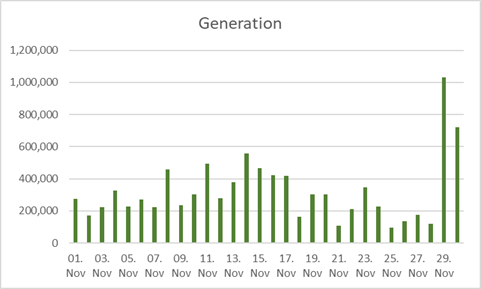 Coming to the consumption of Stardust:
The steadiest consumer of Stardust has so far been the market fees, including the market place fee, which on @jarunik's marketplace is sent to @null. This has been around 70k per day and has not changed from before the season.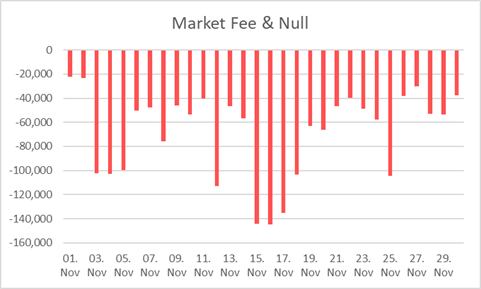 Buffs were a new sink, which we introduced only on the 23rd of November. Since then, it consumed on average 32k Stardust per day. Over time, we would expect this number to increase as we will add further buffs going forward.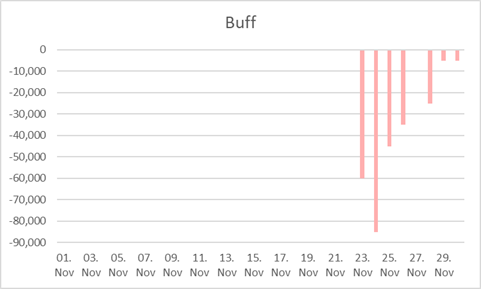 By far the biggest consumer of Stardust was however – as expected – the upgrades of Yamatos. Within the first 15 days, about 5.2m Stardust have been consumed by Yamato upgrade, which is roughly 600k per day. This number has increased significantly over time as Yamatos have come to the higher level, which makes upgrades much more costly. During the last two days of November, more than 1m Stardust was spent on Yamato upgrades and we would expect this number to stay high also over the rest of the season.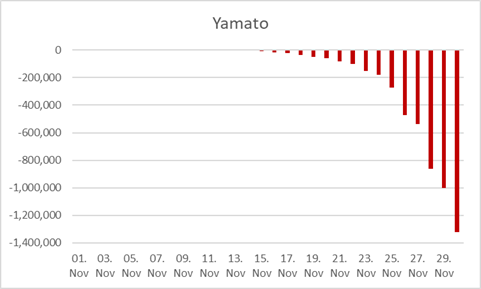 Overall, on average 413k Stardust per day were consumed so far during the first half of the Yamato season.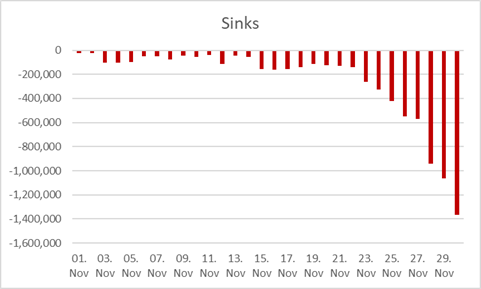 Adding this all up, we can see that organically Stardust is currently in deflationary territory. On average, the Stardust supply declined by 85k per day or 1.4m in total during the first 15 days of Yamato Season 1.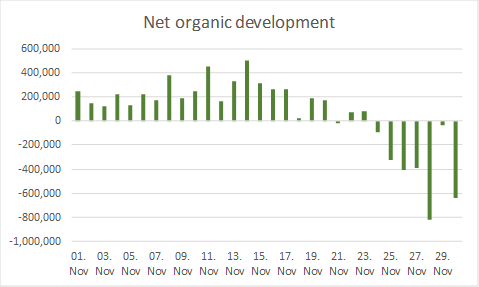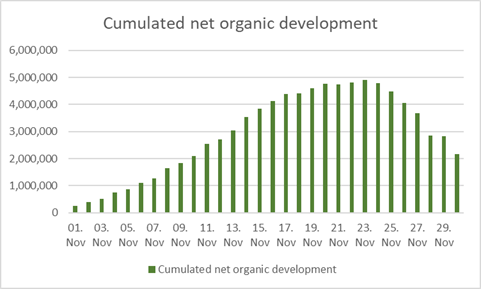 This organic development has been more than compensated by an additional supply of 10.3m Stardust, but as this is only a limited offer which will most likely ended rather sooner than later, this is clearly not the component which I would worry about.
Overall, I am more than happy with the development and I am rather sure, that the Stardust deflation will continue also during the second half of the season. Going forward, we will introduce further sinks, which should help to keep the Stardust economy stable.
Good luck with the second half of the season!
Tim