Captain's Log
Hello settlers, so I have felt in this game during the last days, a little lost, on one hand, I feel that I advance a step to then go back two, I tried to defend myself from my violent neighbor and he ends with all my resources destroyed including all the stardust I had which I spent trying to reinforce my fleet, there is nothing left but to start building my ships from scratch, but now that I have no defenses, my neighbor's attacks are more common, and damm, he is so powerful, that I have no choice but to play as I can under his yoke.
But... despite the enormous waste of resources over the last week I have already maximized 3 of the 4 mine skills, I am also trying to maximize the booster skills in order to have the highest possible production on my four planets.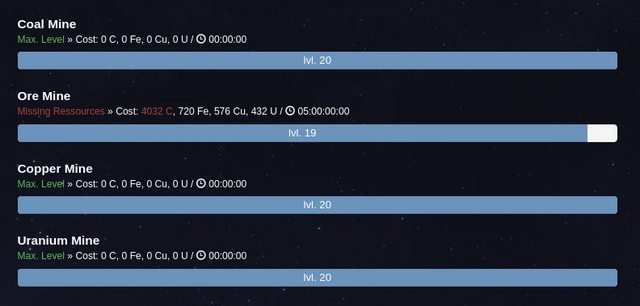 Advancing in the ranking?
All this senseless destruction has made me advance the ranking of ships destroyed, I am in 72nd place with a total of 326 ships destroyed when trying to defend my planets, sadly the number of ships lost is greater than this number.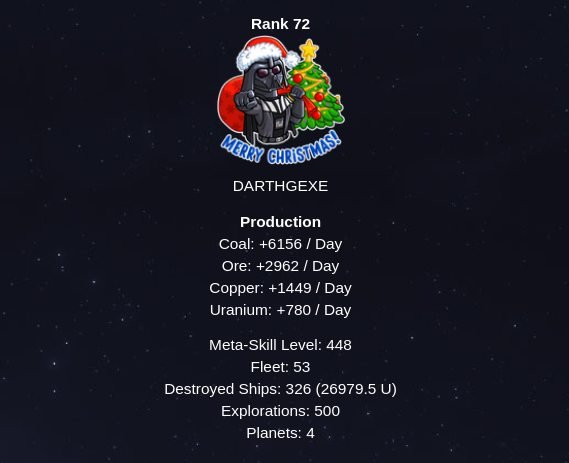 Growing, as I can
I certainly haven't been lucky with the explorations either, after having explored space 500 times with a chance to find the planet 1% I should have already found 5 planets but instead I only got 3, so the statistics owe me 2 planets that I would like to pay me as soon as possible.
Even so, I don't decay in my rhythm and I keep ongoing. I have lost my fleet, but I have not lost my research, which I believe that given the circumstances I will begin to give greater priority especially to those skills that make my fleets stronger and help me produce resources, to this day my meta-skill level is 448 and continues to grow without stopping.


All the images used in this post belong to the game NextColony, a spatial simulation game integrated to the STEEM Blockchain.
Thank you for reading and don't hesitate to leave your comment.