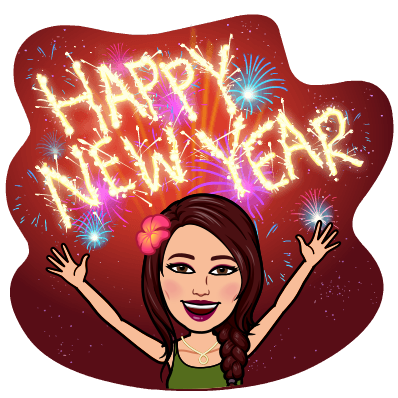 ---
Happy New Year!!!
Although I may have already said it on discord yesterday when it was around midnight (either for you or me lol), let's say it once again in this post. I hope you had a nice evening with your loved ones and mostly, spent it how you wished you would. Over here, it was actually the same as last year, at home as our daughter was sleeping at midnight.
The first year in Budapest, we went to a square where there is fireworks as a colleague of my boyfriend had a car and picked us up. It was insanely crowded with drunk (and annoying) people and it was no place for a little girl like our daughter. So as soon as fireworks were over, I was happy that we got in the car and headed home. I mean, I like seeing some nice fireworks, but if it means I will be smooshed into a crowd of drunk people and have to make sure nothing happens to my toddler, I rather pass and stay at home. So we did.
Like many other Dutch people, we watched "Oudejaarsconference 2019", Dutch comedians discussing the past year. Every year you will find two of them on tv, this year it was the comedian Claudia de Breij that did the old years conference, and we both like her humor so we watched the full show.
---
New years resolutions don't really work with me, honestly
I think we all know how many people say they quit smoking the first day of the new year or quit drinking etc, but after a few weeks max, they have gone back to old habits.
A few changes already have been made here recently, like in early September when I decided to quit smoking and my boyfriend following that example just weeks later. No need to wait for today, that day was THE day that I decided to end the worst habit I had, and I'm glad I did! I got that all out of my system, and I'm happy that I didn't wait until a certain date.
And because both my boyfriend and I have showed some more effort to clean up after ourselves instantly instead of in an hour (or later haha), the result is a constant clean empty kitchen. Both of us had become a bit lazy doing so, and therefore we tried to change this together, which is currently working out well. It may be a normal thing for you, but honestly, I feel like crap during winter months that these things feel like a huge task when I delay it even as little as an hour.
---
This may seem like a new years resolution, but it isn't, I swear :)
Another thing I've been wanting to start is going to the gym. Of course, you can say why didn't you do this yet? Why did I wait until the new year? A few reasons actually, I'm waiting for the salary to arrive the next week so that I can do some sales hunting for shoes and something I can wear at the gym. Not that I need a fancy outfit, don't get me wrong.. I just need an outfit suitable for the gym, I don't even have a pair of sneakers haha. As soon as spring arrives, I wear open shoes, never sneakers. Not really convenient for the gym, though. So when the salary arrives I will go hunt for those things in the sales and as soon as I have them, I will sign up for the gym and start that. I've never been motivated the past years to do so, but it seems when I quit smoking some switch has been turned on in my head.
---
Plans for 2020
This year there will be a lot of changes in our lives, we don't know the exact route to take yet and some things are dependent on what happens on other aspects of our lives like work, but I can feel this year things will change for the better. I'm already busy trying to find better schooling options for our daughter and finding all the options we have to select the best ones. Depending on how school goes in the next period, I also aim at finding a (part-time) job in the near future to make things a bit easier, but at the same time I will also probably start up a small business. Yesterday I read that the taxes are heavily reduced for small businesses here, and I first need to find out more information about that before I can make a solid plan on the time frame.
It doesn't really matter how things unfold, as long as they unfold!
I wish you all the best!
~Anouk