And so far I'm loving it!!! I know it's not everyone's favorite Hardfork so far. But what I am personally experiencing, it seems those who are serious about being here for the right reasons are going to do well. While those who are used to milking the platform will have a much harder time. To those members, I hope you find a way to fit and continue Steeming on!!!
ON TO THE POWER UP!!!
I have a lot of faith in Steem and not simply because of the blogging aspect of it.
We are also a wonderful community, and now have tribes to help us fit our own individual preferences for the community or communities we interact with.
Then there are the games... From Splinterlands to Drugwars to the up and coming Steem Knights.(The first 3-D game available for us Steemhaeds!!) They are fun time killers and unlike most games available anywhere, we can earn a little bit for our time playing!
Let's not forget about the ability to help others around the world! We have the power to reach across the globe to lend a helping hand without a middle man. How can we put a price on that?!?
And these are just the tip of the iceberg! New case uses are being thought up everyday here. And now with the SPS, there is a way for us to help get those things funded and developed! Yes, truly a wonderful time in the land of Steem!
SO I PUT MY MONEY WHERE MY MOUTH IS!!!
I currently(as of this right now) have just over 5014 SP. I want to be to 10,000 by the end of October. So,if you can do some pretty simple math, you'll see after powering up I don't have far to go.
I JUST POWERED IT UP!!!!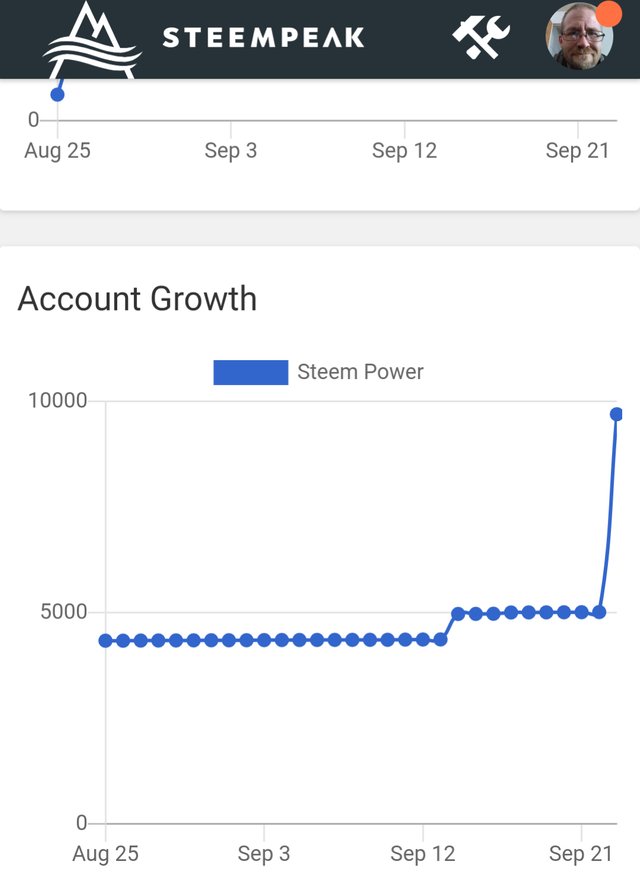 *Source: Steempeak
NOW....WHAT TO DO WITH MY NEW HIGHER VOTE.....
HOW ABOUT THIS?....
I offer a challenge to all who read this post...
POWER UP!!! Leave a comment below telling me you powered up your SP, and I'll visit you and leave you a good ol' 100% upvote!!!
Don't be scared, hit that power up button!!! Show your love for Steem and all our community members!