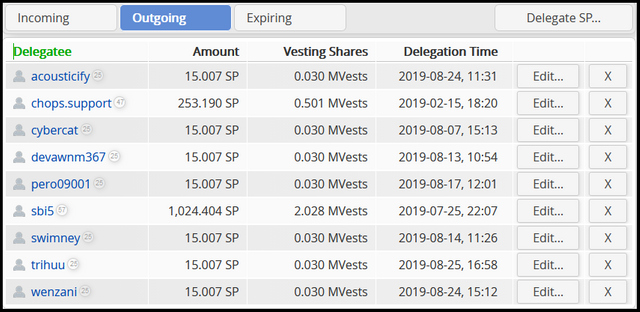 ---
Delegating to a bunch of projects, purely to receive upvotes from them is something of the past in my opinion. I just went through all my existing delegations via the handy tool on Steemworld and purged a bunch of them. It just didn't feel right anymore to delegate a hefty amount of SP for supposed monetary gain, instead of using it for manual curation.
I said 'supposed monetary gain', because due to the 50/50 reward/curation split, I don't think there was much to be gained anyway by delegating. In my featured image you can see the delegations I have left untouched, most of them are small delegations to new users that I've onboarded via Steem.Ninja and I've also left my delegation to @chops.support. The SBI delegation was done via Dlease, so I can't just cancel that one.
---

---
Delegations I've Removed
MSP - This was just a 100 SP delegation I added a couple of months ago, for which I got a small upvote in return. I still quite like the Minnow Support & PALnet projects, but I think that small amount of SP will be put to better use by myself. I doubt they will miss it ;-)
Partiko - I had delegated 250 SP to Partiko, back when they were looking for delegations. This gave me a $0.10 upvote daily, regardless of the content of my posts. I really don't have a need for that anymore and it kinda goes against the #NewSteem values. Don't get me wrong, Partiko is a great app and they deserve all the funding they get, but I think there are better ways than these mass-delegation investments.
Qurator - My largest delegation, 500 SP. They gave me a $0.1 upvote daily and some Q tokens on the Steem-Engine. Again, I have no need for it and I'm not a big fan of these curation communities anymore. I'd really like to focus more on manual curation myself and getting these daily upvotes in return for a delegation just seems a bit outdated now.
Steem Basic Income - Removed my 300 SP delegation. For this, I got some SBI shares in return. I'm still going to invest in SBI shares, but only by sending them Steem and sponsoring other Steemians as well. SBI is still my main source of upvotes, I've debated wither I should just exit SBI, but I've opted against it. I'm a big fan of Basic Income projects in general, though it is still technically also an auto vote. Kinda on the fence about this one, but I'll keep it.
SteemUA - Delegated 250 SP to them, but I don't think the project is that active anymore. Okay, you get a UA score, but what does it actually do? Isn't it just a scheme to get daily upvotes form them in general? What does the owner do with all the delegated SP? I've definitely seen him use it for personal gain as well, which would be fine if there was actually something being developed. Now it just seemed like a quick money grab. Could be wrong though...
Decide for Yourself!
Look, I'm not saying that everyone should follow my example. You should do what you're most comfortable with, but do stop to think whether you might want to change things up. Chances are that your existing delegations simply aren't profitable anymore in the first place & maybe you'd actually like some more Steem Power to curate with.
Most people have probably already removed their delegations to bid bots, so it not really that far-fetched to also start looking at removing other delegations as well. Now that projects have the option to publicly apply for delegations via the SPS, maybe you should support them via that first instead of immediately delegating SP yourself. That way, they have to undergo some form of scrutiny before getting funded.
---
Future Plans
I'm going to keep increasing my Steem Power in order to curate even more content. Currently there are some really good APR rates on Dlease that allow you to lease SP pretty cheaply. With the increased curation rewards, that could allow you to break even in the end or maybe even make a small profit.
I'll definitely delegate my SP to projects that are near and dear to me, but my delegations-for-profit days are over. I'll just try to make it work with the regular curation mechanisms, just as the system was intended to work! If bid-bots like SmartSteem can make the switch, so can we!