I have found Dr. John Campbell's videos as rational as any regarding the pandemic currently spreading globally. Certainly preferable to 'it's just the flu, bro' we heard from President Trump.
He points out that Los Alamos National Laboratory has very carefully examined available data and calculated the R0, or transmission rate, to be far higher under unrestrained conditions, such as Americans are in now, than initial estimates. The R0 is estimated to be as high as 6.6, which I rounded up to 6.66 because it's of biblical proportions. The rounded up amount is .06 different from their high estimate, relatively inconsequential statistically, but dramatically higher impact culturally.
Unfortunately, Dr. Campbell repeats the disproved theory that the Wuhan wet market was the vector for the initial introduction of the virus. The Lancet disproved this weeks ago. Since then, despite the existential repercussions of speaking out against the government in China numerous virologists, researchers, and doctors in China have stated they believe the virus was modified in a lab in Wuhan. DCclothesline provides meticulous documentation of evidence the virus was engineered.
This is not proof it is a bioweapon. It is not proof it was released deliberately. It is not proof it is ethnically targeted. It is only strong evidence it got out of a lab somehow, and there are two labs in Wuhan that were capable of doing that engineering, one ~12 clicks from the wet market, Wuhan Institute of Virology has focused research on the viruses most closely related to SARS-2-CoV, this pandemic pathogen, while the Wuhan Center for Disease Control is less than 300 meters from that market, has been the subject of a paper from the South China University of Technology of being a potential source as well.
Extreme suppression of factual evidence is presently being used to censor such individuals and platforms. This has been a constant in China since the initial alert was sounded by Dr. Li Wenliang, and the WHO has coordinated all centralized social media platforms in censorship efforts.


IMG source - /pol/ - Where trolls rule
Stopping the spread of the virus requires lowering the R0 below 1. If each victim infects less than one person on average, the transmission eventually stops. Carrying on as usual will not do this. Dr. James Lyons-Weiler has said this:
"Overall, if we all act as though we, and everyone we meet, is infected, and do not shake hands, hug or kiss, use the "Ebola elbow bump" to greet (in short, keep your fluids to yourself), don't share food or utensils, carry and use tissues, and throw them in the bin (as HMG suggests), wipedown all common public surfaces w/bleach wipes (door knobs, door handles, keypads, elevator buttons, bathroom fixtures, light switches) throughout the day, we can all work together to bring R0 down to below 1.0. And we should do these things anyway during flu season."
These are the practices we will need to undertake to end this pandemic. Either we do this voluntarily, or interpersonal contact will be prevented against our will, by quarantine or death. You will eventually be prevented from touching elevator buttons and light switches without wiping them down with bleach first one way or the other. Quarantine and death completely prevent your doing so.
We are highly subject to normalcy bias, but this pandemic changes everything. Consequences will never be the same again. If enough of us don't voluntarily and pro-actively change how we conduct our lives to prevent potential spread of disease, those changes will be imposed on us involuntarily.
[Note: Duckduckgo is censoring images of the oppression in Wuhan. I am unable to search images of doors to apartment buildings being welded shut on any search engine, although I have seen many of them. Be aware that there is massive censorship ongoing on every search engine extant, and elimination of uncensored information sources. By suppressing the information that reveals why we should take steps to prevent the spread of pandemic, and alerting us to what governments are doing to quarantine populations, censors are enabling governments to undertake complete totalitarian oppression.]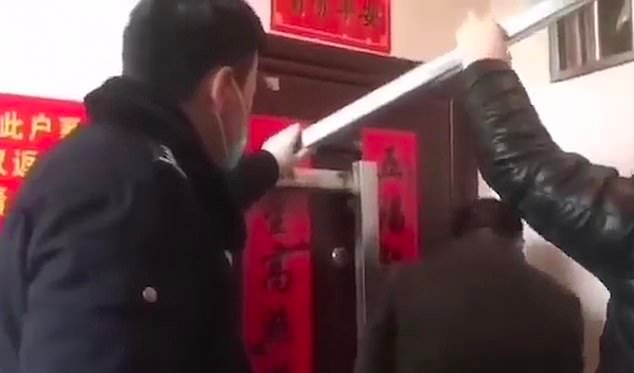 IMG source - IKnowAllNews.com = Screaming woman is barricaded in her home by Chinese authorities (Bing search) This was the only pic revealed on any search engine I tried searching for 'wuhan doors welded shut'. None of the pics of apartment blocks being welded shut come up on any search engine
As the CDC said, 'not if, but when'. The best possible outcome for us is the least disruption and shortest period of time we are disrupted. The quickest and least onerous route to that is beginning the necessary reduction in transmission immediately and ubiquitously ourselves. Political forces are seeking to impose draconian social controls on all of us, and pandemic is a perfect mechanism to implement every last totalitarian oppression. Agenda 2030 is underway.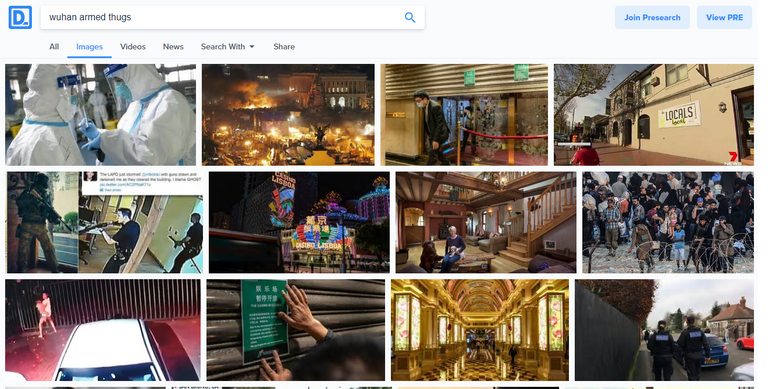 IMG source - Presearch.org results of search for images of 'Wuhan armed thugs'. There are none of the pics I have previously seen of armed gangs and police committing oppressive violence in Wuhan - there are no uncensored search engines
Only if we end the spread of this pandemic will we remain free people. I strongly suggest any skeptics take a look at extant conditions in Wuhan to see what will be imposed by government if we do not stop the spread of this virus. Gangs of armed thugs of every source are locally omnipotent. Food is available only as delivered by government to your door under quarantine conditions. There is zero freedom of movement, of assembly, and speech. No one has any money, because cash is a vector for viral transmission and has been seized by the government. If the government wants you to work a particular shift, you work that particular shift or go without food, or worse.
I do not want to live that way. If you do, keep living the way you are now, until armed thugs impose these conditions on you. If you don't want to live in a concentration camp, stop the spread of this pandemic with the stated means. We will only be as free as we make us.
We are in charge. The biblical beast is what happens if we don't take control ourselves. We don't need government to save us (and it won't). We need to save ourselves. The horror Wuhan is now suffering will come to us if we don't drop the R0 below 1.0.
Please do what is necessary to enable human freedom to continue on Earth. Stop the pandemic or suffer the consequences - totalitarian oppression.