I grew up with a couple of very strong-minded grandmothers - one from the Netherlands & the other from North Carolina. Honestly, I miss them a lot during "times like these" because of what that "Greatest Generation" can offer in terms of life experience. While my #okboomer parents haven't really gone through all that much except an epic decades-long stock market bull run, punctuated by a couple flash crashes here and there, my two grandmas went through hell and back.
That kind of experience is invaluable when we're facing tragedy. My grandmothers' generation somehow figured out how to face down a potentially decade-long life-changing disruption and still manage to have an upbeat world view.
Now that we have government-mandated "lockdowns" outside of China - in Vietnam, South Korea, Italy & Iran - I think the whole world is starting to wake up and see that this COVID-19 thing could potentially get to that point. God knows I hope it won't actually manifest itself in a debilitating global pandemic, but the writing on the wall is there. If governments don't take this threat seriously, and if people just revert to racism and try to blame Chinese people for it, we could be seeing government-mandated "lockdowns" spring up all over the world.
This virus is a potentially very serious event that could wreak havoc on the world economy. We as a species have certainly not seen anything remotely like this since over 100 years ago. The end of World War I unleashed the "Spanish flu" on the world and killed 50-100 million people in the process. At the time, that death figure was equivalent to 2.5 to 5.0% of the world population. If we see those kind of rates again, we're looking at 200-400 million deaths.
Again, I'm really hoping like heck nothing even comes close to that. But having been in China since the beginning of this crisis, I've been in this "new normal" for over a month now and therefore might be a little further along in the psychological effort of personally dealing with this fiasco than others who might just now be coming to terms with the inevitable fact that this might soon directly affect them.
That's what leads me back to my grandmas. My Oma - that's Dutch for grandmother -lived through the Nazi bombings of Holland during WWII. She saw my Opa taken to a PoW camp. He was gone for something like 8 years. She used to tell me stories about how the only thing they had to eat for months was potatoes. My Mimi - that's Southern American for grandmother, in case you didn't know - went through the Great Recession in Durham, NC. She endured a whole collection of family tragedy that reads like a William Faulkner novel.
What I would give to be able to ask them right now - How the heck do you make it through a "once in a century" tragedy like this? What's the secret to surviving? And more importantly, how do you come out of this smiling and ready to be an awesome loving and laughing human for the rest of your life?
Because that's what they did. All I remember about them is fun and laughter and patience and sage advice.
So when I saw this post on Linkedin from a colleague of mine in Shanghai it just made me smile. Her post offers a window into the thought world of the Greatest Generation and I'm grateful for having seen it. It's just a few pictures of nonagenarians, like those included below, sharing their advice to the younger generation.
And it's fantastic.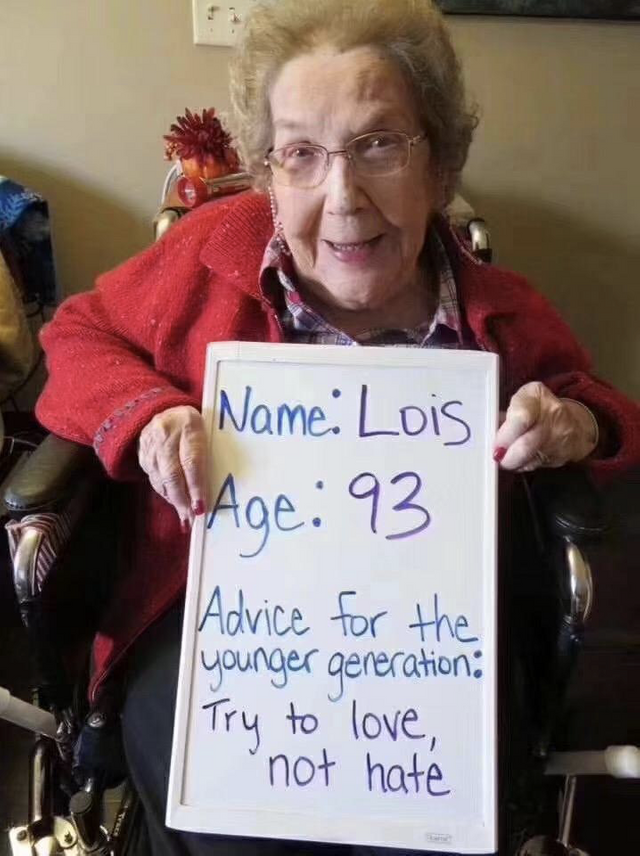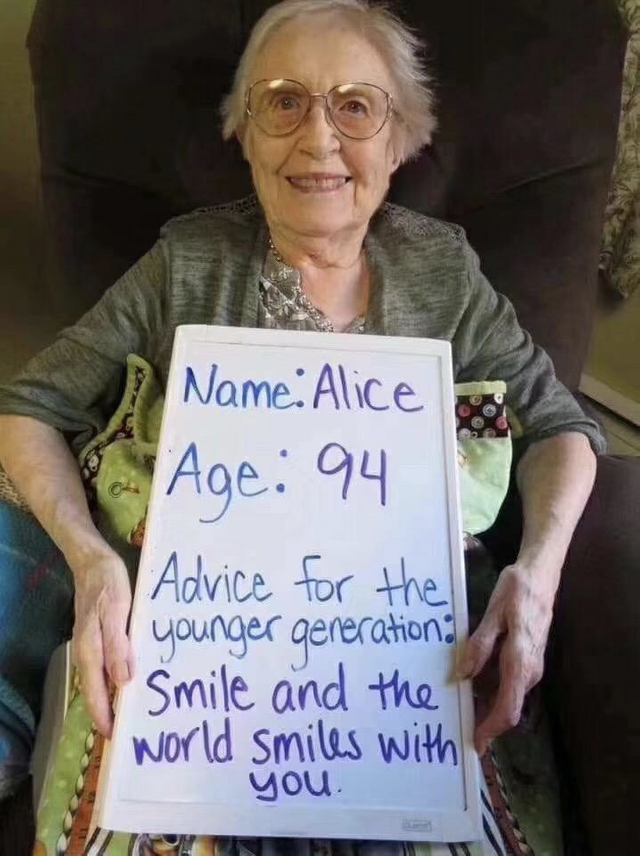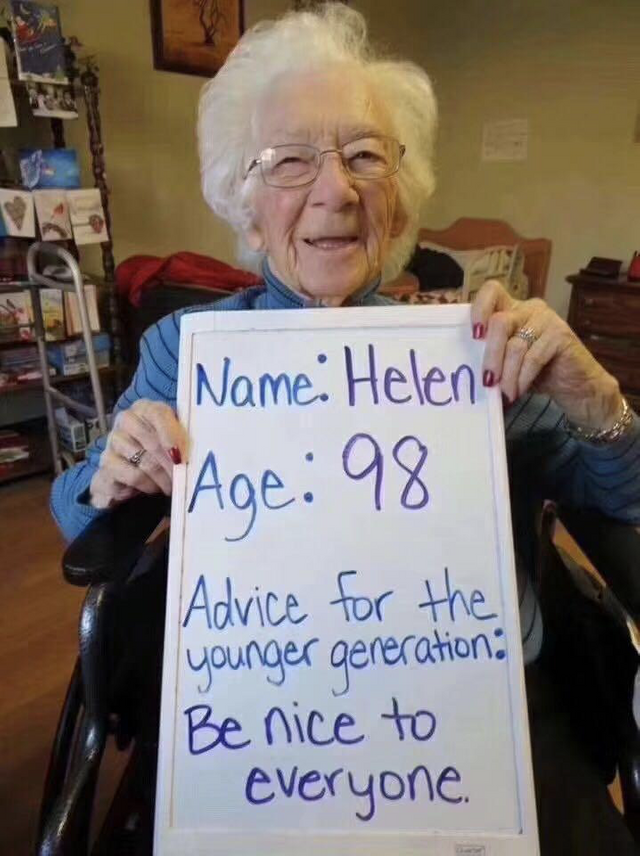 For better or for worse, may we all be more like Grandma.