Today In Stupid - Witnesses Are Now Hackers?


Remember To Vote For Your Hacker Kids
If you haven't been posting for the last few days, well I'm sorry to inform you that more than just a little has changed, pretty much everything has changed. So I'll try my best to update you with what's going on, in a simple to follow point form.
Steemit and Steem is developed by Ned and Dan many, many moons ago.

Steemit ninja mine's (mines stake under somewhat dubious conditions) loads of Steem, along with a few early adopters (This is important for later)

The witnesses concerned about the ninja mined stake raise the issue with Ned and Steemit Inc, and the promise to never use this stake to power down or vote witnesses, keeping things relatively fair.

Steemit Inc uses the stake to support community projects and some projects of some witnesses

Ned goes back on his promise, and powers down, as well as some of the Steemit Inc accounts

Witnesses discuss plans to try curb the ninja mined stake from being powered down, but never do, because Ned gives reasons, and maybe because of that sweet delegation.

A few weeks ago and without any notice, Ned sells Steemit Inc to Justin Sun, along with the ninja mined stake.

Justin doesn't give clear communication or any plan of what is intentions are, add some tweets regarding merging Tron and Steemit and someone at Tron mentioning token swap.

Fearing the worst, witnesses secretly take extreme action in the form of a soft-fork, freezing Justin's newly acquired stake from voting, voting witnesses, powering down or transferring of stake, until Justin makes his intentions known.

Majority of the vocal minority celebrate along with witnesses at this preemptive action, small minority of the vocal minority disagree with actions taken by witnesses

Yesterday Justin retaliates by getting a few the exchange accounts to power up users stake to vote in his newly created witnesses, and change the code again freeing up the frozen Steemit Inc stake.

As of right now Justin has taken over governance of the Steem chain, and has labeled the actions of the witnesses as a hack on the steem network.

He has also tweeted that he will return voting power to the witnesses/hackers once his stake has been secured.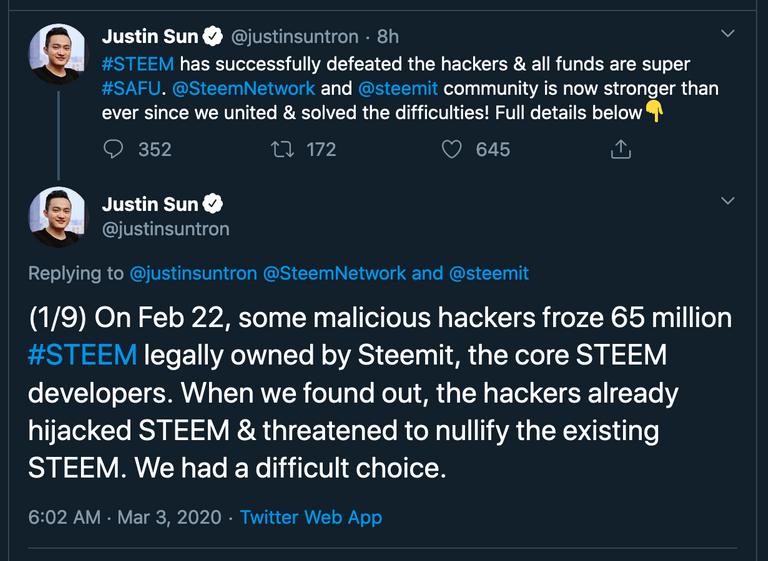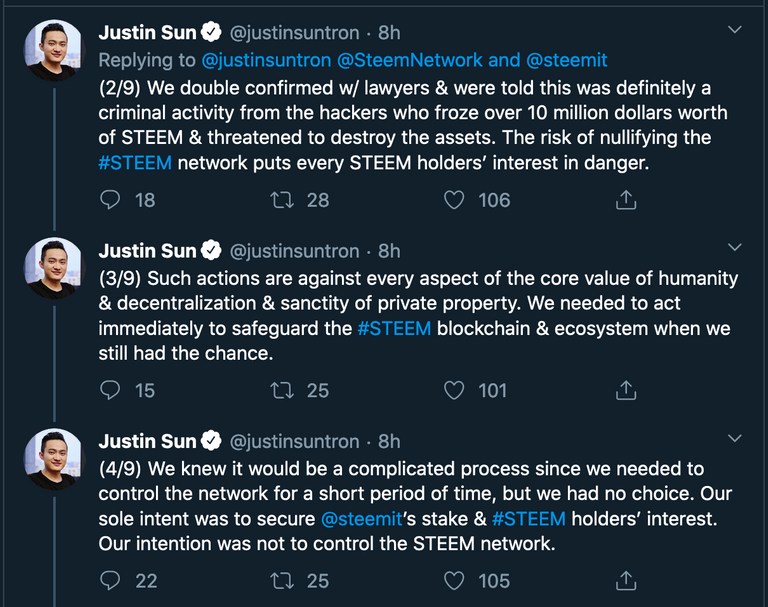 ---
"Many of the truths we cling to depend greatly on our own point of view." - Obi-Wan Kenobi
---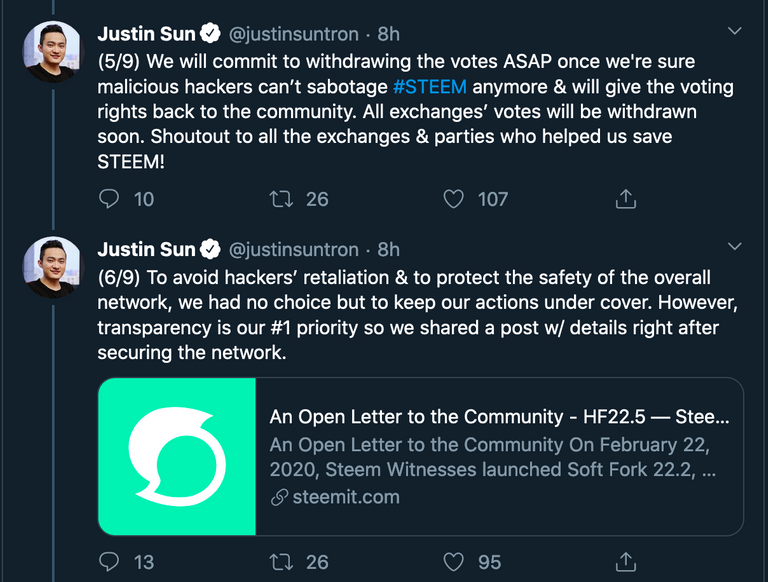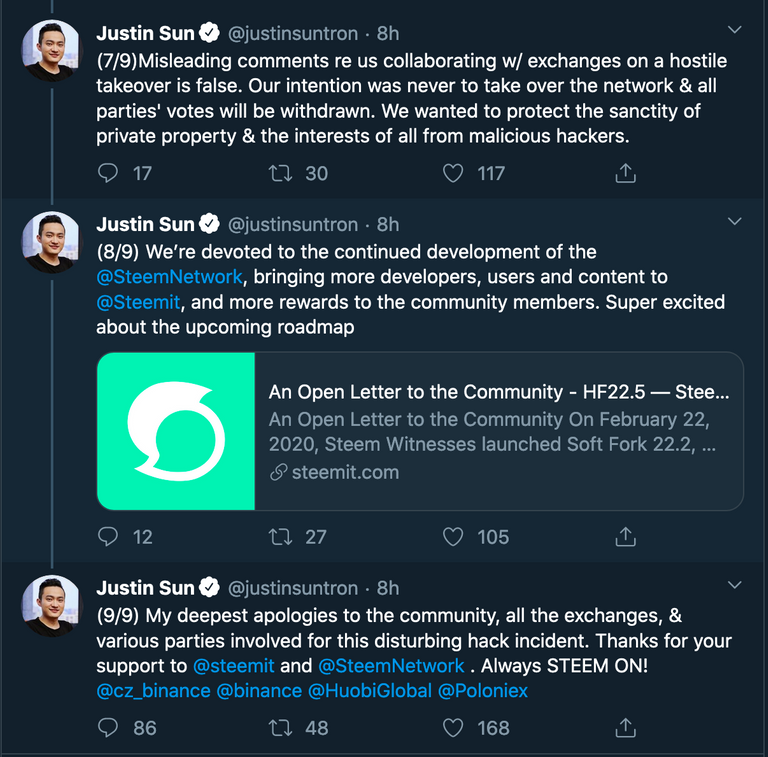 Let's try taking a logical look at the situation and how we got here, but first I want to mention that calling the witnesses hackers is a cheap shot, and he's trying to look good publicly due to all the bad press he is getting right now.
First and foremost, did Justin know about the ninja mined stake? Well we can speculate, but we don't know, I personally tend to think he didn't, based on Ned only announcing it after the sale happened. Also the stake being a point of contention probably would have deterred the sale from happening. The other option was that he could have mentioned it, and Justin would have had his legal team look into this, point being is a majority of witnesses don't get to determine what is or is not legal property. Making a promise to use the stake for the good of the Steem community does not magically relinquish legal ownership of it. To do that it would probably require legal action and involving the SEC, which brings with it a host of other problems.
From the witnesses point of view the action was legitimate, because of the ninja mined stake, and there were agreements in place with the previous owner, and that this action would safe guard the chain. From Justin's point of view, and unfortunately a legal point of view, the witnesses tried to freeze and limit his stake which is his property. The actions taken by witnesses, are in principle a violation of ownership, which is what gave him the leverage to get the exchanges to support his cause. Because if the witnesses can freeze his stake subjectively or by mutual agreement, they could do so to anyone else, which is what they did from a certain point of view. Lastly we can speculate all day long that this take over has been his intention from the beginning, but we don't know, the fact of the matter remains that this witnesses acted first. Unfortunately you can't hit someone because they were eluding to maybe indirectly hurting you, then claim it to be self defense. He seems to be playing be legal rules and the witnesses are playing by wild west crypto rules.
On principle I have been against the soft-fork decision from the the beginning, as much as I disagree with how the ninja mined stake was obtained and where we are now, a small elected group of people do not get to vote away the property rights of someone else, that's called tyranny. The ends never justify the means.
---
"The truth is often what we make of it, you heard what you wanted to hear, believed what you wanted to believe." - Obi-Wan Kenobi
---

You're either laughing or you're learning.
Join me tomorrow for more lessons on these really easy to understand concepts.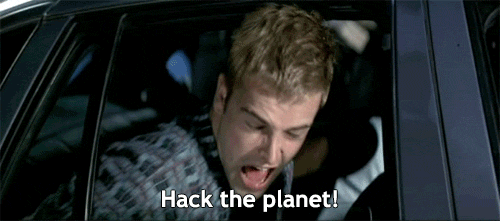 Thanks for popping in, hope you liked the post. Please leave me your thoughts and or opinions in the comments below, have a beautiful day.

• For the best posts on food and all things beautiful follow my @princessmewmew

• For those who love the the open road and the road less traveled follow @velimir
• The reason I joined this platform was thanks to one guy, the infamous @jeffberwick
• If you need great stories in your life and a wealth of experience @bigtom13
• For sport, great food and general life hacks follow @broncofan99
• A good laugh and for all things Star Wars follow @thedarksideshow

Proudly powered by ADSactly - click this image above to join our discord server - Make sure to visit our ADSactly Society Steemit blog

✯ ✯ ✯

✯ Follow me for more fun ✯
---
---