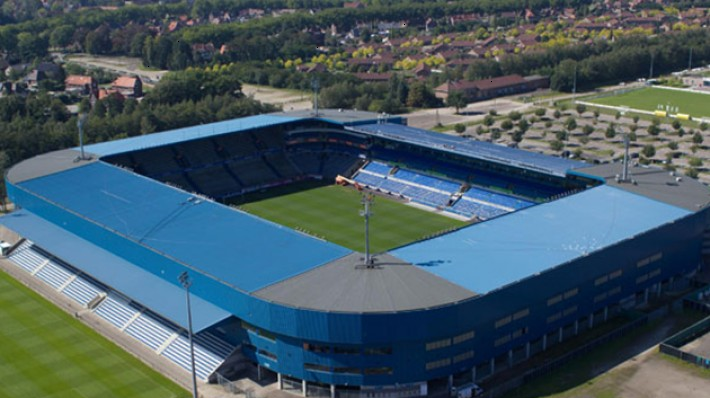 These are previews from matches involving Belgian Teams with all the latest on team news, player form, injuries along with my personal betting angles, ...

I ended yesterday with a small profit despite the only pre-game selection losing. Caution is still the name of the game right now as teams are getting more and more fatigued after a brutally busy schedule. This will be one of the things I will keep a close eye on to possibly find an edge. 4 matches are set to be played tonight...
---
Beerschot vs Kortrijk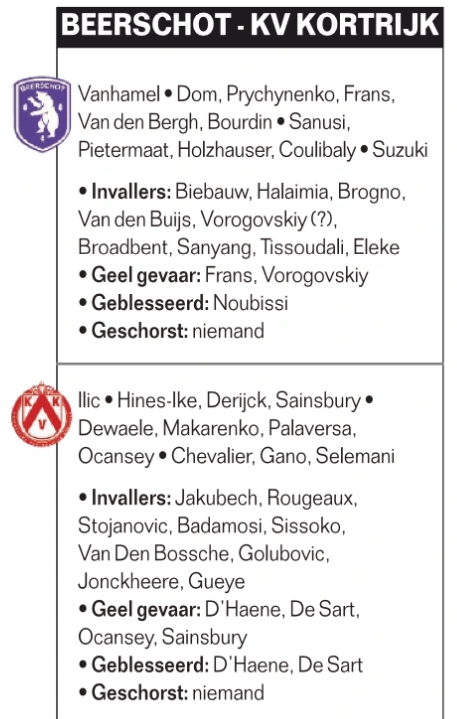 Beerschot (who will play their 6th match this month) broke their losing streak last weekend taking a 0-3 win against Zulte-Waregem in a match where the only thing they did was pretty much defend and being highly efficient on the counter. They will be missing important striker Noubissi today. Kortrijk (who play their 5th match this month) is on a 3-game losing streak playing all of those matches on bad pitches. They have been an excellent away team going 5W-2.5L-2.5P against the Asian handicap lines and tend to have low scoring away matches. Beerschot however despite their more recent defensive approach has not had matches that were guaranteed to go under. The home team lost their last 7 corner matchups (which is a direct result of their new defensive style) Kortrijk has shown no signs of corner dominance though to consider taking them at a +0 handicap on low odds there. If Beerschot scores first, I will likely get in on Kortrijk on the corners. Nothing Pre-Game inspires me to take so
No Pre-Game Bets
---
Genk vs Zulte-Waregem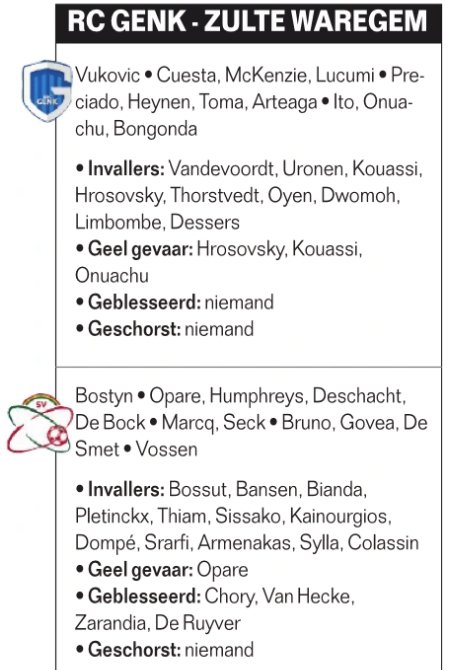 Racing Genk (Who will play their 6th match this month) showed to be not good enough to beat Club Brugge especially early on in the match, but they showed that they are able to score goals. They are 4 matches without a win (3L-1D). The draw came at home against AA Gent playing almost the entire match with 10 and the 2 other losses can be blamed on the bad pitches which for this team weighs more as it is just not their style. Zulte-Waregem (who will play their 5th match this month) is on a 2-game losing streak and remain a team I have a hard time trusting. They have had good results beating the Asian handicaps away though going 7W-3L-0P (Genk is 6W-4L-1P at home). My gut feeling says this will be a match where Zulte-Waregem will be put with their feet on the ground being no match for Racing Genk whatsoever. Zulte-Waregem has been quite good on the road though especially in the first half being in the lead in 4 of their last 6 away matches. The current odds leave my hands cuffed and I can only hope Zulte takes the lead to bet on Genk making a comeback. If Genk scores the first goal, taking Zulte-Waregem on the corners handicap becomes an option. Genk team total over 2 also is an option in-game. The late over if Zulte is behind by 1 to get finished on the counter is also a big option.
No Pre-Game Bets
---
AA Gent vs Sint-Truiden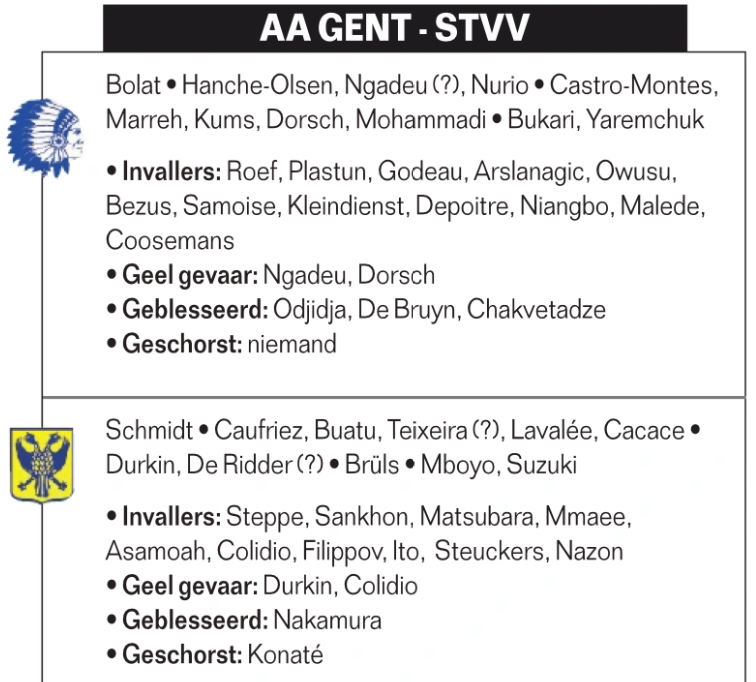 AA Gent took an easy and deserved win away against OHL who certainly had their chance to score. Their main problem lately has been breaking a defensive opponent with Odidja still being out. Stvv on the other hand plays best in the reaction while having difficulties when they have to make the play. They are unbeaten in their last 6 away 1st halves and I do expect a scenario where AA Gent has the ball trying to break the lock. A ball going in or not for AA Gent early will make the major difference in this match. I do see a good chance for the visitors to score, both De Ridder and Texeira are questionable so it will be important to wait for the final line-ups before taking a bet. I am just waiting it out hoping to catch something live.
No Pre-Game Bets
---
Charleroi vs OHL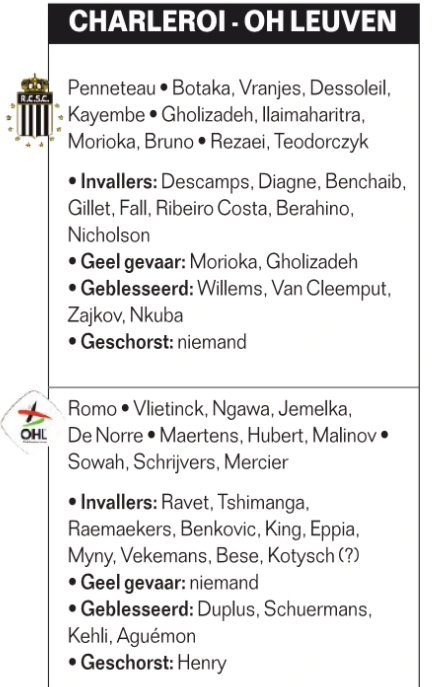 Charleroi ( is on another big losing streak losing their last 5 matches but actually played a good match against Standard. They have shown multiple times to be a bad 1h team but a good 2h team. One of their main issues has been that they are no longer rock-solid in their defense. Both Teodorczyk and Vranjes are expected to play. OHL is a tricky team as they have the potential which doesn't always come out even though they are still in 7th place despite 3 losses in their last 5 matches. My lean for this one is on the home team and I toot a tiny (0.2 units) initial bet on
Charleroi -0.5 @ 2.11
since the top striker Henry is suspended for OHL. I'm kind of waiting for the 2nd half though hoping they will not be in the lead yet to take more. OHL stands out for having 7 of their last 9 away matches have at least 11 corners with the same going for Charleroi on 5 of their last 7 home games.
Over 11 Corners @ 2.71
was a bet I had to take a small try on.
---
Late info might change my view on what is written in these previews. I will cover these matches live in our SBC Discord Channel. All my bigger pre-game & Live bets can automatically be followed on Copytip
---
Pre-Game Preview Bets
I continue to share many of my pre-game bets in all my preview posts. Most of them are smaller bets or trading positions and some of them I took early in the week and might not have the exact same odds available. These bets should just be seen as info and not as something to blindly follow. Record on them so far this season is 171 Bets | +12.99% ROI on Flat Unit bets (See Results) Bigger pre-game bets which are rare these days I also tend to take extra on those in BTC.
Season 2020-2021 BTC Bets
| Date | Bet | mBTC | Odds | Result | Betslip |
| --- | --- | --- | --- | --- | --- |
| 11/01/2021 | Standard vs Waasland BTS | 2.5 | 1.86 | +2.15 | sportbet.one |
| 01/11/2020 | Antwerp -0.5 | 10 | 3.50 | -10 | sportbet.one |
| 03/10/2020 | OHL vs Zulte 1H Under 1.25 | 10 | 2.010 | +5.005 | sportbet.one |
---
Bookies, Projects & Platforms I use...

Info

Info

Info

Info

Info
| Month | Bets | Won | Lost | Push | Staked | Profit BTC | ROI |
| --- | --- | --- | --- | --- | --- | --- | --- |
| Jan 2020 | 1 | 1 | 0 | 0 | 0.0100 | +0.01271 | +127% |
| Dec 2019 | 2 | 0 | 2 | 0 | 0.0200 | -0.002000 | -100% |
| Nov 2019 | 2 | 1 | 1 | 0 | 0.0200 | -0.001800 | -9.00% |
| Oct 2019 | 4 | 1 | 3 | 0 | 0.0400 | -0.020800 | -52.00% |
| Sep 2019 | 4 | 3 | 0 | 1 | 0.0400 | +0.028890 | +72.22% |
| Aug 2019 | 10 | 7 | 3 | 0 | 0.1000 | +0.033860 | +33.86% |
| July 2019 | 2 | 2 | 0 | 0 | 0.0200 | +0.018000 | +90.0% |
| Jun 2019 | 0 | 0 | 0 | 0 | 0.0000 | +0.000000 | +0.00% |
| May 2019 | 7 | 0 | 5 | 2 | 0.0700 | -0.050000 | -71.43% |
| Apr 2019 | 5 | 3 | 2 | 0 | 0.0500 | +0.024170 | +48.34% |
| Mar 2019 | 7 | 3 | 3 | 1 | 0.0700 | +0.004120 | +5.89% |
| Feb 2019 | 6 | 4 | 2 | 0 | 0.060 | +0.023210 | +23.21% |
| Jan 2019 | 10 | 0 | 9 | 1 | 0.100 | -0.079640 | -79.64% |
| Dec 2018 | 15 | 4 | 10 | 1 | 0.150 | -0.058880 | -39.25% |
| Nov 2018 | 17 | 7 | 10 | 0 | 0.170 | -0.032170 | -18.92% |
| Oct 2018 | 15 | 6 | 9 | 0 | 0.150 | -0.028290 | -18.86% |
| Sep 2018 | 14 | 13 | 0 | 1 | 0.140 | +0.141820 | +101,3% |
| Aug 2018 | 8 | 5 | 1 | 2 | 0.080 | +0.045470 | +56.84% |
| Jul 2018 | 17 | 8 | 9 | 0 | 0.135 | +0.033590 | +24.88% |
| Jun 2018 | 15 | 7 | 7 | 1 | 0.150 | +0.018200 | +12.13% |
| May 2018 | 2 | 2 | 0 | 0 | 0.020 | +0.023440 | +117% |
| Feb 2018 | 12 | 3 | 8 | 1 | 0.091 | -0.036293 | -39,88% |
| Jan 2018 | 21 | 10 | 10 | 1 | 0.147 | +0.005800 | +3.95% |
| Dec 2017 | 19 | 9 | 8 | 2 | 0.148 | +0.010422 | +7.04% |
| Nov 2017 | 21 | 11 | 10 | 0 | 0.210 | -0.008030 | -3.82% |
| Oct 2017 | 21 | 10 | 10 | 1 | 0.210 | +0.003080 | +1.46% |
| Sep 2017 | 9 | 4 | 4 | 1 | 0.090 | +0.001440 | +1.60% |
| Total | 266 | 124 | 126 | 16 | 2.491 | +0.092319 | +3.71% |