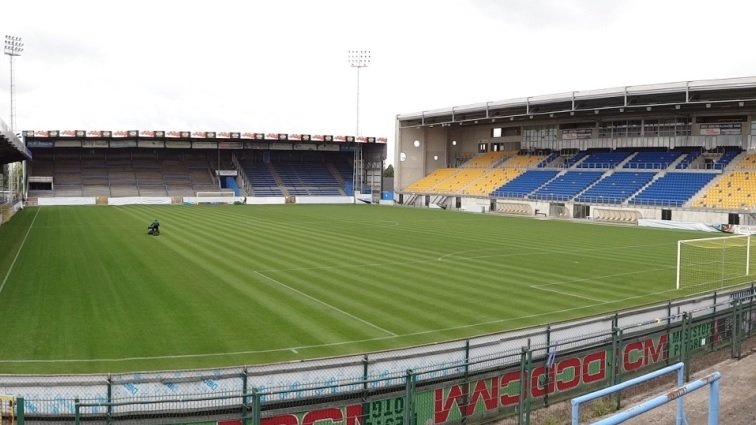 These are previews from matches involving Belgian Teams with all the latest on team news, player form, injuries along with my personal betting angles, ...
3 matches tonight to kick off week 23 in the league. Even more than before I will be extremely Cautious on taking bets mostly keeping everything small in stakes (0.2 units = tiny bet | 0.4 units = Small bet) given the fact that everything is rather unpredictable at the moment.
---
Eupen vs Antwerp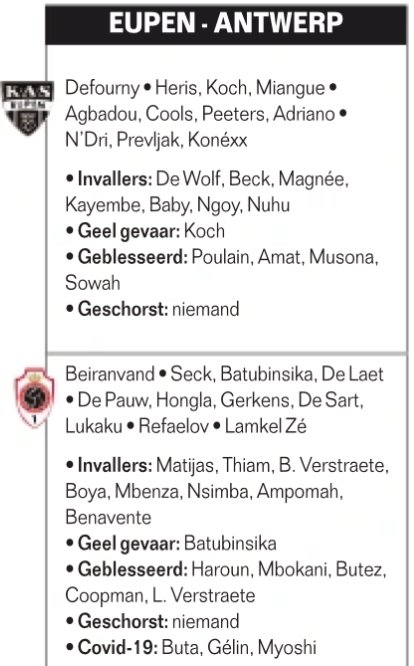 Eupen has been on a good streak but lost their match against Mechelen last weekend getting 1-0 behind against play. The main problem for this team right now should be fatigue as they now play their 7th match in 20 days. Poulain, Musona and Sowah are all out but Adriano is back in the team. Antwerp under their new coach has turned into a defensive team again and some players really don't like this (Refaelov), they did start the match lask weekend a bit more offensive-minded but lost against a better Oostende in the end. They are still without Haroun, Mbokani, Myoshi, Buta & Gélin leaving them with Lamkel Zé (who other player don't want gone) in the attack. Overall Antwerp has not impressed whatsoever the last couple of weeks despite winning the 2 matches before losing to Oostende. I do again expect Antwerp to focus most on the defense and Eupen running the dager of getting out of fuel late in the match. My leans are on Eupen +0.25 | Under 2.5 | Eupen +0 Corners but I haven't pulled any triggers just yet.
No Pre-Game Bets
---
Waasland vs KV Mechelen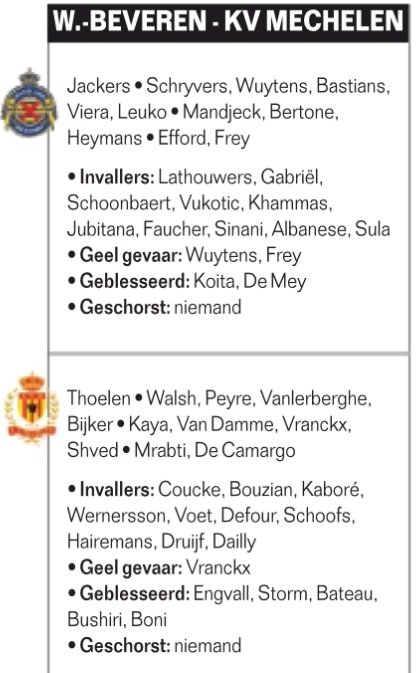 Waasland went full defense against Anderlecht taking home a point. Where they used to score in every single match for a long time, they now seem to have somewhat lost their offensive qualities with Koita being out. They are in last place taking 3 draws and 2 losses in the last 5 matches and aren't all that had having shown that they can defend in the last few matches. Mechelen was in a really good streak winning 4 of their last matches having an off-day against Standard last week. Waasland is rather poor at home against the Asian handicap and Mechelen performs quite well away. overall a -1 line for the visitors feels quite fair. These bigger away obvious favorites are something I tend to stay away from at all cost and I also don't see Waasland without chance if they have a good day.
No Pre-Game Bets
---
Moeskroen vs Anderlecht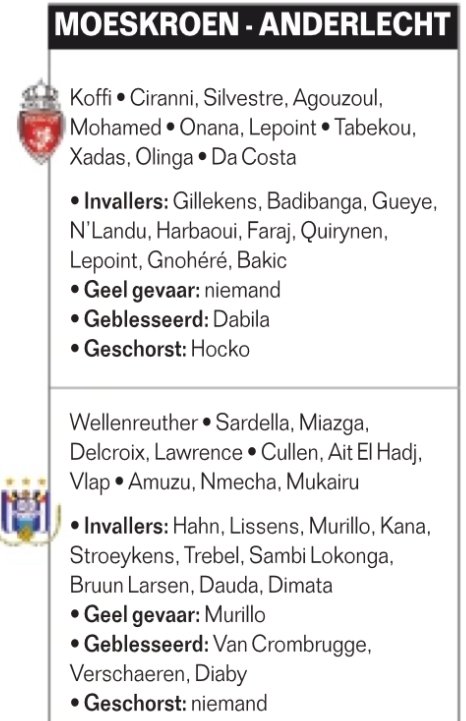 Anderlecht is actually playing quite good lately and they managed to create 26 attempts but only 4 on goal which shows their biggest weakness as they have a really hard time scoring if they aren't able to create a penalty. Aside from that, I have actually been impressed by the team performance and overall work ethic Kompany managed to bring to the squad who still lack sheer individual quality in my opinion. Moeskroen has taken advantage of the bad pitches taking 7 on 9 in their last 3 games. Kompany announced that they will play at 200km/h today regardless the state of the pitch. They have shown to be quite reliable on not having complete off days. All this is enough for me to take a small try on
Anderlecht 1st Half -0.25 @ 1.98
---
Late info might change my view on what is written in these previews. I will cover these matches live in our SBC Discord Channel. All my bigger pre-game & Live bets can automatically be followed on Copytip
---
Pre-Game Preview Bets
I continue to share many of my pre-game bets in all my preview posts. Most of them are smaller bets or trading positions and some of them I took early in the week and might not have the exact same odds available. These bets should just be seen as info and not as something to blindly follow. Record on them so far this season is 171 Bets | +12.99% ROI on Flat Unit bets (See Results) Bigger pre-game bets which are rare these days I also tend to take extra on those in BTC.
Season 2020-2021 BTC Bets
| Date | Bet | mBTC | Odds | Result | Betslip |
| --- | --- | --- | --- | --- | --- |
| 11/01/2021 | Standard vs Waasland BTS | 2.5 | 1.86 | +2.15 | sportbet.one |
| 01/11/2020 | Antwerp -0.5 | 10 | 3.50 | -10 | sportbet.one |
| 03/10/2020 | OHL vs Zulte 1H Under 1.25 | 10 | 2.010 | +5.005 | sportbet.one |
---
Bookies, Projects & Platforms I use...

Info

Info

Info

Info

Info
| Month | Bets | Won | Lost | Push | Staked | Profit BTC | ROI |
| --- | --- | --- | --- | --- | --- | --- | --- |
| Jan 2020 | 1 | 1 | 0 | 0 | 0.0100 | +0.01271 | +127% |
| Dec 2019 | 2 | 0 | 2 | 0 | 0.0200 | -0.002000 | -100% |
| Nov 2019 | 2 | 1 | 1 | 0 | 0.0200 | -0.001800 | -9.00% |
| Oct 2019 | 4 | 1 | 3 | 0 | 0.0400 | -0.020800 | -52.00% |
| Sep 2019 | 4 | 3 | 0 | 1 | 0.0400 | +0.028890 | +72.22% |
| Aug 2019 | 10 | 7 | 3 | 0 | 0.1000 | +0.033860 | +33.86% |
| July 2019 | 2 | 2 | 0 | 0 | 0.0200 | +0.018000 | +90.0% |
| Jun 2019 | 0 | 0 | 0 | 0 | 0.0000 | +0.000000 | +0.00% |
| May 2019 | 7 | 0 | 5 | 2 | 0.0700 | -0.050000 | -71.43% |
| Apr 2019 | 5 | 3 | 2 | 0 | 0.0500 | +0.024170 | +48.34% |
| Mar 2019 | 7 | 3 | 3 | 1 | 0.0700 | +0.004120 | +5.89% |
| Feb 2019 | 6 | 4 | 2 | 0 | 0.060 | +0.023210 | +23.21% |
| Jan 2019 | 10 | 0 | 9 | 1 | 0.100 | -0.079640 | -79.64% |
| Dec 2018 | 15 | 4 | 10 | 1 | 0.150 | -0.058880 | -39.25% |
| Nov 2018 | 17 | 7 | 10 | 0 | 0.170 | -0.032170 | -18.92% |
| Oct 2018 | 15 | 6 | 9 | 0 | 0.150 | -0.028290 | -18.86% |
| Sep 2018 | 14 | 13 | 0 | 1 | 0.140 | +0.141820 | +101,3% |
| Aug 2018 | 8 | 5 | 1 | 2 | 0.080 | +0.045470 | +56.84% |
| Jul 2018 | 17 | 8 | 9 | 0 | 0.135 | +0.033590 | +24.88% |
| Jun 2018 | 15 | 7 | 7 | 1 | 0.150 | +0.018200 | +12.13% |
| May 2018 | 2 | 2 | 0 | 0 | 0.020 | +0.023440 | +117% |
| Feb 2018 | 12 | 3 | 8 | 1 | 0.091 | -0.036293 | -39,88% |
| Jan 2018 | 21 | 10 | 10 | 1 | 0.147 | +0.005800 | +3.95% |
| Dec 2017 | 19 | 9 | 8 | 2 | 0.148 | +0.010422 | +7.04% |
| Nov 2017 | 21 | 11 | 10 | 0 | 0.210 | -0.008030 | -3.82% |
| Oct 2017 | 21 | 10 | 10 | 1 | 0.210 | +0.003080 | +1.46% |
| Sep 2017 | 9 | 4 | 4 | 1 | 0.090 | +0.001440 | +1.60% |
| Total | 266 | 124 | 126 | 16 | 2.491 | +0.092319 | +3.71% |