Neoxian City Photo Challenge - | Rescue of a Hero |

---
My posts are viewed better in SteemPeak < -- click to view this post there
---
Neoxian City - The place to be!
Hello friends and fellow citizens, I have some pet therapy to bring you today!
The wonderful city of Neoxian is hosting another photography challenge this week. This is now the 5th instalment and the first one I am participating in!
I've wanted to take part in some earlier weeks, but being that I am no photographer it left me a little discouraged and in the end I lacked the motivation to do it. Well, this week the theme is Pets and if you guys didn't figure it out by now, I am all about my best friend, my puppy! (he's four years old, but still my baby!)
If you want to take part in the contest too, check out the contest post and be sure to read the rules.
There are many prizes up for grabs, as well I have placed a 5 STEEM bounty via @steem-bounty and I will be distributing the bounty to the most creative and well written submissions.
ALSO, you can help distribute 2% of the bounty by upvoting the comments with the entries you feel deserve it! The higher your upvote (and the higher the cumulative upvotes of the community) on a comment, the more of the community bounty distribution that comment will receive!
Don't Have a Pet?
Even if you don't have a pet, the theme is Pet so as long as your submission follows that theme.. you can get creative ;)
---
So here I've decided to tell a little tale about how my fur covered hero came into my life!
For those just here to see photos, feel free to scroll on by.. I would appreciate some comment engagement though! ;)
---

My Hero > SNOOPY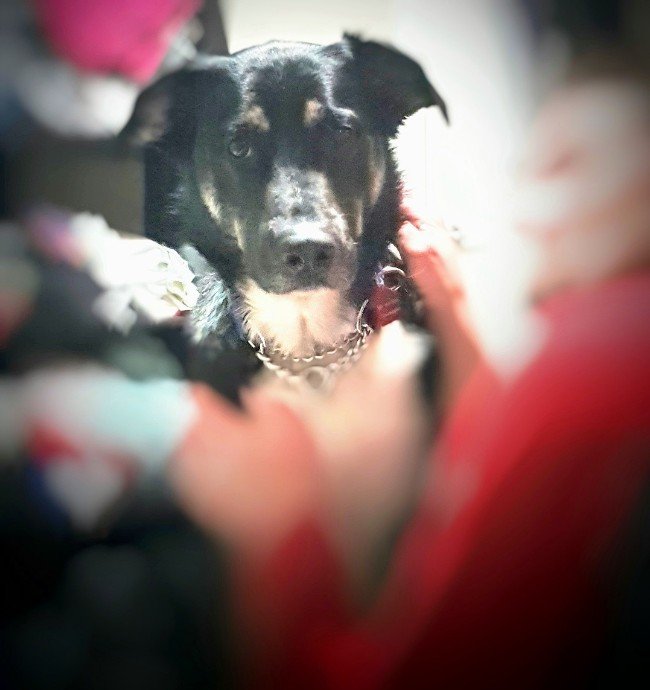 Taken with my old Samsung S8 in 2017. Edited in the SnapSeed app and adjustments made in Google Photos.
Snoopy was only 5 weeks old when we found him locked away in a kennel with his mother and 6 other littermates. The reason we even found him was because we were waiting for the litter to wean at around 9 weeks old as we planned on taking a puppy then, so every 10 days or so my boyfriend at the time would stop by and visit the pups and get to know them.
On this day it happened to be one of the few weekends I had off work, so my boyfriend asked my son and I if we wanted to go and visit the puppies (this would be my son and I's first time seeing them).
Well of course! So we went over to the apartment where they lived and since my boyfriend was the one who initiated this with the owner of the dogs he got out to go knock on the door and my son and I stayed behind in the car.
Turns out the last two times that my boyfriend tried to visit them earlier in the week, the owner wasn't home. This time was no different, except this time my boyfriend's friend was also home and she was the neighbor of the dog owner.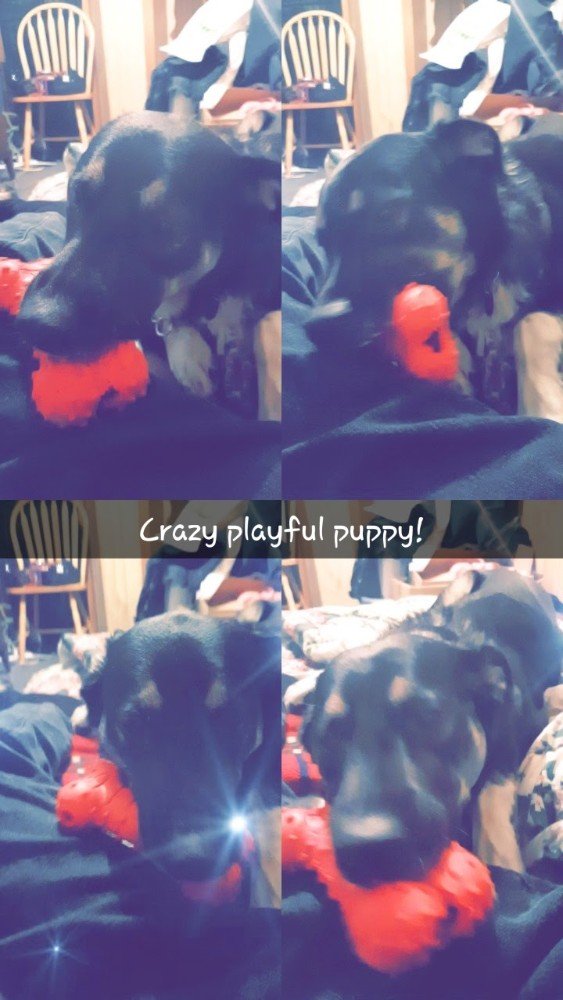 Taken with my S8, turned into a collage via Google Photos and filtered using Snapchat.
She mentioned to my boyfriend that the guy hadn't been home since the last weekend (now 7 days ago) but that she thought she had heard the puppies there still.
Sure enough, my boyfriend put his ear to the door and said he could hear the puppies moving and squwaking inside.
He ran out to me in the car and asked me what he should do:
Should we go in? I can break in easily!
His criminal background shining through right here..
Feeling a bit panicked and scared about what we might find, I nervously shook my head "Mmhmm!" but wanted my boyfriend to go in first to assess what was going on inside, my son was only 8 years old and he is a very sensitive boy; I did not want us both rushing in to a terrible scene!

Well, a terrible scene anyways! My boyriend ran back out and explained that the pups were trapped with the mom and that all were still alive but didn't seem well.
Panicking, I rushed inside and we opened up the kennel quickly. Momma dog ran her skinny self to the bathroom and my boyfriend followed her - he had to flush the toilet FOUR(4!) times because she drank it dry that many times.
Looking over the pups there was one which stuck out at me. They all looked similar (of course) but this one had a white spot on his tail and also all 4 of his little feet had white mittens. I picked them all up and looked at their faces, gravitated back to 'Mittens' and put him in my arms while I walked over to the sink.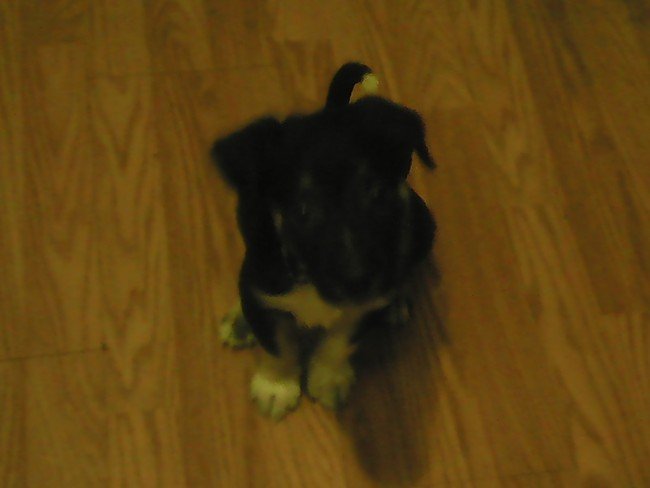 This blurry shot was taken with an old Alcatel flip-phone back in 2015 a few days after taking him home.
When I got to the sink and cupped my hand allowing the pup to drink, his desperation set off an epiphany and I realised THESE PUPS NEED WATER!
It's one thing to watch animal rescue shows on TV, but an entirely different thing when you find yourself in the middle of it. It was so traumatizing that I immediately began to shake and cry. I yelled out to my boyfriend to come help provide these pups some liquid, which he began scrambling around the house to find things to put the water in.
We helped all the pups get to the water and paid them some affection - all the while I wasstill holding my 'Mr Mittens' in my arms.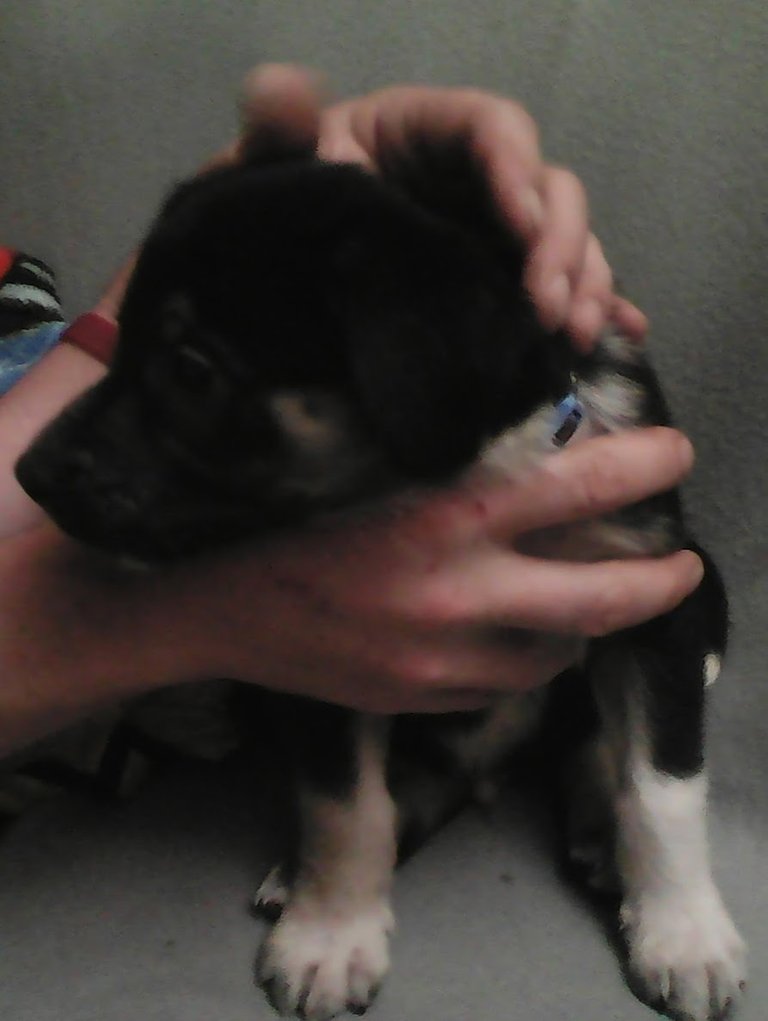 Another old one taken with the Alcatel flip.
Eventually, we called a rescue shelter anonymously and took 'Mittens' back home with us. The reason we called the shelter discreetly was because at the time we weren't sure how much trouble we might get in for 'breaking in' to the home and technically stealing property (the pup), and we didn't want to have to give up my 'pick of the litter' to the shelter and end up needing to apply to adopt him back from then.. It was selfish reasons, sure, but in the end all but 1 of the pups ended up with a happy ending.. One of the pups didn't make it that night.
Once we got settled in at home, I actually thought 'Mittens' was a girl, so named her Charm until our first visit to the vet a week later and were embarrassed to realise that she was actually a 'He'... Right there in the vet's office while filling out the paperwork we officially named our new family member "Snoopy" - like Charlie Brown & Snoopy (oddly enough, my boyfriend's name is Charlie).

I had always loved watching Peanuts and my Snoopy is the inverse of the cartoon dog who is White with Black, my Snoopy being Black with White.
Now Snoopy is 4 years old and I can't imagine life without him. I was already planning on leaving my job before we got him but after we did, I quit right away in order to spend my time training him and making sure he always had someone there for him at home. Dehydration can do a number of horrible things, especially to the brain of young puppies, so I wanted to give him the best chance possible for it not to affect him.
Him and I have been inseperable from day one and he is such a momma's boy, always needing to have me close by. He thinks his number 1 job in the world is ro protect Mom, and he sure does his job well and proud! He's super intelligent, smarter than me, and I wouldn't trade him for anything!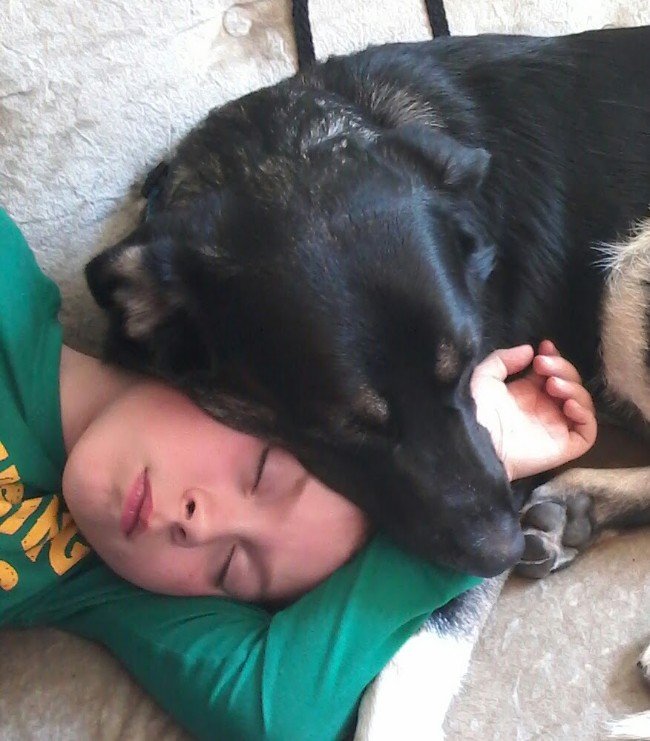 My son and Snoopy, 2016. Taken with my Samsung S8
Not only is he my companion and best friend, it turns out I need him to help cope with my anxiety! Snoopy knows right before I'm about to freak out and just has a way of curbing my emotions. I went to a doctors appointment without him a few weeks ago and realised what a mistake I had made, that poor nurse probably thought I was crazy!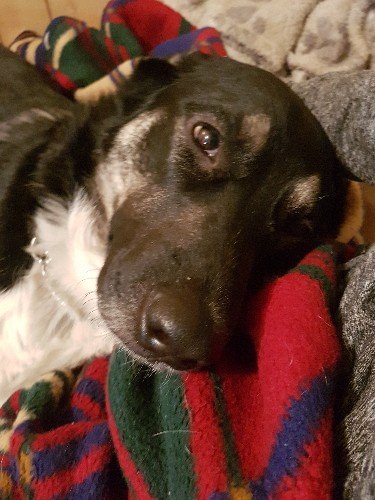 Such a champ! Another Samsung shot, but now it's 2017!
So Snoopy is officially my Emotional Support therapy dog! Thanks to that, he is the only pet allowed in my housing complex, we almost got evicted when the property changed hands but thankfully I won the battle and Snoopy is well known and much loved by all the other residents there.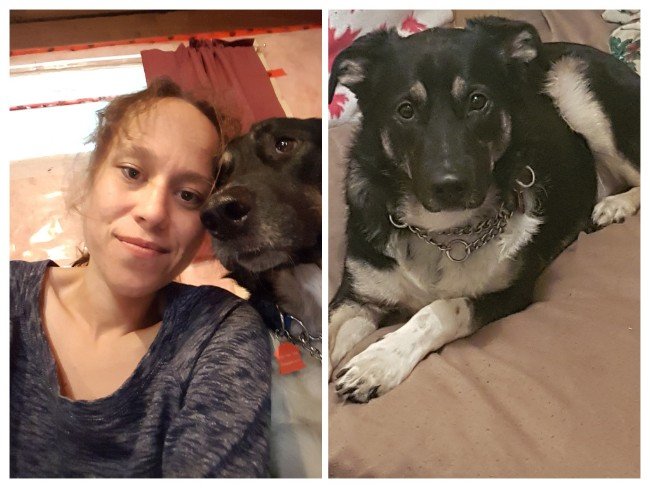 2017-2018. Collage made via Google Photos
My Dog. My best Friend.
Thank you all for reading and supporting me!
Good luck to those of you who decide to tackle the contest! I can't wait to see you show off your pets!
© «[Kharma♪Scribbles]»|2019|
All above images are mine
---




«♥» ~ «♥» ~ «♥» ~ «♥» ~ «♥» ~ «♥»


^Click banner to join Steem Terminal Discord server^
---
Tags: #neoxianphotochallenge #photography #neoxian #palnet #contests #marlians #blipcoin #lifestyle #pets #dog
---
---
---